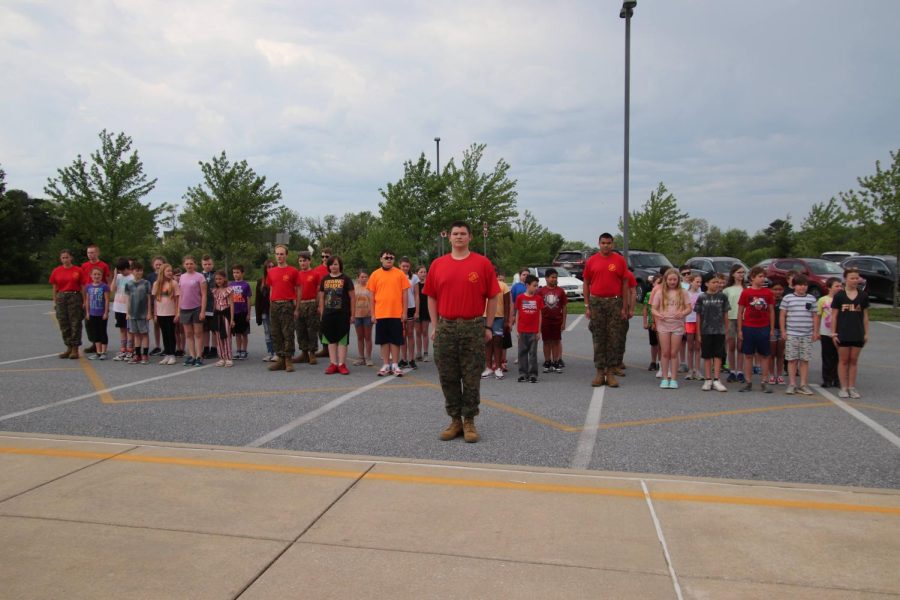 Holly Lancaster
Located on 94 Beck Road, Dallastown Area Intermediate School (DAIS) is a small public school designed to help instruct students from fourth through sixth grade. However, on May 20, 500 DAIS fifth graders were surprised to discover that their instructors weren't their regular teachers, but instead 22 Dallastown High School students from the MCJROTC program.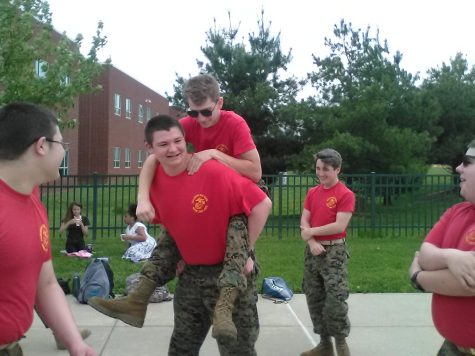 The MCJROTC cadets visited the school at 9 a.m. for the DAIS Civil War Day to help teach the fifth graders about leadership and drill. Their clothing consisted of a pair of utility boots, cammie trousers, and a red JROTC t-shirt, formally called Boots And Utes.
"Remember that these are little kids," explained Cadet Lieutenant Colonel Maxwell Iacono, the Company Commander of the event. "You need to take your time and be patient with them."
The MCJROTC cadets broke into two platoons, each cadet in each platoon responsible for teaching six to seven kids the basics of drill for 30 minutes. Some of the basic movements they taught were Left Face, Right Face, and About Face.
After each session finished, Iacono tested the fifth graders' knowledge by assembling both platoons (including the MCJROTC cadets) into a unit. Next, for five minutes, he solely called out commands for the whole unit to follow together.
Once Iacono finished testing the fifth graders' knowledge, the MCJROTC cadets moved aside and Iacono played a game of "Knockout" with the rest of the unit. The fifth graders' objective was to be the last one standing by following Iacono's commands correctly while being judged by the MCJROTC cadets.
At times, Iacono tried throwing the fifth graders off by calling out fake commands, but Cadet Captain Aaron Kern's group easily won four out of the five games; Kern later explained his strategy. "I just kept reminding them to only move when they heard the word 'face,'" he explained. "I would tell them fake commands like 'Right Banana' so that they understood only to move at 'face.'"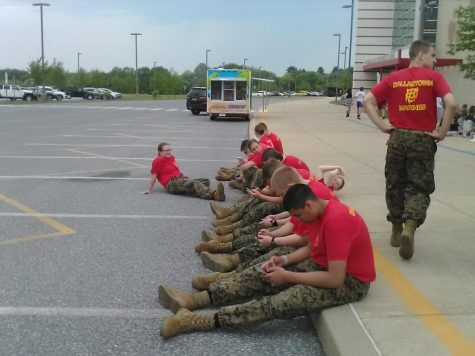 After the game ended, the winner got their picture with the MCJROTC cadet that taught them, and all of the fifth graders enjoyed eating snow cones for 15 minutes. Once they finished eating, that group of fifth graders left and another group came.
There were a total of five groups of fifth graders, nearly 100 kids in each group. Each group spent time with the MCJROTC cadets for about 50 minutes before transitioning to the next group.
The DAIS Civil War Day eventually ended at 2:30 p.m., and the MCJROTC cadets returned back to the High School. While this event was primarily focused on teaching these kids about leadership and drill, the MCJROTC cadets also know that these are the next leaders of the new generation.