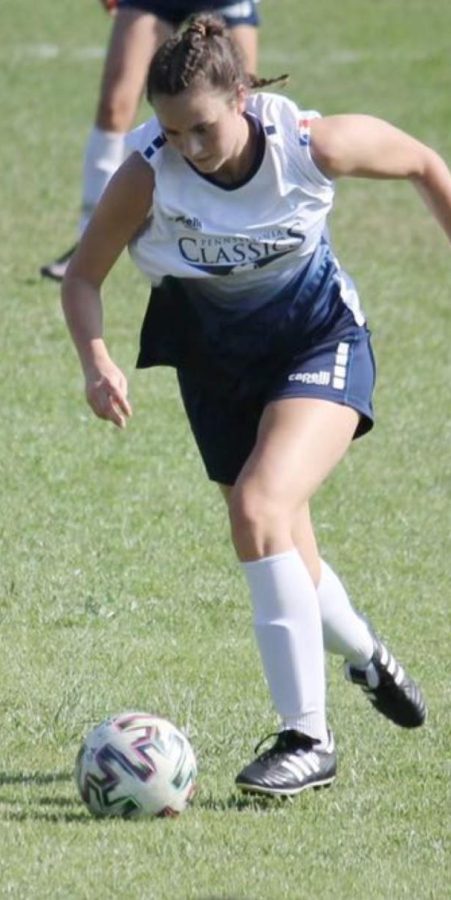 Photo Submitted
Students at Dallastown may know Maggie Groh as an honors student, athlete, and all around great person. At the University of Delaware, they know Maggie as the new commit for the 2023-24 soccer season for the D1 program. 
That's right, Groh was able to commit to a D1 team during her junior year of high school for playing the sport she loves. Soccer has always been a part of Groh's life, and now she gets to share that passion with a district 1 program and players. 
Starting soccer in kindergarten for a Dallastown club team, Groh began her career in soccer and has never stopped playing. She also started playing basketball during her 3rd grade year, and has played both sports with the same passion. 
But Groh knew she had to pick one to pursue in her college years.
"It wasn't until 6th grade I decided I wanted to pursue soccer further and to just play basketball for fun and I've never looked back," Groh said.  
The recruiting process started very early for Groh, when she began her 7th grade year. She stood out to most schools because of how young and talented she was next to girls who were a few years older with more experience. 
Being exposed that early to college level people watching you, Groh realized this is what she wanted to do and she will work extremely hard for it.
"I never entertained anything other than playing division one and lived like it was my only option." Groh states. 
Of course, most people don't just go to college for a sport. Groh plans to major in kinesiology, but with a thought in the back of her head about physical therapy because of Delaware's number 1 program in the country. 
Groh's rise to success had a little help and mentoring factor to it.
Groh states, "My family has definitely been the greatest support system through this process and reassuring me God has a plan for my life."
She thanks her parents for all their support and how much they really sacrifice to make her dreams come true. 
Groh would also like to thank her club teams that she shared many years and memories with.
"They make it so much more enjoyable, they always have my back, and there isn't one of them that I don't love with everything in me." Groh says, "They keep me able to train at the highest level and always keep it competitive."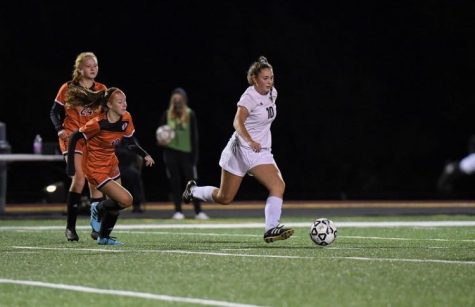 Junior McKenna Kelly has played soccer with Groh since they were both in second grade and has played with her on varsity for two years.
"Thank you for all the memories we have had together whether in school, on the field or court, in the locker room, school parking lot, student section, and everywhere else." Kelly says, "I am so proud of you for achieving this big dream of yours I know you have had since you were little. I'll be the biggest Blue Hen fan out there!" 
Kelly looks back and states, "some of my favorite memories I have with her are all always sitting together on bus rides, all the TikToks we made together, going out after games, and overall just going through the highs and lows of soccer and basketball season with her as my teammate." 
Being able to balance sports and athletics is a high school/college athlete's biggest challenge, and for Groh it may not be that big of a deal.
"I got used to living on a schedule and I learned so many responsibilities early on that most teenagers don't have to worry about." She states, "I am a perfectionist and have very high expectations for myself so I know I will be prepared to continue my hard work into the college level." 
Groh is very thankful for the opportunities she was given here at Dallastown, both academically and athletically. She will miss it here, but is excited for her future experiences at the University of Delaware. She says,
" I know the level of soccer and competitiveness is extremely high, but that is exactly what I want. It checks all my boxes and there is no doubt in my mind it is where I am meant to be."