New Faces in Music
Mr. Buer and Mr. Kaliszak join the Dallastown High School Music Department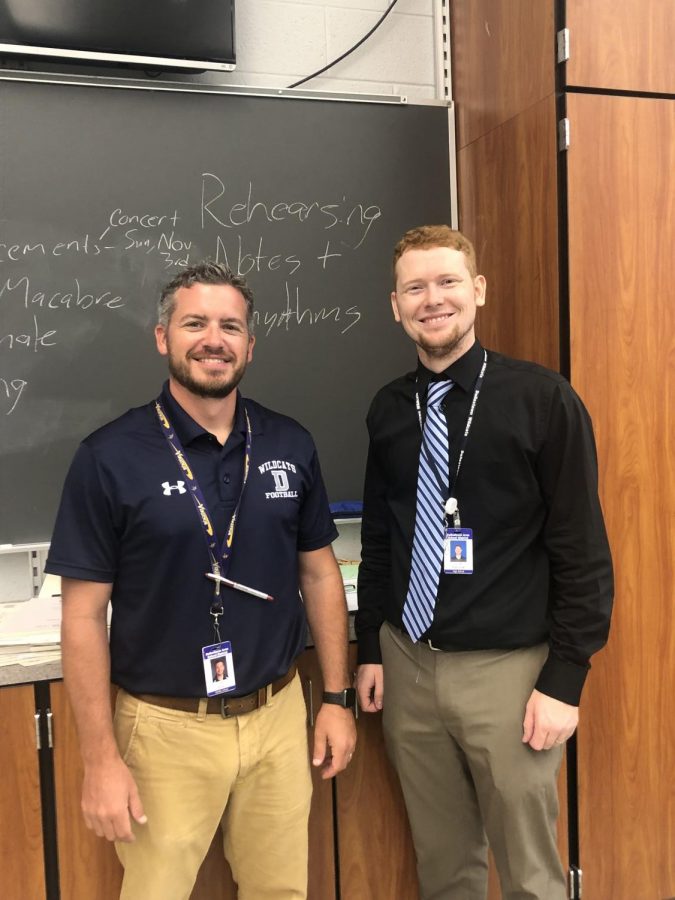 Along with the addition of many incoming freshmen and new students into the Dallastown music department this year, new instructors have also arrived. 
While the new band director, Mr. Buer, has worked for the Dallastown music department for 16 years, new orchestra director Mr. Kaliszak is a completely new member of the Dallastown faculty. 
Despite these differences, they both share the pressure of filling big shoes.
 Former Band Director Mr. Dougert taught at Dallastown for 22 years, and Mr. Diehl directed the high school and middle school orchestra for 34 years. 
Both new directors started playing music at a young age. Kaliszak started playing the double bass in 3rd grade, attending Susquehannock High School. Buer found his passion for music at Red Lion High School as a percussionist. 
"Although I've appreciated music since I was a kid and enjoyed rocking out to my dad's favorite 70's albums, my High School band director was the one who really inspired a passion to share the joy of music with others." Buer said.
"
If you're not having fun, what's the point? "
— Mr. Buer
After high school, Kaliszak majored in music education at Gettysburg College and Buer continued his education at Lebanon Valley, dual majoring in music education and music performance.
Kaliszak started his career as a student teacher for Ms. Krista Kriel at Gettysburg High School in addition to playing for the Harrisburg Junior Symphony and conducting at the Belmont Theater. 
Currently, he is an assistant director for York Junior Symphony and enjoys "trying out new ice cream shops," hiking, and playing Xbox. He even took a trip to Italy this summer after getting married in June. 
Senior and first chair violinist Joel Staub says "He brings new youthful energy to orchestra with an extreme passion for music and his students." 
Unlike Kaliszak, Buer is a familiar face to many at Dallastown. After 15 years of being a middle school general music teacher, choral director, and musical director, he was hired as the high school band director. 
Buer introduced a new Audio Engineering class to Dallastown this year that focuses on sound systems and musical production. 
"Audio Engineering class is a lot of introduction to live sound and music production (sort of like a DJ),"  Buer explained.  
Buer spends his spare time with his family including son, Jacob, who is attending the 2nd grade at Ore Valley this year and was taken on his first cruise this summer. 
When asked about his plans for the school year Buer says his main goal is to "always to make sure the kids are having fun making music, and want to come back in the door the next day because they can't wait to come back for more.  I'm most excited for the program to grow over time."