Bridge Dedicated to Fallen Marine
A bridge in York was recently renamed in memorial to Dallastown graduate Christopher M. Wrinkle and his dog, Tosca.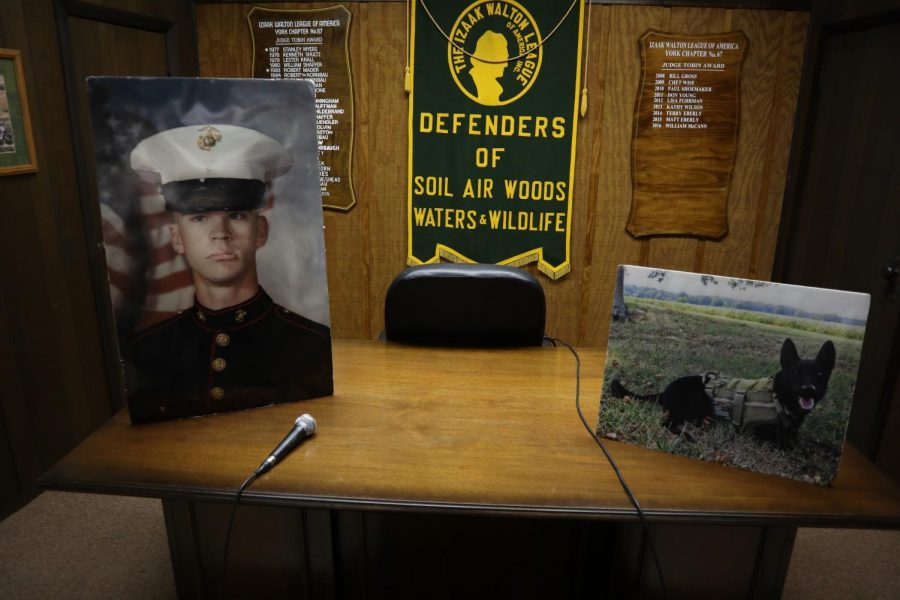 Brannigan Stiles, Emma Hogan, Reporters
October 16, 2019
On Oct. 3, a bridge on Iron Stone Hill Road that crosses over the East Branch of the Codorus Creek was renamed the Sgt. Christopher M. Wrinkle and Tosca Memorial Bridge, in honor of a fallen Marine and his service dog. 
Wrinkle and his dog, Tosca, perished in a fire in their barracks on July 31, 2011, after he went back into the building to try and rescue Tosca. The Marine, age 29, had been deployed to Afghanistan as a Special Operations multi-purpose K9 handler, just 30 days before the fire. 
Wrinkle was a 2001 graduate of Dallastown Area High School, a member of the wrestling team, and a member of the chorus. 
Pennsylvania Senator Kristen Phillips-Hill sponsored the law that made it possible to rename the bridge after the fallen hero. She then spoke at the ceremony for the naming, held at the Izaak Walton League on Oct. 3. 
"When Joan (Chris's mom) and I first spoke about renaming this bridge in Chris and Tosca's honor, the only question was, 'How fast can we make this happen?'" says Philips-Hill at the ceremony.
"
"A United States Marine who was raised in this town, got his character, got his values from this town, from this family, from this community." "
— General Carelli
Along with Senator Phillips-Hill, State Representatives Stan Saylor and Mike Jones were in attendance and spoke at the ceremony. Maj. Gen. Tony Carrelli,  Pennsylvania's Adjutant General and head of the Department of Military and Veterans Affairs, gave a moving speech at the ceremony as well.
 "Throughout the country, people use the term hero fairly loosely. For those of us that have worn the uniform, for those of us that have served, for those families that have sacrificed, we're quite a bit more specific about who we'll use that term 'hero' for, and it certainly applies to Sgt. Christopher Wrinkle and of course his battle buddy, Tosca," General Carrelli said.  
Many others spoke on how selfless and kind Wrinkle was and how his memory will carry on forever with the bridge. 
"Christopher is the absolute definition of loyalty. He showed us what it means to be selfless and to sacrifice everything for what you believe in," says Phillips-Hill. " and those who knew Christopher and heard the story of his sacrifice to rescue his beloved Tosca would say, 'That's just Chris.' That's his character. It's who he was."