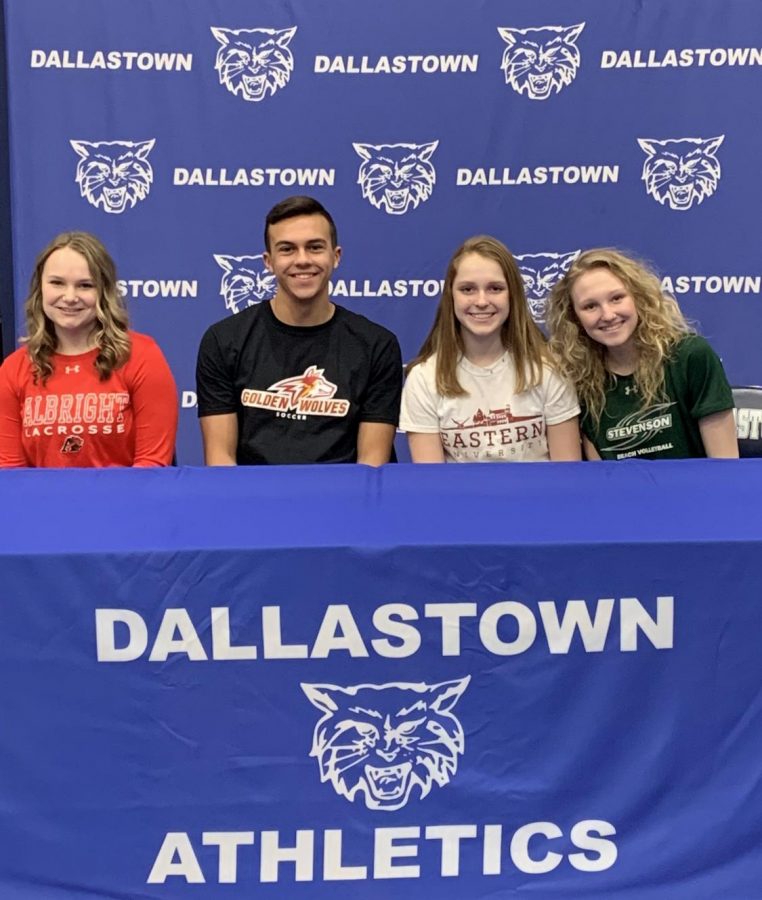 photo submitted
The Dallastown Athletic Department is proud to recognise four students who commited to continue their athletics and academic careers at the collegiate level on this last signing day which took place on Wednesday, Feb 5.
This is Dallastown's second athletic signing day for the 2019-2020 school year. This event is held to recognize the accomplishments of Dallastown athletes and to sign National Letters of Intent (NOI).
NOIs officially binded the student-athletes to their colleges and universities for their next years in education and athletics.
The athletes who signed are as follows:
Gabe Wunderlich- Soccer
Wunderlich has signed to Alvernia University to continue playing soccer and with a plan to study physical therapy. He has played as a center forward for the DHS soccer team and has played for Dallastown since his seventh grade year.
"I'm excited about meeting new teammates and playing at a higher level," Wunderlich said. "But, I will definitely miss the bonds I made with every single player and coach on the team."
Abigail Herbert- Volleyball
As a volleyball player for Dallastown since seventh grade, Herbert has committed to Eastern University to continue her volleyball career and major in either middle school education (math) or early elementary education. Herbert is a defensive/libero specialist and has also played club volleyball since eighth grade.
"One thing I will miss about Dallastown athletics are the memories and friendships I have made with my teammates over the years," Herbert said. "In college, I'm excited to meet new people and play volleyball at a higher level and faster pace."
Kanann Gemmill- Volleyball
Gemmill has signed to Stevenson University to continue playing volleyball as a defensive/libero player and to study nursing. She has played volleyball for Dallastown since seventh grade and has played club volleyball for eight years. She currently plays for Spooky Nook's volleyball team.
"I will miss all the relationships and bonds made with the teammates over the years," said Gemmill, "and [in college] I'm definitely excited to further my athletic career and grow as an athlete."
Abbey Alex- Lacrosse
As a midfielder for Dallastown's lacrosse team for her four years of high school, Alex has committed to Albright College to continue playing lacrosse and further her academic studies. She plans on studying business or dentistry. Alex has also played lacrosse outside of Dallastown for the York Invaders.
"I'll miss my friends and playing in the stadium and I'm excited to take my talent to the next level," said Alex. 
The next Dallastown Athletic Signing day will be Wed. April 15, 2020. Stay tuned for part III, highlighting the spring signees.