Geesey vs. COVID
Track and field legend Ray Geesey returns to Dallastown this spring to mentor athletes despite health challenges from a liver transplant.
The outbreak of COVID-19 in the spring of 2020 stopped everyone's lives. Schools closed, businesses shut down, spring sports were canceled.
People with medical conditions and adults of older age were found to be at a greater risk of contracting COVID and its complications.
One person at Dallastown Area High School is at a greater risk, but that doesn't stop him from helping the Varsity Track and Field team.
Former head track coach, Ray Geesey is kind of a legend at DHS, and he's back for this year as an assistant on the track team.
Geesey is known by many and loved by all.
A 1972 DHS grad, Geesey returned to his alma mater following college graduation as a social studies teacher and coach for several sports including football and track. 
He retired in 2009 after teaching for 33 years along with his wife Kathy who was a math teacher at Dallastown.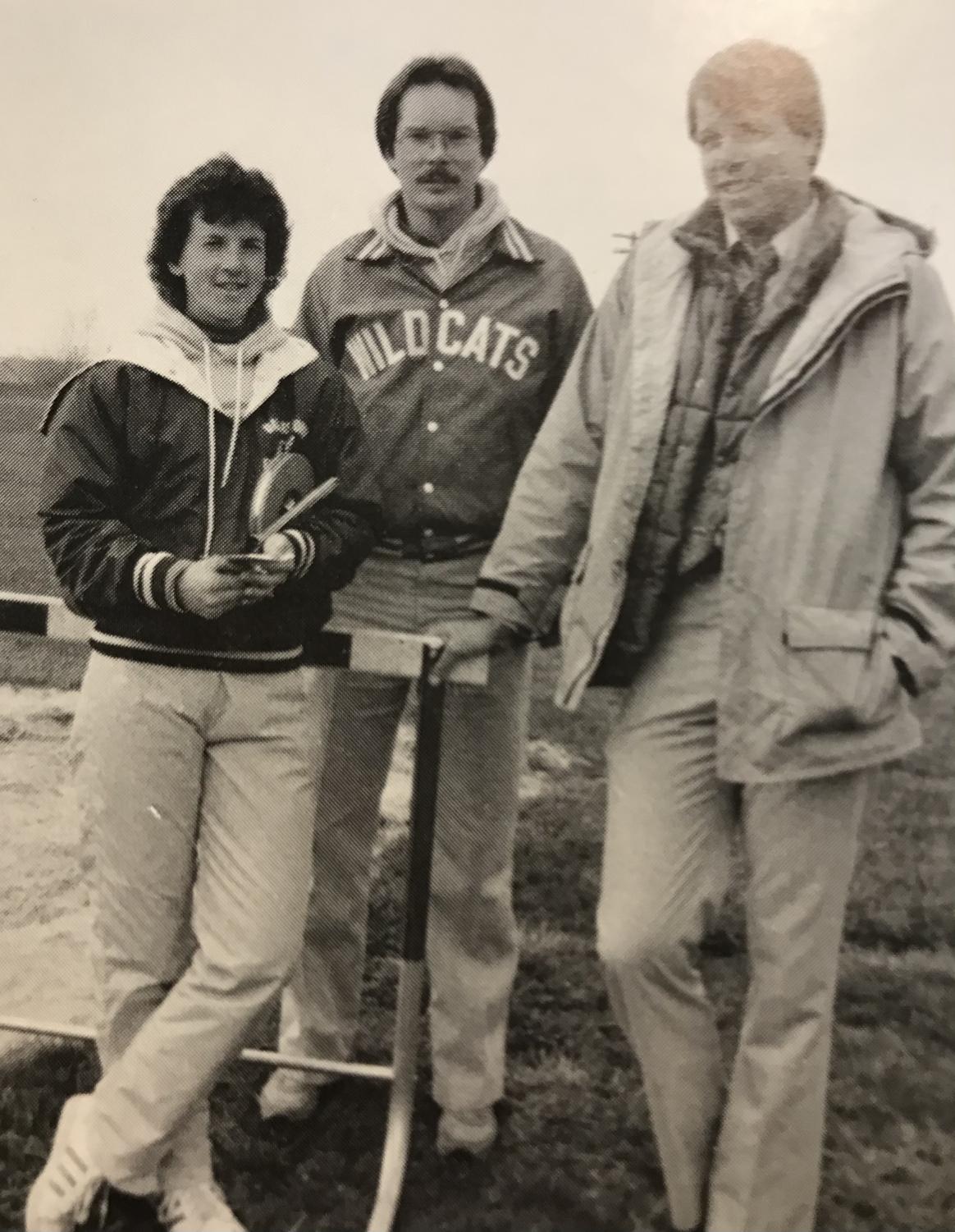 While Geesey was enjoying retirement, he received news about his health; In June of 2017, Geesey found out he needed a liver transplant or he would die.
"I was very surprised to find I needed a liver transplant, although my younger brother had passed away of liver disease two years earlier," Geesey said.
In order to have a liver transplant, you are put on a donor list. The sicker the person becomes, the further up on the list they move. Geesey was far down on this list.
To spread the word, his wife posted his story on Facebook and received over 500 responses from former students, athletes, and friends offering pieces of their liver.
There are several ways to receive a transplant. One is that a living donor donates a piece of their liver, a second is to receive a dead person's liver which must occur on the same day before the liver dies.
One day, Geesey and his wife received a call from Hopkins saying they had a liver ready, but when they arrived at the hospital they were told the liver had died. But Geesey didn't give up hope.
Then, they received a message from Facebook. It was a stranger who had seen his story on Facebook. She offered to give him her deceased husband's liver.
The transplant was a success.
Following his recuperation, Geesey received an offer he couldn't refuse.
Current track and field coach Neil Gutekunst had Geesey as a coach for several sports and as a teacher when he attended Dallastown. When Gutekunst became head coach at DHS, he asked Geesey to join his staff. 
"He was my Little league Baseball coach when I was 8 years old, then I had him as a football coach in 7th and 8th grade, then I had him as a teacher in 9th grade, finally, he was my track coach from grades 10-12. Obviously, he has had a tremendous influence on my life," Gutekunst said.
"
Everyone that works with him, coach or athlete, knows how much he cares about you. He is Dallastown Track and Field."
— Neil Gutekunst
Gutekunst isn't the only person whose life was impacted by the former teacher.
Geesey coached current Dallastown Tech. Ed. teacher Kevin Myers for football in 7th and 8th grade in 1987. From 1990-1992, he had him again as his head track coach. Myers' followed in Geesey's footsteps coaching varsity football from 1998-2017, track from 1998-2003, and he is currently coaching Unified Track and Field and Bocce. 
"He [Geesey] is firm but very fair. He has a natural way of connecting with kids. He allowed you to do you, but held you accountable." Myers describes Geesey. "He is one of the most genuine people I know. He has a huge heart and wants what's best for his students/athletes."
Geesey did many things for the track team at Dallastown. He founded the Dallastown Track Booster Club, the Dallastown Track Invitational, and the Indoor Track program.
In the spring of 2017, the Dallastown Track and Field Invitational was renamed the Ray Geesey Track and Field Invitational in his honor. The event will be held this year on Friday, April 30. 
Although Geesey is honored to have the invitational named after him, he feels many others should also be recognized. It wasn't him alone who was able to continue the success of the event.
Geesey has a philosophy of having a strong and loyal team and helping all the athletes on the team. Not just focusing on the scores. Following his philosophy, Geesey is recognized as a great coach.
And now he is impacting the lives of another generation of Dallastown athletes.
Senior Lian Peach, who is currently under his guidance for the long jump and triple jump in track thinks highly of Geesey. 
She met him her sophomore year when she wasn't able to do her jumping events but was under his coachings her junior year in Winter Track and Field.
"In 9th grade, a week before counties, I tore my ACL in my right knee doing triple jump drills." Peach said."The next track season I couldn't jump or hurdle since the risk of reinjury was so high, especially due to the lack of strength now in my right leg."
Peach says that Geesey has helped her improve in her events and help reinstate and improve the confidence she lost when she tore her ACL.
Geesey is only a part-time volunteer coach.
"Returning to coaching was a challenge because I was away so long, but it has been a wonderful experience. My problem is that even though my health is good, my energy level and strength are nowhere near what they were when I previously coached." 
Now with COVID, Geesey is at high risk due to his liver problems even though he received a transplant. He was given the clear to come back, but only on fairly good weather days.
Any chance for snow, rain, or freezing weather and Geesey isn't able to show up to meets or practices.
"
The man, the myth, the legend…. Coach Geesey."
— Kevin Myers
Geesey, Myers, Gutekunst, and Peach had many great things to say about the Wildcat legend. All agree he is a great coach, a great person, and has done a lot for the Dallastown track team.
Retirement couldn't keep him away. COVID Couldn't keep him away.
Ray Geesey really is Dallastown Track and Field.