Dallastown Alum Makes a Mark on the Music Industry
From playing in the high school band to attending award shows with famous bands, 2003 Dallastown graduate Christian Medice is following his dreams of making a career in music.
Many students walk the halls of Dallastown High School hoping of making it big in the music industry. One Dallastown grad did just that.
Christian Medice's experience in high school from teachers like the late Mr. Diehl and retired Mr. Dougert helped the DHS grad (2003) realize his dream of becoming a music producer.
He was involved with many music groups at the high school including orchestra, band, concert band and drumline just to name a few. But it was playing the drums where he found his niche.
"He enjoyed marching band," said his mom, Margaret Medice, "but I think orchestra was more a necessary evil." Still, he wanted to do more than just play.
"I grew up playing in bands as a drummer but was interested in the songwriting and producing aspect of it," said Medice. "It was a side of music I knew nothing about and was curious to learn."
After high school, Medice attended Berklee College of music in Boston where he studied songwriting and production. 
"
Most of my time spent there (Berklee) was in a practice room playing drums for 6 hours a day. Being proficient at the drums really helps with how I produce now."
— Christian Medice
"(I was) happy that he was following his passion," his mom said, "but concerned about the feasibility of making a living." Ultimately, she supported him and knew he was going to go far.
While his first instrument is the drums, he said, "I play guitar and piano enough to get by!"Although his drums are what he believes helps him the most in his ability to produce.
After college he moved to New York where he played in his own band. He wrote and produced all of his own music while working a day job as a busboy to support himself.
In the beginning of his career, Medice would reach out to artists via Myspace. The second artist he reached out to was Lovelytheband. "I would produce one song of theirs for free then every song after I would produce for $100." said Medice, and he continues to work with them now 13 years later.
Since then, he's moved to Los Angeles and worked with quite an extensive list of artists. Some include P!nk, Lovelytheband, Dashboard Confessional, Halsey and, most recently, Dixie D'Amelio.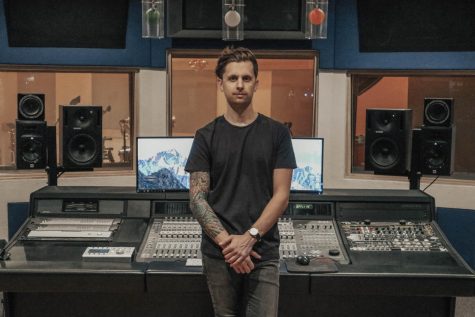 No one could be prouder of Medice than his mom.
"I'm proud of his success in a tough industry," she said. "But I'm more proud of the kind, loving man he has become."
When the pandemic hit, everyone was sent home and most completed their work from there. It was really no different for Medice. 
"I work with people more remotely these days- a lot of Zoom writing sessions" Medice said. But he still has to go into his recording studio in downtown Los Angeles where he can make the most of producing with all of his equipment. 
He's still working hard with Lovelytheband with their second album "conversations with myself about you" which came out in July of 2020. Plus he's still working with newer artists with Dixie D'Amelio's "Be Happy (remix)" which also came out in September of 2020. 
Whatever the future holds for these artists and the pandemic, Christian Medice will be right behind some of the top charts for quite a long time.
Hopefully Medice's story will help more Dallastown kids realize that their dreams aren't far off.