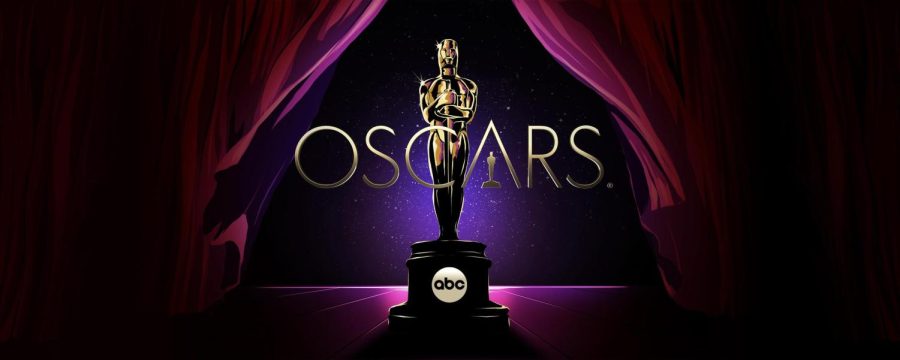 ABC.com
It's awards season and the talent took on fashion at its prime. The stars prepared for the night that was filled with memorable accomplishments by taking on the red carpet with their eccentric garments.  
Despite the circumstances that went down, the red carpet was supposed to be the highlight of the night, and this year definitely had some unique pieces that were showcased.
Amy Forsyth is in a Marchesa gown and in a Jimmy Choo heel. This gown reminds me of a rose, and Forsyth pulls it off very elegantly. The red pops on Forsyth especially with her red lip and fair skin. The uniqueness of this piece is the asymmetrical aspect. The one puff shoulder, that looks like a rose, that gradually goes down to the slit creates such a quality look on her. Dallastown Fashion Club president Kaitlyn Wise says, "Amy Forsyth really blossomed in this gown. From the giant rose on her shoulder to the dramatic pedal slit 100% caught my eye at the Oscars."
Ariana DeBose is in a Valentino Haute Couture and OMEGA watch. Where do I even start? DeBose brings power to femininity with her vibrant red, masculine suit look. DeBose looks absolutely stunning, and confident in her attire. And, she definitely succeeded in the comfort aspect. "Ariana DeBose's look for the Oscars was monochrome madness! From a masculine pant and sexy red bustier, Ariana pulled it all together with a stunning trained coat," Wise says. DeBose's talent is phenomenal, so she definitely has more red carpet events. I can't wait to see her future carpet attire.
Becky G is in an Etro gown and Jimmy Choo platforms. At first glance I see champagne elegance, yet I couldn't tell if I liked it or disliked it, and I'm not sure if I even made up my mind now. However, peering at the thought behind the garment, I see the elegant mindset that provoked the design. I think without the added hip design the dress would be too plain, especially for Becky's style. The design creates a beautiful silhouette to Becky that I think should be more appreciated. Becky pulls off the attire very nicely, however it isn't my favorite thing I have seen her in. However, Wise has a different view: "I'm a fan of Becky's music… but not so much her look for the Oscars. I like the extended hip silhouette but not a fan of the pattern and fabric that went with this dazzling dress."
Billie Eilish is in a Gucci gown and Fred Leighton jewelry. Contrary to many reviews about Eilish's look, I am absolutely amazed with it. This dress only works for Eilish. She pulls it off so elegantly which many people wouldn't be able to do because of how 'baggy' it seems. This dress also is her individual style all in one which speaks volumes. I enjoy that Eilish stays herself throughout her spotlights in the media and especially on the red carpet. Wise says, "I love Billie Eilish's dress, it's so her and I love the use of mixed fabrics to give this sickening dark ruffled dress flare. She still brings the message that body types should not define how you're treated she always serves!"
Chloe Bailey is wearing a purple dress with a high leg slit. Bailey's dress isn't my favorite of the night, however I thought it fit her very well. The purple color brings out her color very well. The risqué choice for such a high, domiant slit, is something I did not expect to see. The slit is not classy. It is more of a nonportionante, unmeasured mistake. With the slit that high, the gown diminishes because it looks cheap. Other than the slit, the gown is very lovely, and if the slit wasn't as high this look would be tasteful. Fashion Club social media coordinator Brooke Jordan says, "As much as it pains me to say this, I don't enjoy the dress at all, nor the shoes. The high cut leg, extending into the waist, isn't cute or classy. The different purples clashing together look messy. It seems more fitting for a southern prom."
DJ D-Nice is in David Yurman jewelry. D-Nice brings the chic on the red carpet. From head to toe, D-Nice looks immaculate. His sparkled suit to his wide-brimmed hat creates a look that is slick and put together. "I adore this outfit. A plain silhouette but dolled up with sequins and his signature hat to top it off. The outfit doesn't stray far away from what he normally wears and that's the most admirable, staying in his comfort zone," Jordan says.
Finneas is in Cartier jewelry and he is with Claudia Sulewski. Finneas and Sulewski look absolutely stunning together. The design on Finneas's suit is subtle, but it still is more than what other masculine looks gave us. The black color is always a classic statement, but with that classy design he brings a sense of style to a basic suit look. Sulewski dress is simple. It would fit better for an Oscars after party look than the actual lavish event. However, I really enjoy the dress, I just would like to see something more. "While I definitely see the vision, the plain look with minimalistic glamorous details looked kind of cheap. If the gems weren't black just like the dress, maybe a gold or silver, it would've stuck out so much more," Jordan says. Sulewski's gown is subtle, so the vibe Finneas and her give matches which comes across clearly.
H.E.R. is in a Caroline Herrera gown, and Guiseppi Zantotti sandals, and Chopard jewelry. The gown as a whole is not something I wanted to see on the red carpet. H.E.R. looks stunning, but the gown drowns her. This style I've never been a fan of. It would look more put together if the gown was long in the front. Even with that, the yellowish-greenish neon color is not working. Granted, H.E.R. 's skin tone doesn't clash in a negative way, the color itself is just an eye sore. "I don't enjoy this outfit at all. The asymmetry isn't working in the way that it might've been sought out to. The color is also just bad, but mainly the differences in length of the dress is what sets it off," Jordan says.
Jada Pinkett Smith is in a Jean Paul Gautier Couture gown, and Jimmy Choo platforms. Pinkett Smith is definitely a confident woman, and this gown does just that. The emerald color gives off a dominant energy that Pinkett Smith portrays well. The top of the gown I am not a huge fan of. It reminds me of a tight fitted jacket that's wrinkled. However it blends well with the bottom half so it works. I am obsessed with the bottom half of Pinkett Smith's look. The bottom of the gown is structured in such a graceful way. It falls on her nicely, and it really embodies the idea of a strong and confident woman. Fashion Club Treasurer Mikayla Holdenried says, "First thought: Spinach. I don't know if it's the texture of the train or the tightness of the bodice but I can only think of cooked spinach… delicious!"
Laverne Cox is in an August Getty Atelier gown, and Dena Kemp jewelry. Cox gives me power. Cox really embodies her journey through her looks. From the tight silhouette dress to show off her figure to her oversized, puffy jacket leading to a beautiful train reminds me of what she stands for: Comfort in your body. It gives me a confident woman walking out of fog. "Love it. Comfy and cool, reminds me of how I start my mornings: dragging my blanket down the stairs. The current trend of puffy, synthetic fabric is interesting and from these entries in the red carpet, I feel like it's here to stay," Holdenried says.
Megan Thee Stallion is in a slate-blue Gaurav Gupta gown. The craftsmanship is divine. She brings a soft and feminine vibe to the red carpet. It reminds me of a mermaid. The detail in the bodice, the cut out on the side of her mid section, the slit, and the elegant train that flows so gracefully completes the look to perfection. I can not think of a more perfect dress. "If I could marry an outfit I would. Meghan looks like Aphrodite emerging from the water, effortlessly perfect, or like Silvermist, friend of Tinkerbell and resident of Pixie Hollow," Holdenried says.
Mila Kunis is in a Zuhair Murad Couture gown, and Jimmy Choo platforms. Kunis is stunning, however the pale color washes her out. The gown itself is tasteful, but on Kunis it doesn't do her justice. The tightness of the gown and the train is an elegant look, but the statin pink completely blends into her. If the color was darker, Kunis would have looked exquisite. "I prefer this material as opposed to the matte trend found in most looks but the colour washes her out! Mila is very gorgeous but the dress is lost on her, maybe if it followed current trends of hotter, brighter colours then maybe it would suit her more. But overall the dress is perfect," Holdenried says.
Rachel Zegler is in a Dior haute Couture gown. Zegler looks flawless in this gown. However, it gives me the same vibe as Claudia Sulewski's gown. They are both beautiful, but they're simple. I'd prefer Zegler's dress at an after party inside of an avant garde red carpet event. Despite that, I really love it. I am a huge advocate for mesh, and it falls of Zegler beautifully. How it lays of her reminds me of the trendy silk dresses. The design is classy too, as well as the neckline. Fashion Club Secretary Mak Mostert has a different opinion. Mostert says, "Rachel Zegler, West Side Story actress, wore Christian Dior Haute Couture. Frankly, this fantasy gown was gorgeous, but it definitely does not flatter Zegler; this reminds me of Alice's dress made by the mad hatter when she was shrunk into a teapot, not too bad but just not flattering."
Timothée Chalamet is in a Louis Vuitton suit, and Cartier jewelry. Chalamet took a more risqué approach to the red carpet, but he pulled it off with class. The sparkly, sequined jacket and the lace trim at the end is tied together in a polished and charming way. "Timothée Chalamet gave us everything we could've expected from him, going shirtless in a Louis Vuitton suit. Could we consider this inappropriate for an event we know to be one of the most formal? Either way I am here for it and watching respectfully from a distance," Mostert says. The suit screams Chalamet.
Wesley Snipes is in a custom burgundy suit by BOGARD by MikeB. Snipes is one of the best well-dressed men I have seen on the red carpet. The monochromatic style he took looks very put together and thought out. Snipes top half consists of a cropped jacket paired with a shirt and bow tie. A silver brooch was the only thing that stood out as different within the color coordination. Overall Snipes top half is viewed as a typical red carpet suit look. However, the bottom half of Snipes attire is an unconventional approach that really mismatches with the top half. Yet, the color hues bring it together to be one cohesive look. Snipes paired bermuda shorts with leggings and a loincloth draped over his front half. "Wesley Snipes can pull off any look he strives for, and that continues to reign true on the red carpet. The style choice was a bit odd but Snipes can make anything look amazing, a true trendsetter," Mostert says. Snipes just can't go wrong.
The Oscars displayed very exquisite and interesting pieces. The talent shown that night could be argued that it was upstaged by the red carpet wonders of celebrities.
Many achievements were made, and fashion icons represented the night gloriously. The Oscars had a celebrated night of fashion at its prime.