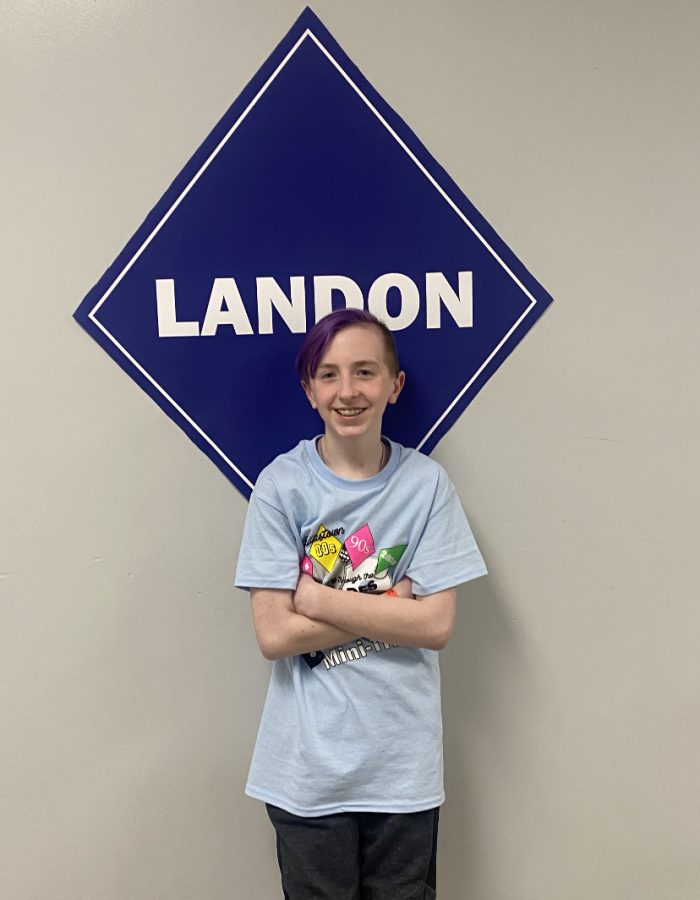 Katie Knepp
At this year's Dallastown Mini-THON, Katie Knepp took the stage in front of almost 400 DHS students to talk about how her family's lives were affected by Four Diamonds.
Knepp's presentation focused on her son Landon's journey, and touched many hearts that night, giving students a better understanding of why they THON.
Landon Knepp is a 12-year-old boy in 6th Grade within Red Lion School District. He loves to play basketball, dance, and listen to music. While he's a happy boy his life has been short of normal, leaving him to be a role model to many people.
At the age of four, Landon had recurring stomach aches for a few months. He lost his appetite and medicine never seemed to help. 
His mom, Katie, took him to the doctors multiple times but the family was told it was nerves and anxiety.
Katie's gut instinct kicked in and knew something was wrong when Landon fell asleep watching a Steelers football game.
"My mother and I took him to Urgent Care, which led us traveling to the hospital, and eventually an emergency appendectomy."
That is when the Knepp family received news that changed their life forever.
On Oct. 13, 2014, Landon was diagnosed with Stage 4 High-Risk Neuroblastoma. Which is a very aggressive cancer that develops in immature nerve cells. 
On top of that, he had a 10-12 cm tumor on his right adrenal gland. 
"I will never forget the way I felt when I was told that Landon had cancer," expressed his mom " It felt like a major punch to the gut. I remember feeling like my world was coming to an end." 
Landon had only a 30% chance of survival, but he had a large support system behind him, and he wasn't going to give up.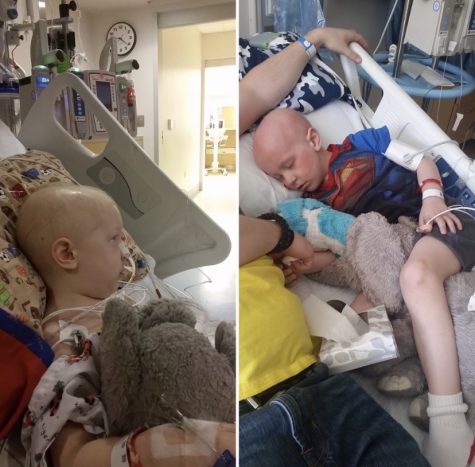 Four Diamonds, a non-profit organization for children and families affected by pediatric cancer, stepped in almost immediately. 
"Four Diamonds made it possible for me to focus on saving my son's life rather than how I was going to pay for all of his treatments," his mom said. 
The organization was available to help with any bills if needed during that time. This was a lifesaver for the Knepp family since his mother had to resign from her teaching job during his treatment. 
"Knowing that Landon was receiving the absolute best treatment out there without me having to figure out how to pay for it was the best feeling."
Landon finished active treatment 18 months after starting. At six years old he continued treatment at home for another year by taking pills that prevent the cancer from returning.
There were several things that kept the boy positive throughout some of his toughest times.
The main thing was the hospital staff. They would play games with him and keep him distracted during treatment. 
Everyone from nurses, doctors, and child life specialists got to know Landon and would brighten his day.
Another distraction during treatment was the adopted organizations from Penn State. These students would Facetime Landon, and would frequently visit during his long stays in the hospital.
"We were first paired with a Fraternity- Zeta Psi," Says his mom "then later paired with SNAP (Student Nurses Association of PA) and finally Sigma Kappa a Sorority they still see today."
Former Penn State and current Miami Dolphins tight end, Mike Gesicki also made an impact on Landon's life that boosted his confidence to get through treatment.
Landon first met Gesicki at THON in 2017. They were paired up during "Football Adventure" and spent the afternoon together.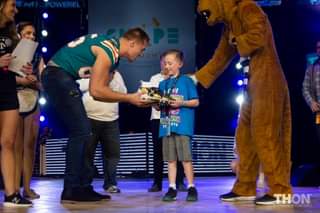 The next time the Knepps went to Penn State, they visited with Gesicki and the friendship between the football star and Landon continued to grow. 
Gesicki came to the fraternity house to hang out, they went out for breakfast, and they FaceTimed quite a bit. 
"We have since met and spent time with his wife, Halle, his parents, and his sisters." Said Katie "Landon and Gesicki remain in touch via text, and he will occasionally send Landon packages in the mail."
Cancer has had a huge impact on the Knepp family. It has shaped who they are and how they handle certain situations. 
Landon now has permanent hearing aids due to his cancer but other than that, after being deemed cancer-free in January of 2021, cancer no longer has an effect on their everyday lives. 
The young boy plays rec sports and is on a competitive hip hop dance team at B*Dazzled Dance Studios in Red Lion. 
His teammate Jaylee Zielinski loves having Landon on the team. 
"Landon is the strongest and sweetest boy I know! He is full of energy and super outgoing. He is passionate about everything he does and he puts lots of work in so he can achieve his goals. He's dedicated and does his absolute best and that's all I could ever ask for in a teammate." 
In 2020 Dallastown Mini-THON invited the Knepp family to be an official Four Diamonds family for their event. 
Landon expresses how he "enjoys being a part of the Dallastown Mini-THON family". 
He is thankful for Dallastown for including his family and inviting him to their Mini-THON events.
Landon continues to live every day to the fullest. He is a hero to his mother, Zielinski, Gesicki, and many others. 
" I just want people to know that from my experience of battling cancer, I learned that if I can beat cancer you can beat anything just like me."