It's Never Too Early for Christmas
From gingerbread houses to lights and from decorations to shopping, Christmas is truly the best time of the year.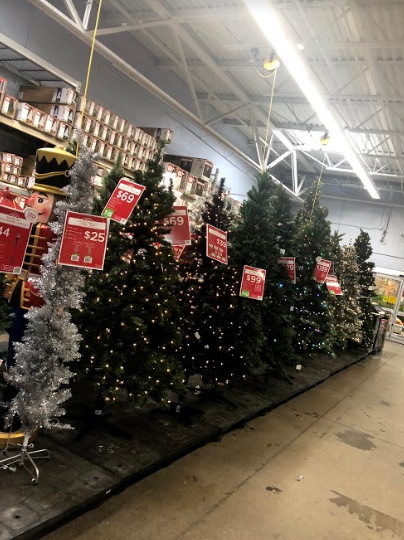 Christmas is coming. And it can't come soon enough for me.
   Although Halloween is a recent memory, it's never too early for the Christmas festivities to start brewing
   Maybe it's the cooler weather, maybe Christmas decorations in stores, but my excitement for Christmas has already started.
   Recently, I was walking around Sams Club. From wrapping paper to fake trees, there was Christmas spirit filling the air.
   I wasn't alone in the holiday excitement. The family in front of us was buying a light up snowman and going on about how excited they were for the holidays.
   For me, Christmas festivities start around as early as the end of Aug or beginning of Sept.
   This is just how I was raised. My whole family has a love for Christmas so strong, so of course it got passed onto me.
   I know some people don't love it as much as I do, but they are wrong.
   According to junior Hannah Kaliszak, "It needs to wait, it makes me sad because then you have to wait longer for Christmas day to come.".
   On the contrary, I think it's amazing that stores put out decorations so soon. It gives people time to get excited and to really bask in the Christmas spirit.
   She is not the only one with this opinion. Another junior, Nick Charest, says "I feel like stores are skipping the season of the fall."
   I don't think that stores are skipping the season of fall because like any other upcoming season, the holiday inventory is out months before.
   Stores display pumpkins and turkeys at the end of August, so they get their time.
   Many super stores and department stores like Kohls, Walmart, and Sam's Club are quick to put out different seasonal inventory early before the season even starts.
   According to Bob Phibbs, author and "retail doctor", "The sooner those customers have spent money earmarked for holiday purchases, the less they will spend when it comes the traditional time to think about buying holiday gifts."
   Maybe this is why retailers put out their merchandise so soon; to try and get people to buy more – sooner rather than later.
   This is a smart method to use around Christmas time, because Christmas is  by far the biggest holiday to prepare for.
   I created a survey about the celebration of Christmas and the preparations leading up to it.
   Over 50% of the people surveyed said they start their holiday shopping in November.
   By starting in November, these stores are definitely getting a good use of putting their Christmas themed things out early.
   I think this is pretty smart, and I also think that by doing this people will continue to see these Christmas items for so long that they'll be tempted to just keep buying things.
   So, between decorations and shopping for gifts, Christmas surely does start in October. It's never too early to start the Christmas festivities in my heart.