Q & A With Dr. Wilson
The Beacon catches up with Dallastown High School's new principal, Dr. Wilson.
After a summer of water balloons and mini-adventures with her son, Dr. Misty Wilson has officially taken over as the Dallastown High School principal.
After 13 years as a physics and chemistry teacher at Red Lion, Wilson came to Dallastown and served seven years as an assistant principal here.
Wilson is excited about taking the reins of the high school in a post-COVID environment.
With this change, former-principal Dr. Zach Fletcher has also moved into a new administrative role: Director of Secondary Education, something that Fletcher thinks presents him with new possibilities.
"I believe my new role presents me with some exciting opportunities, [but] I will miss the daily interactions with students," Fletcher noted.
Fletcher is looking forward to being able to further support the secondary campus as a whole this upcoming year.
"I am looking forward to supporting both the high school and middle school and continuing to build opportunities for student success," Fletcher said.
To learn more about our new principal both inside and outside of school, we sat down and held a question () and answer () with her.
What is your educational background?
"I have a bachelor's degree in chemistry, a bachelor's degree in physics, as well as a master's degree in instructional technology, and a doctorate in instructional leadership."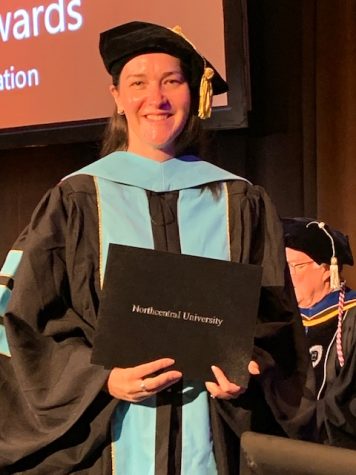 Why did you choose to become an administrator?
"
I enjoyed helping other teachers improve their classrooms and saw the opportunity open and I seized it."
What is the most challenging part of your job?
"
Managing all of the needs of everyone in the building."
What has been the most rewarding part of your job?
"Also, ma
naging all of the needs of everyone in the building."
What is the best part of your day at school?
"Getting to interact with students and hearing little bits and pieces about their day and things that went on at home."
Did you envision yourself being promoted to a head

administrative position?
"No, I honestly thought I would teach for 35 years."
Where do you see yourself after this job, if you want to further advance in your field?
"Right now it seems like the perfect level. If I go any higher, I'll get removed from the students which I don't really want to do."
What is something you're excited about for this school year?
"Excited for all of the opportunities that are hopefully post-COVID, having all of the students back in the building, and watching myself grow as a leader."
What did your family do over the summer in the midst of planning for the new school year?
"We went to the beach and did lots of little adventures such as mini-golf, bowling, lots of trips to Hershey Park, spending time with family, and playing with water balloons, something that Matthew wanted to do almost every night."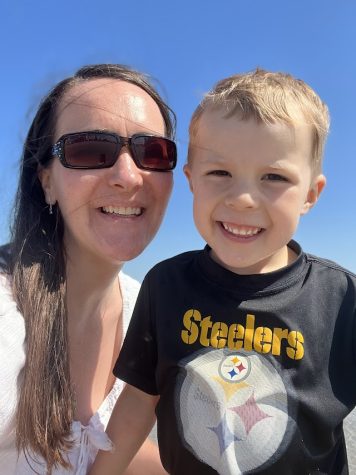 What do you think the biggest change is for teachers to deal with since you have left the classroom?
"Social media and cell phones; it was just starting to be a thing when I left teaching."
What is one thing that you hope improves this year in our school?
"I'm excited about the opportunities to have more school activities, more engaging classroom activities, more school-spirited things, and a back-to-normal feel."
What would your three-year goal be for the school?
"For me personally, it's gaining the knowledge and understanding of how this big of a building works (the ins-and-outs), and for staff that we have a solid means of communication and a solid understanding of day-to-day expectations and annual goals. Also, that students can come to school, have positive experiences, and we have enough programs here that when students graduate they can reflect that high school was a really positive experience."
What is one thing that makes Dallastown great or one thing that makes you proud of where you work?
"For me, it's the high expectations of staff and students and the willingness to work together to achieve those expectations."
What are some interesting facts that students don't know about you and you'd like them to?
"I have a four-year-old son Matthew and my family and I enjoy watching the Steelers, Duke Men's Basketball, and really all other sports. I also love reading and the outdoors. I hope that the students recognize that I'm here for anything and I'm not just a figurehead, and they can come to me for anything. Also, that they view me as very caring and compassionate."
Leave a Comment
Your donation will support the student journalists of Dallastown Area High School. Your contribution will allow us to purchase equipment and cover our annual website hosting costs.