Student Council Finds Unlikely Adviser
Mr. Hostetter, the Dallastown High School's Dean of Students, is taking on a new role that is much different then what he is used to.
Last May, Dallastown Student Council met for the last time for the '22 school year. It was already a bittersweet moment, saying goodbye to graduating seniors, but then, more news was shared, dropping jaws.
"Mrs. Boyd is stepping down from her position as an advisor."
This news left everyone with one question: Who will fill Mrs. Boyd's position?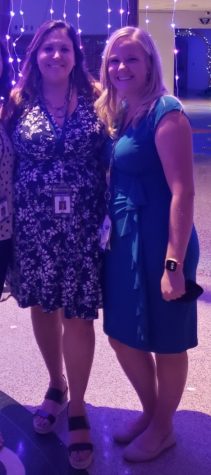 While no one knew who would take over the job as co-adviser with Mrs. Huyett, the official announcement of the new adviser seemed such an odd choice that it shocked everyone. 
To start off the 2022-23 school year, the Student Council met for their summer meeting, and sitting there next to Ms. Huyett was none other than Mr. Hostetter.
No one was more surprised at first than Huyett herself, who has been adviser for the last nine years. 
"I thought it was a joke, and all I could do was laugh. I believe everyone thought it was a joke, but after talking to him about the reasons why he was interested in working with Student Council and the awesome members that we have, it made more sense," Huyett said. 
As Dallastown's Dean of Students, one of Hostetter's main jobs is discipline. He is basically responsible for catching students doing things they shouldn't be doing.
As a result, he doesn't always get to interact with students who don't break the rules.
Hostetter said that the thing that originally set him over the edge to take the position was when he walked into the cafeteria for the Senior Citizens Day, held by the Student Council.
"When I looked around in there at the people [students] that were helping at the event. The ones getting the folks get from their cars to their seats, and sitting with them; I did not know a single one of them. Not one."
He said that taking this opportunity, would allow him the chance to interact with a different population of the students from the ones he sees daily as Dean of Students.
Hostetter already got to see a lot of what the Student Council does, but from behind the scenes. Now he is one of the many people working the magic and making sure that everything goes smoothly out front.
"I didn't realize too, what it all involves and the time that the advisors for Student Council put into this. It's no joke, like the Google forms, and countless, countless, emails that I received from Huyett, looping me into things. It's just like my head is spinning from all this, because I had no idea it was all these things as well."
His first event from an advisor's point of view is Homecoming and it is approaching fast.
"There's always stress when change is involved, but Mr. Hostetter has hit the ground running. With Homecoming being so early this year, it really has just been day by day that we are checking things off the list and he is learning the dos and the don'ts. Because Mrs. Boyd and I had such a system down, it really is a new learning experience for both of us, but Mr. Hostetter seems to be enjoying his new role." Huyett said.
Hostetter also said that for the first few years he will just lay low and go with the flow, but both Huyett and this year's President, Kayla Sebastian, hope that he will fill in the hole that Boyd left behind.
"I'm hoping that he brings a different perspective to various activities that we plan, as well as maybe some new ideas of his own; and that he is able to get a feel as to what Student Council is and has a good time with us," Sebastian said.
Leave a Comment
Your donation will support the student journalists of Dallastown Area High School. Your contribution will allow us to purchase equipment and cover our annual website hosting costs.