As "Luck" Would Have It
After a successful high school and college athletic career, Mr. Luckenbaugh has returned to DHS as Athletic Director, supporting sports and activities behind the scenes.
Athletic directors cannot simply be one-trick ponies. They need to be organized and juggle many tasks at once. 
Current Athletic Director and 2011 Dallastown graduate, Mr. Josh Luckenbaugh, credits growing up playing sports to allowing him to learn qualities to help him succeed in his role now.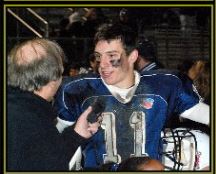 During his high school years at Dallastown, Luckenbaugh was the starting quarterback for the 2010 undefeated season and eventual championship, the program's first in 30 years. 
Mr. Kevin Myers, a current tech-ed teacher here at the high school, coached Luckenbaugh in grades 10 through 12. 
"He was gritty, hard nose, and a great teammate [during high school] and still is. He's a great friend to have," Myers described.
Luckenbaugh was a three-sport athlete participating in football, basketball, and baseball and developed numerous relationships during those years. Sports not only developed relationships for Luckenbaugh but also shaped him. 
"Playing sports in high school has made me the person I am today. The life experiences that student-athletes are dealing with now will help you develop into a person during those four years of high school," Luckenbaugh said.
Even today, Luckenbaugh still values those relationships he developed in high school with coaches, teachers, teammates, and opponents, including his current wife Katie, who he dated from senior year in high school throughout college and beyond.
After graduating from Dallastown in 2011, Luckenbaugh went to Kutztown University for his undergrad majoring in Leisure and Sports Studies, and played on their football team as well.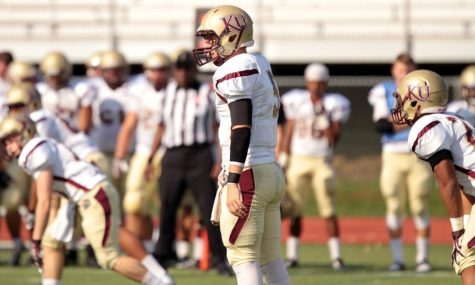 College athletics are sometimes described as being like a job because of all the time and energy you devote towards them.
"Sports at the collegiate level were my favorite part of college and taught me so much. Not just playing [the sport] but about structure and time management," Luckenbaugh mentioned.
Following graduation from Kutztown University in 2015, Luckenbaugh enrolled in East Stroudsburg University for a master's degree in Management and Leadership and a master's in Science with a concentration in Sports Management.
During college internships, Luckenbaugh truly found that his passion lies in sports management as opposed to the kinesiology or business management side of the job.
Luckenbaugh interned with the Lehigh Valley Steelhawks, a local professional indoor football team in Allentown, PA. Through this experience, Luckenbaugh realized that professional sports management wasn't for him.
"I did an internship with the Lehigh Valley Steelhawks during college… this was more money-based and lacked relationships," Luckenbaugh said.
Following that opportunity, Luckenbaugh looked into management at the collegiate level. This internship took place at East Stroudsburg University while studying there for his master's degree.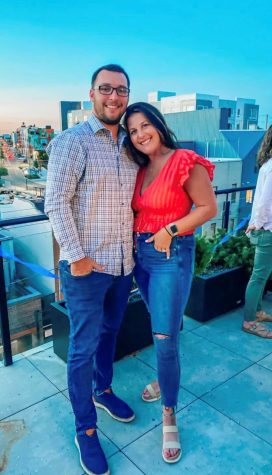 He found that college-level management wasn't for him either because there was no ability to develop relationships, the part of the job that he values most and deems to be his favorite part.
"College management focused a lot on events and the business aspects. I realized that college wasn't for me. There was too much revolving around compliance and eligibility," Luckenbaugh explained.
Eventually, Luckenbaugh returned to Dallastown to intern under former-Athletic Director Mr. Tory Harvey. At this level, Luckenbaugh fell in love with relating to the kids, community, and teachers, and felt it was more than just a business.
"I love seeing the players advance and building relationships with the kids, community, and teachers," Luckenbaugh said.
During his time as an intern for Harvey, an opportunity arose for Luckenbaugh to enter the program when the Athletic Secretary quit. Luckenbaugh was hired as a part-time secretary working there from 7:00-12:00. After that, he went to work at the Heritage Hills Athletic Club from 12:00-8:00.
"Working under two different leaders taught me a lot. They both had different leadership and management styles and made me more well-rounded," Luckenbaugh explained. 
After that, he became the assistant Athletic Director under Mr. Vince Sortino before becoming the head Athletic Director in 2020.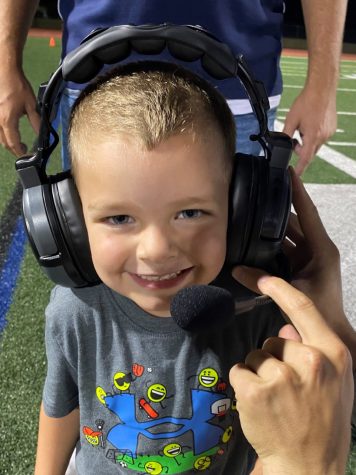 "Serious credit to Vince [Sortino] and Mr. Harvey for their work and a thank you to Dr. Doll and other administration members, Dr. Fletcher and Dr. Wilson, for this position," Luckenbaugh added.
In addition to keeping busy as Athletic Director, Luckenbaugh enjoys spending time with his wife Katie, and his sons, Camden, who is three years old, and Bryson, who is six months old.
"Katie is just as involved as I am in this job. She allows me to be at school for upwards of 12 hours a day," Luckenbaugh said.
According to Luckenbaugh, the hardest part of the job is not being able to please everyone and he focuses on ways to take care of himself personally in addition to working.
"I think it's very important to balance work and school, especially in this time we're living in. I enjoy hunting, being outdoors, going to my family's cabin, watching sports, and spending time with friends and family," Luckenbaugh said.
As current Athletic Director, Luckenbaugh has the pleasure of working alongside his former head coach. Myers, working in the tech-ed department is also an assistant coach on the football team this year, so the two converse frequently.
"
I love seeing the players advance and building relationships with the kids, community, and teachers.
— Dallastown Athletic Director Josh Luckenbaugh
"He is great to work with. As an Athletic Director, he is going to make the hard decisions in the best interests of the student-athletes and not how it necessarily makes his job easy. He does a great job leading the Athletic Department," Myers noted.
Between having two young boys and working well beyond normal 9:00-5:00 on most days, Luckenbaugh is truly not a one-trick pony!
Leave a Comment
Your donation will support the student journalists of Dallastown Area High School. Your contribution will allow us to purchase equipment and cover our annual website hosting costs.