Trends of Fall Fashion
Fall fashion is in full force, with new trends circulating around, it seems for this season the past is being mixed with present fashion choices.
As the temperature drops and the clouds shift to hues of grey, the fall season has announced its presence again. Predictions of fall fashion have been accumulating. New York Fashion Week ended on September 15, and Vogue World has disclosed that western and streetwear fashion will be significant trends for this season. Earth and cool tones are the "in" colors for Fall 2022. Rich colors such as magenta and dark-washed denim are heavily in the influence – though denim is for all seasons, fall, in particular, holds a specific enhancement to it. Outside of high fashion, fall fashion trends that are circulating are intricate knitwear, flared trousers, upcycled and vintage items, as well as many more.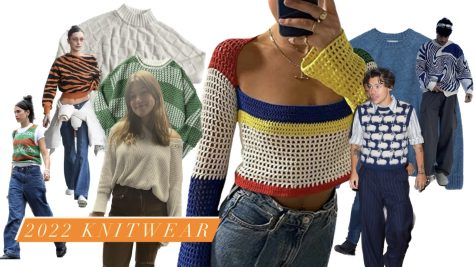 Fall holds the habitual trend of knitwear. The Fall 2022 knitwear trends include eye-catching shades, puffed sleeves, crochet sweaters, and the ever-so-classic cardigan.
Dallastown sophomore, Bella Wilkinson, is seen in the picture collage above sporting a chunky white sweater paired with baggy brown jeans that elevate a cozy and relaxed look. Popular celebrities such as Bella Hadid, Dua Lipa, and Harry Styles wear fun, colorful knitwear in their wardrobes for fall. 
Dallastown students say fall is one of the best times to show off individual styles.
"The fall season is the peak of fashion for the year, with lots of personality coming out amongst people's outfits. The standard- going out to a coffee shop look may consist of a sweater, mini skirt, and black tights. Also, you can never go wrong with a neutral-colored hoodie with baggy pants," junior Maddie Herrington said.
Senior Kaitlyn Wise is the founder and president of Dallastown's Fashion Club and agrees you can never go wrong with knits.
"I feel since we were stuck in COVID and picking up as many hobbies as humanly possible, crocheting anything and everything became a trend. I feel like recently oversized fluffy sweaters are the perfect way to cross comfort and fashion. I also love layering! As I've seen many people form this "maximalist" sense of fashion, I concur the knitwear is a fall must have, it gives you comfort and can be greatly used in layering this season." Wise said.
Prevalent shoe brands such as Nike Dunks, Reeboks, Yeezy, and Dr. Martens are a high sensation in Fall 2022. From walking in the halls at Dallastown to being out in public, everyone seems to be in a chokehold with these brands.
Nike Dunks come in every imaginable color, and the brand is versatile for everyone's style – people are guaranteed to find a pair of Dunks that suits them best. The Reebok shoe brand is the perfect everyday sneaker. Reeboks are comfortable yet stylistic. The Yeezy brand is famous for its popular demand. From sneakers to slides this shoe brand is known for its authenticity.
Dr. Martens are not a new trend, but the brand holds an attachment to fall fashion with its iconic boots and loafers.
"I love Docs; they are timeless," senior Brooke Jordan, Fashion Club Social Media Coordinator said. "I've had mine since eighth grade. They are just a staple when it comes to shoes because they are so versatile. This fall I've noticed people experimenting with different styles and colors to fit their own individual style."
Due to the colder temperatures, numerous individuals are seen wearing the brand Uggs for comfort and warmth.
Circling back to western and streetwear fashion, these style categories are ascending with great popularity. Streetwear entails oversized racer jackets, cargo pants or baggy jeans, and any shoe with an interesting look to it.
"I've been really into oversized jackets and windbreakers over this past year, and I love pairing them with track pants and sneakers. I've even started taking jackets from my dad to wear this style!" Meghan Kelly, Fashion Club Vice President said.
Whereas western fashion takes more liberties and inspiration from actual western wear. Cowboy boots have become a fashion staple of 2022, and in actuality, these boots are not identical to cowboy boots worn by many. These "newer" boots are made to assimilate the same feel whilst being chic.
"While it's not my style, I have noticed it. Honestly I thought it would just be a quick fad, but it's lasted longer than I expected. It seems to have some longevity," Jordan said.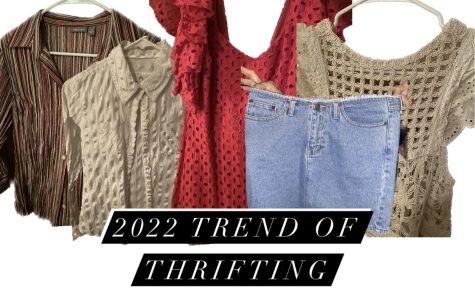 Upcycled and vintage clothes maintain a force on fashion. Thrifting has been a massive trend, especially in 2021, with a grand resurgence courtesy of Gen Z and TikTok – many grew to love shopping second-hand. Thrift shops are appealing to people because these stores carry upcycled items that cannot be worn by everyone. Each individual can find something unique to their style. Another contributing factor to its popularity is that shopping for clothes is sustainable and affordable. 
Wise says she started the Fashion Club to advocate shopping sustainably.
"I encourage anyone reading this to go to your local thrift store and just get lost in the amount of unique clothing items! Maybe you could start a trend of the Fall 2022 season!" Wise said.
Fashion is subjective. Especially trends, but for fashion to stay stabilized, it relies on the continuous trend cycles within every season. 
So do not feel embarrassed for getting looped into the rabbit hole of fashion trends. 
If anything, it is interesting to reflect on our past fashion choices to our present ones. Some have no interest to change their style based on trends, but others find enjoyment in altering their wardrobes for the newest trends.
Leave a Comment
Your donation will support the student journalists of Dallastown Area High School. Your contribution will allow us to purchase equipment and cover our annual website hosting costs.