A New Dew at DAHS
Dallastown senior Ryley Gould wins ultra-exclusive mystery flavor in Mountain Dew Lost Treasure of Baja Island Sweepstakes.
Whether you call it soda or pop, or whether you prefer Coke products or Pepsi products, everyone has enjoyed a nice cold carbonated beverage at some point.
Not many can say they've gotten a hold of a rare, limited edition flavor.
Dallastown senior Ryley Gould, a life-long Mountain Dew lover, entered the Mountain Dew Lost Treasure of Baja Island Sweepstakes over the summer.
"I had to buy Mtn Dew Baja Blast, Baja Gold, and Baja Mango Gem and enter the codes on the inside of the caps. I had to have all three drinks to enter for the grand prize of the secret flavor," Gould said. "I entered many times from June 13 to September 4 , trying to get as many entries as I could."
She never really thought she would win, and never received any notice of her victory until one small notification in mid-September.
"I didn't find out until the day before the prize shipped to my house when it popped up on my UPS app," Gould said,
The package arrived in a standard box with beaten up tape with printed graphics. Despite this, the content inside  was in good condition.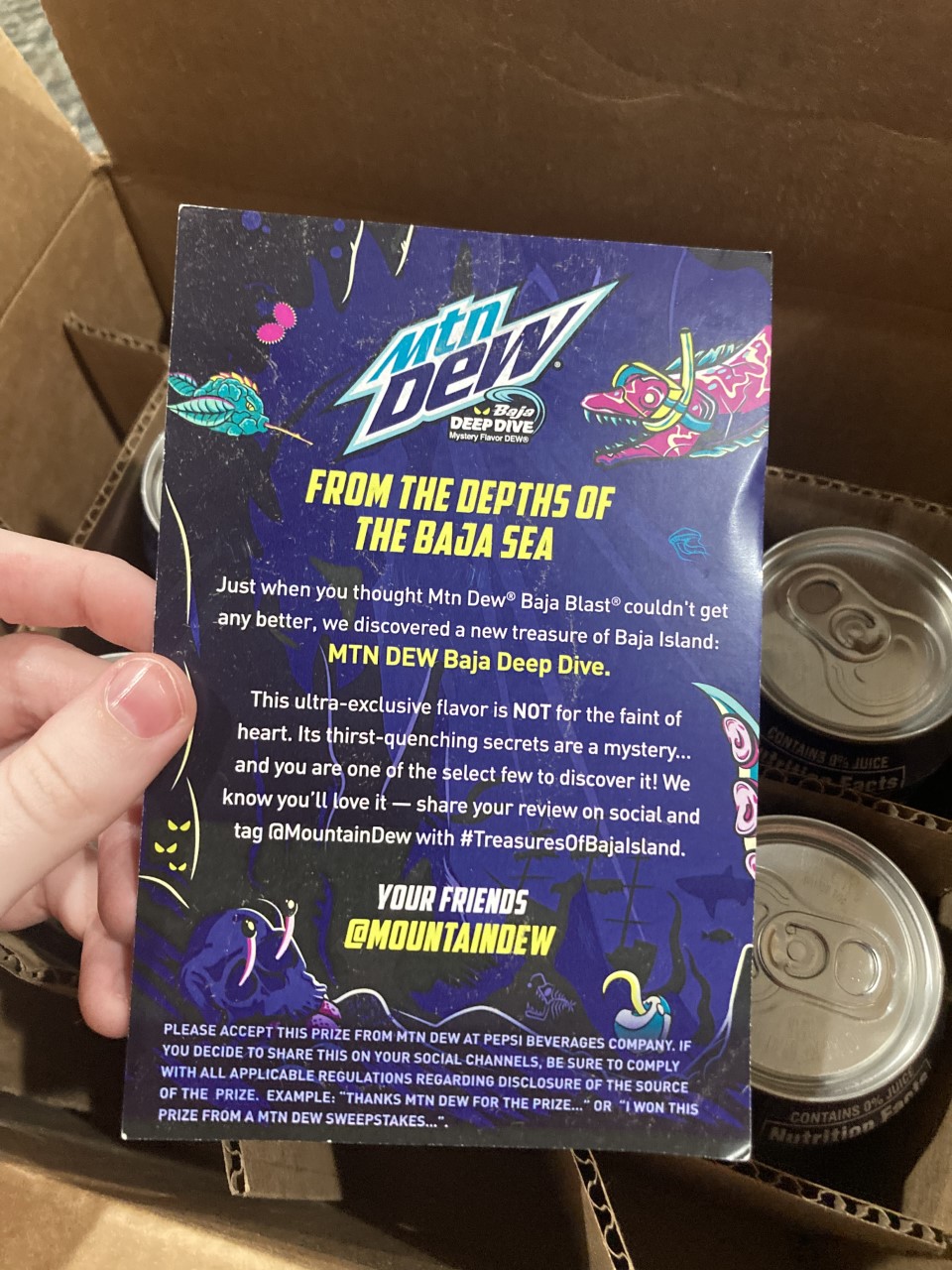 The new flavor is called Baja Deep Dive. No notice has been said when or if this flavor will ever reach stores.
Gould was one of  18,000 people in the US randomly selected from entries to win the prize.
So, is the flavor any good?
"It's really good! I think it is probably a mix of Baja Blast and Pitch Black. It's my second favorite mountain dew flavor out there, and sadly I only have three left," Gould said.
Although this is her first Mountain Dew contest, Gould says it won't be her last.
"I definitely want to do more!"
One can of Baja Deep Dive can go from $50-$300 online.
Leave a Comment
Your donation will support the student journalists of Dallastown Area High School. Your contribution will allow us to purchase equipment and cover our annual website hosting costs.