Golf Team Sets Record, Achieves Silver in States
Dallastown's co-ed golf team works hard to earn titles in counties, districts, and states under a new coaching staff.
A season could be laced with uncertainty when a new coach comes into the program. However, this was not the case for the Dallastown Golf Team, as Joe Gibbs took on the role of head coach this season. 
Although Gibbs has coached various boys' basketball teams throughout his years at Dallastown, this was his first year embarking on a leadership role with the golf team. 
"I love golf and enjoy coaching. So when the opportunity arose I was very excited to take on the task," Gibbs said.
Gibbs was assisted by the boy's Varsity head basketball coach, Michael Grassel, who also joined the golf program this season. The two coach basketball together and their connection is definitely an advantage for the golf program.
Also representing his amazing coaching skills, Gibbs was awarded Coach of The Year by fellow local coaches in York.
When asked what sport he enjoys coaching more, both sports hold a special place in his heart.
"I love them both. Coaching basketball is 100% about the team. Golf is a sport where individual scores matter and make up the team's score. Both sports include mental toughness and dedication," Gibbs shared.
"
Coach Gibbs and Coach Grassel were able to use their experiences coaching basketball to help us out mentally and continue to compete, especially after bad holes. "
— Nicholson said.
Counties took place at Briarwood where Dallastown fought against Central and defended their county title. 
The District Tournament had the team traveling yet again to Briarwood to compete against Wilson, Cedar Crest, and Central Dauphin.  The Wildcats battled all three teams to continue their winning streak to claim a back-to-back district title.
Senior Bobby Nicholson, Juniors Taylor Hicks and Lane Krosse, and Sophomores Reed Krosse and Mason Tucker participated in States, all helping the team to achieve the silver medal. 
With a par of 72, our athletes shot in the range of 73 to 88. Lane Krosse shot a 73, Nicholson with a 75, Reed Krosse with a 76, Hicks with an 81, and Tucker with an 88. 
The state competition took place at Penn State's White and Blue course, where the players experienced unexpected weather. 
"We had to bundle up so it was  definitely harder to swing to our full potential." Hicks said, "When you think of golf you think of summer, and warm weather, so that was just a whole new atmosphere to adapt to."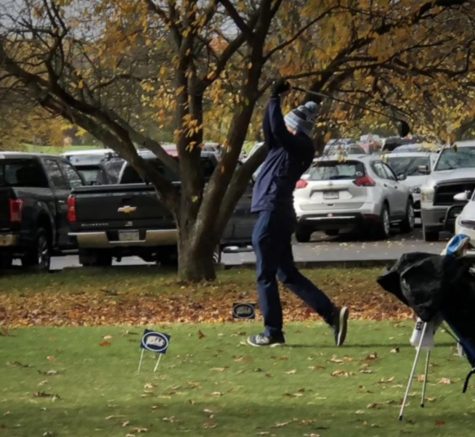 The Wildcats fought hard, despite the cold weather, but in the end, Central Catholic was able to have six fewer strokes, which gave them the gold medal.
The varsity team will only be losing Nicholson for their upcoming season in 2023. As a four-year varsity player, Nicholson has finished his last season with the golf team, qualifying for counties, districts, and states. 
"We lose one very important senior, Bobby Nicholson, and we return four of the five players that participated in states," Gibbs said. 
Despite the loss of both seniors, Gibbs feels "that the golf team has a solid chance to repeat winning the York County Tournament, District Tournament, and go back to States and win."
Leave a Comment
Your donation will support the student journalists of Dallastown Area High School. Your contribution will allow us to purchase equipment and cover our annual website hosting costs.