Common Grounds – "REACHing" For Success
A coffee shop in Dallastown provides students with a hands-on experience of the workforce.
Most Dallastown students have probably driven by it. Common Grounds Coffee shop on Main Street uses a pun on coffee terminology and an enticing sign to lure in caffeine lovers. 
What may not be as well known is that the shop transitioned from a "For Profit" coffee shop to a "Non Profit" in the fall of 2021 and was  incorporated into a new program for Dallastown students.
The REACH Program, allows students across all special education programs who are of transition age (18-21) to witness the work world by running the coffee shop. Some students may have delayed their graduation. 
This shop, Common Grounds, in correlation with Bethlehem United Methodist Church (BUMC), is open from 10 a.m. to 2 p.m. Monday through Friday and it is run by Dallastown students with special needs. 
Mrs. Cassie Gardner is new to the district this year and she is the head of the REACH program. Under her direction, there are seven students in the program,and they have a regimented daily schedule.
"The students report [to Common Grounds] every morning.  We have a classroom in the church where academic instruction takes place, [and] the majority of our school day is completing employment-related tasks throughout the church building," Gardner said.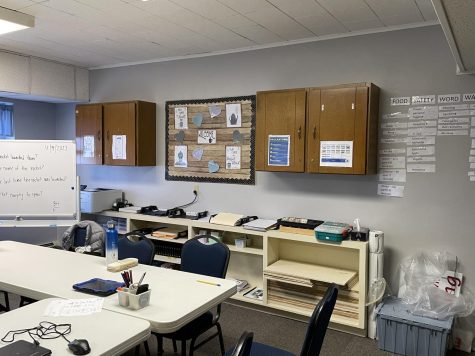 The students spend the first few hours of their day doing academic work and then open the shop for the afternoon.
During their time at the shop, the crew has two "teams" who complete different tasks throughout the day. Gardner described what each "team" is responsible for.
"One team completes front-of-house operations by opening the café and completing the following tasks: cleaning restrooms, making coffee, sanitizing surfaces, cashier register balancing, restocking items, completing temperature logs, vacuuming, mopping, completing the inventory, making specialty drinks on the espresso machine, and serving customers," Gardner noted.
"The other team completes back-of-house operations and completes the following tasks in other parts of the building: cleaning the kitchen, grocery shopping, making lunches, washing utensils in the dishwasher, laundering uniforms, cleaning restrooms, setting up events, food prepping for church events, and completing sanitizing logs," Gardner explained.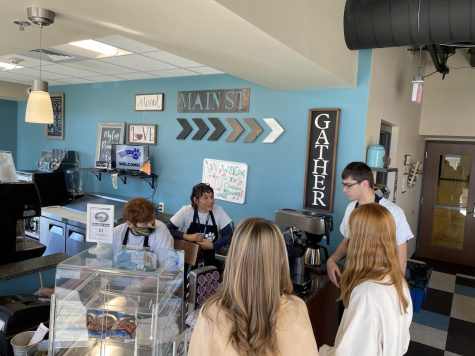 Common Grounds allows the students to complete over 100 work-related tasks per day.
At the shop, they currently sell prepackaged snacks, sodas, water, breakfast items, coffee, and tea, but soon they are hoping to introduce many more items.
"We are launching our food menu and will be serving a turkey club sandwich, granny hammy sandwich, cobb salad, brownies, muffins, white chocolate café latte, caramel café latte, and coffee," Gardner said.
If all goes to plan, the crew hopes to release these items in a soft opening in November.
All proceeds from sales will go to mission trips sponsored by BUMC.
According to one of the student workers, she likes "to come here and see all my friends and be the cashier."
Another student worker prefers to be behind the scenes of the work, saying "this year is a lot easier for me. I feel like the school and work schedule helps me."
Lindsey Wolfe, the high school's Life Skills teacher, has seen the impact on a few of her students who are now members of the REACH program.
"It's a good opportunity for students who no longer want to be in a school setting and gives them a chance to get hands-on opportunities to see if they want to do that in the future," Wolfe said.
View Comments (1)
Your donation will support the student journalists of Dallastown Area High School. Your contribution will allow us to purchase equipment and cover our annual website hosting costs.