Patience and Passion Lead DHS Grad to "The Voice"
Devix AKA Eric Torres (Class of 2012) has made it to the Top 16 and the live shows of the NBC reality singing competition.
When Devix takes the stage for his live performance on NBC's "The Voice" on Monday, Nov. 14, it will be a performance many years in the making.
The 2012 Dallastown graduate, who says he didn't really participate in many traditional music programs while in high school, has spent the last 10 years pursuing his passion on small stages around our area.
The day after his Knockout performance aired, Devix, who took his stage name from a video game character he created, visited with The Beacon staff via Zoom from Los Angeles to tell us more about his musical journey.
At Dallastown
Born in Queens, New York, his family moved several times before settling in York, Pennsylvania, in sixth grade, when he had Mr. Buer as a music teacher.
"He was always a hard worker and motivated to be independent. He was willing to help other kids which is something that stood out to me. He had a little bit more experience than some, and he was always so positive and helpful," Buer said.
He played several instruments in his early years including first the piano and then the guitar which he picked up at age 8.
Although he always loved music, originally it was more of just a hobby.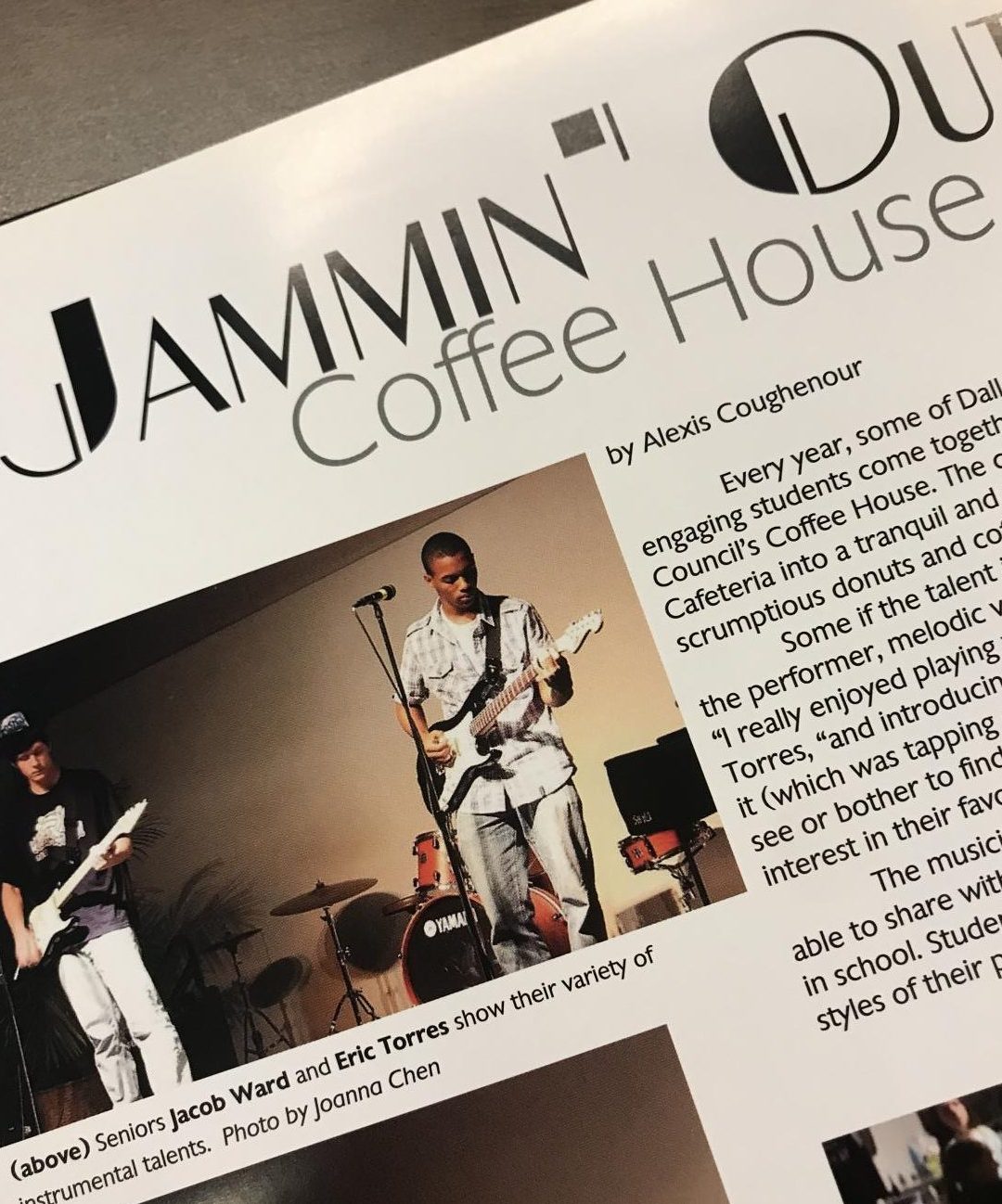 "I didn't have a passion for it [music]…yet," Devix said. "I loved music but in a 'hobby-istic' way."
It wasn't long before a school talent show put him in the spotlight. During his sophomore year, he and his friends had written a song but no one wanted to sing it. He became the singer, and never turned back.
Taking a leap to forward his music career came naturally to this former track team member and long jumper.
According to his high school coach, Mr. Melhorn, he was both talented and hard-working.
"Eric was a tremendous long jumper and a really fun young man to coach.  It's a joy to see him perform… what tremendous skill and potential!" Melhorn said.
Following graduation, Devix took a job working with his brother in a warehouse and investing all of his money into musical equipment and all of his free time into performing.
"It started off with open mics and then moved on to a couple of non-paid shows. I think actually my second gig was paid, so that was eye-opening for me. It was like, 'Oh, there is a future in this'."
The Voice Journey
After almost a decade of performing throughout the area, Devix gave "The Voice" a try, first auditioning for Season 19.
"I got to the blind audition stage but didn't go as well as I wanted it to. I didn't perform well, but I had a friend that I met there, who was also on "American Idol". He told me that one of the biggest things he realized was that he, unfortunately, had decided to wait for things and opportunities to come to him as opposed to tackling them himself," Devix said.
This advice led him back to audition for Season 22 and this time, it went well.
In the Blind Auditions, he sang "Heat Waves" by Glass Animals and turned three coaches' chairs: John Legend, Gwen Stefani, and Camila Cabello. He ultimately chose Cabello as a coach.
"She just seemed to be the most across the board, fitting into so many different genres, doing so many different things with her voice, and not always sounding like the same artist. She stuck out a lot to me in that way. The other coaches were very complimentary of what I did in my artistry, but she talked about how we would progress through the show together. She gave hints to our roadmap, and that was what really made me go with her," Devix said. 
You can see his blind audition HERE.
In the Battle Rounds, he took the stage again, this time in a duet with one of his best friends on the show Sasha Hurtado. The pair sang a stripped-down version of MGMT's "Electric Feel" and he says it has been his favorite moment on the show so far.
"We put a lot of work into that arrangement. We were kind of struggling to figure out how we wanted to tackle it because the original was very different than how we imagined ourselves sounding. So we stripped it down. That was a really cool experience building up to this big moment on stage. I just remember the performance taking over us, and it just felt like we were swimming and gliding through the stage and the vocals, like everything was going so well without effort. It was a really cool experience to share with another artist."
Winning the round was bittersweet as Furtado was almost sent home, but saved by Gwen Stefani and stayed on the show.
You can see their battle performance HERE. 
The Knockout Round aired on Monday, Nov. 7, and he competed against two other artists: Steven McMorran and Andrew Igbokidi. He performed his version of Coldplay's "Yellow" to secure his spot in the live rounds, beginning on Monday, Nov. 14.
You can see his Knockout performance HERE
The Live Shows and How to Vote
We asked Devix if he had already chosen his song for the Live Rounds and what his week would look like.
"The song is picked. I can't say what it is, but I can say it's going to be a cool and kind of different live experience than has been seen on the show. This week will be a little bit more fast-paced. We're in and out of rehearsals and in and out of lessons. We've done wardrobe fitting already, s0 I think we're just looking at full stage performance rehearsals while in wardrobe and stuff like that, just to kind of buckle down and get the last bit of it nailed in."
He also explained that social media interactions have increased and become an important part of both networking and remaining on the show.
"I've seen a lot of growth in social media, and being recognized and being valued is really cool. It's not just seeing numbers rise but also seeing people really interacting and getting involved with the experience. That's what I want, you know. I want it to be an experience for everyone to take part in. Not just me doing this on-stage thing. People are joining in when I go live on Instagram, and they are so interactive as well. That's really cool. I can't even keep up with the comments anymore."
He hopes that his followers will help when it comes time to vote.
"At this point, it's entirely up to the audience to vote who goes on, so I appreciate any support."
You can follow him on Instagram, Facebook, and Twitter @devixmusic.
What's Next?
When his time on "The Voice" ends, whenever that may be, Devix says the plan is to continue to make music and tour. He has visions of a record release tour that would be a collaborative effort with other musicians.
'When you work independently, it's tough to set everything up on your own. But if you're working with a team of other artists, it's easier. Say I'm back in Pennsylvania and I've met people in LA, and we're both talking about booking shows and doing a cross-the-country tour. I have connections on our side, and they have on theirs. So networking opportunities like that are really helpful, and that's where I see myself going," he said. 
For him, it's really all about the music and always focusing on the next step.
"Next is releasing music on a more serious level, and then touring and putting on like a legitimate show as opposed to a quick setup and acoustic show. I want to do full-on sound, full band, or full instrumental with the whole aesthetic."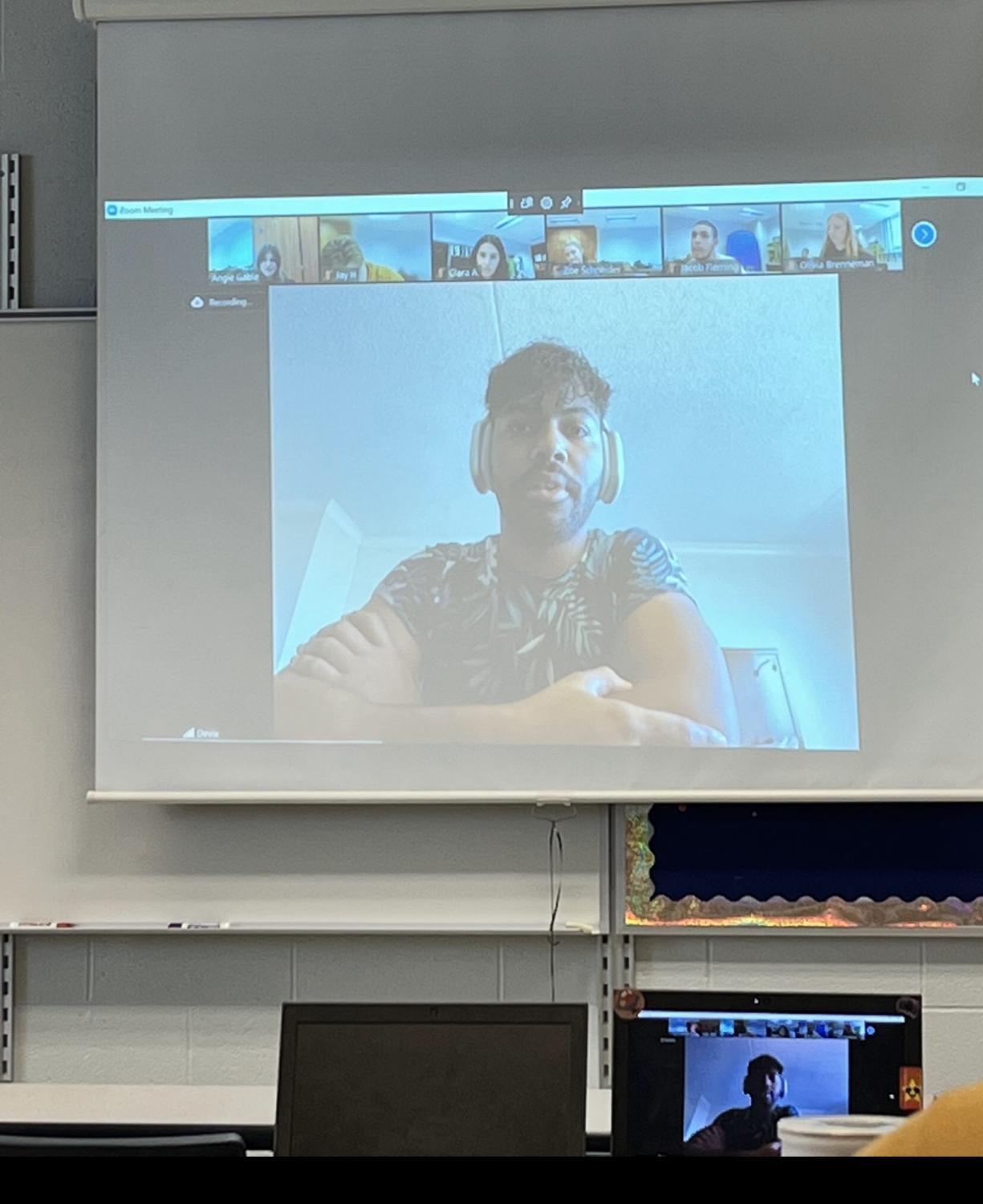 What advice does he have for Dallastown students?
"One of the biggest things is not to let go of your passion. I feel like there's always a way to find success in some format and to make your passion work for you and for you to work toward that passion as well. It should be a give-and-take relationship between you and this inanimate idea."
"If I can put it in perspective. I've been playing live for 10 years, not putting out any records. It's not that I wasn't successful, or consistent or stable, but now there's this new thing to catapult me forward."
"I guess I want people to know that there's always more doors to be, or more paths to be taken. It's never just one door to open to move forward. It's never linear. There are so many different exponential branching paths, and so many different versions of success. So you've just gotta make it work for you."
The Voice airs Mondays and Tuesdays on NBC at 8 p.m. E.S.T.
Leave a Comment
Your donation will support the student journalists of Dallastown Area High School. Your contribution will allow us to purchase equipment and cover our annual website hosting costs.