Let's Skate Year Round
Winter weather brings challenges for local skaters.
As it starts to cool down outside, and winter is right around the corner, it is skater's last chance to hit the skate park before it's time to hit the slopes. 
With snow and the freezing cool weather there is not a lot of room for outdoor activities, and since skateboarding is very dependent on good weather, there is not a lot of it in the winter time.
Skaters have their own way to get their skating fix. Some people go snowboarding, some go to indoor skate parks, or some decide to just skate in their basement, but some still skate outside.
"I wear a big puffy jacket and skate, either over by Route 30 or in my garage," said sophomore Zach Smith.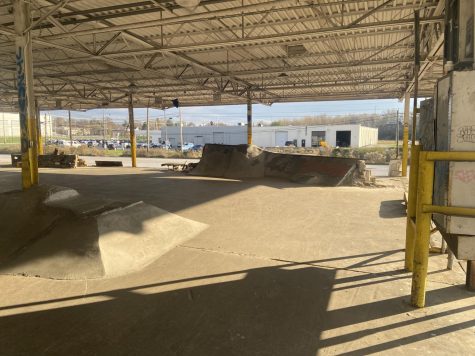 The old loading dock over by route 30 in York has became a popular skate spot in the last few months. Skaters have added their own little obstacles to the area, and is perfect for bad weather because it is covered.
Some skaters prefer to embrace the snow instead.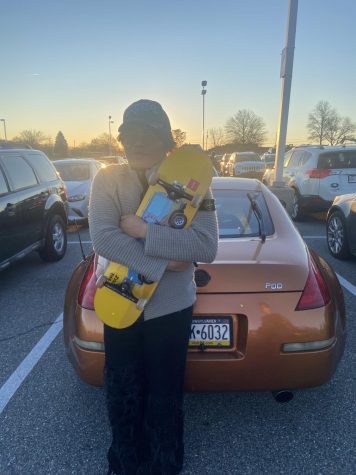 Many skaters have just taken the trucks off of old skateboards, and decided to just slide around snow on their deck.
It is a very inexpensive way to go skating in the snow, and most skaters already have old skate decks sitting at home. This would surely ruin your deck, because all of the moisture getting into the deck would leave it waterlogged so there would be no pop. 
Most skaters would not mind the waterlog because the boards they use are old and have been retired from being skated.
"Me and my friends just mess around the skate park on old decks and it's fun," senior Nolan Miller said.
The issue with riding your old decks on the snow is that there is no traction on the snow, and there is not a lot of pop in the board, and the pop would get worse as it gets more waterlogged.
Some people decided to spend more money to get a more professional ride.
In recent years there has been an increased interest in snow skates. Snow skates are skate decks that are coated in plastic and have a grip tape made of foam and hard plastic.
The down side to snow skates is that they cost $150 to $200, and many skaters do not want to spend that kind of money on a board. 
"It's cool, but is it really worth it," Miller said.
Snow skates are meant to replace the old skate deck on the snow. The snow skate has grooves on the bottom of it so that it can ride to the top of the snow without slipping, and they have the proper concave and grip to do tricks in the snow.
Ambition Snow Skates is a canadian company, founded in 2004, that focuses on making the most skateboard-like snow skate that is meant to be taken to the skate park after it snows out. 
Ambition's goal is to progress the world of snow skating, and to do that they have been sponsoring skaters and have been sharing their skating on social media.
There is debate between skaters whether  snow skates are worth it or not. Some think that $200 is too expensive for a deck that is only used for one season, and others believe that they should be able to skate professionally year round. Either way skaters will skate year round.
Leave a Comment
Your donation will support the student journalists of Dallastown Area High School. Your contribution will allow us to purchase equipment and cover our annual website hosting costs.