Spotlight on… Chinese Culture Club
One of the school's newest clubs hopes to share traditions and experiences of Chinese Culture with the students of DHS.
Dallastown strives to make everyone feel welcomed and included by promoting the components of CARES (Compassionate, ) Accountable, Respectful, Ethical, Service-Minded) through its many clubs and activities.
Each member of the school community comes from a different background, with different lifestyles and cultures, and that's why the founders of one of Dallastown's newest clubs, the Chinese Culture Club, think it's an important addition to DHS. 
"Initially, we wanted to create an environment where people with Asian ancestry could connect with each other through experiences that might otherwise not have been available." stated Bessy Jiang, one of the club's presidents.
More recently, the club has become something that shares the joy of Chinese culture with all sorts of people.
"At the end of the day, our top priority is the happiness of our club members. It's awesome when we can use our activities to educate and spark joy to bring people together." 
The club meets every Day 6 in room 215, club adviser Mr. Ilyes's room.
Ilyes's youngest daughter, Faith, is Chinese. The family would often go to local "Families with Children from China" events to expose her to Chinese culture.
"We haven't done anything like that for at least five years, so I was happy to say 'Yes' when one of my physics students, Victor Vaida, asked if I'd be the advisor," Ilyes said.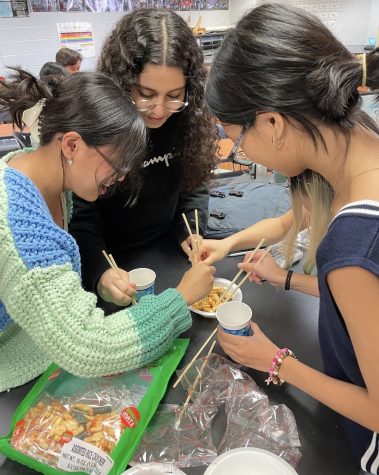 So what does the club do?
"We aim to incorporate a variety of activities in our club, from celebrations to games to arts and crafts," said Jiang. "We've played traditional card games and ping pong, tried different Chinese snacks, held a chopstick tournament, and more."
As the club is fresh, more can be expected to come in the near future.
"We plan on hosting celebrations for some Chinese holidays, playing more traditional games, and trying new foods."
So, who can join the club?
"Chinese club is open to anyone, regardless of cultural background. We hope that anyone that comes to our meetings has fun." 
Why should people join the club?
"It's a great opportunity to experience part of a culture that may otherwise be foreign and unfamiliar or connect with people who may have similar backgrounds as you."
2022-2023 Club Officers
Co-Presidents – Bessy Jiang & Victor Vaida
Event Coordinators – Ethan Wang & Daniel Zhang
Secretary – Adi Satheesh
Treasurer – Brandon Hui
Historian – Naiara Garcia
Leave a Comment
Your donation will support the student journalists of Dallastown Area High School. Your contribution will allow us to purchase equipment and cover our annual website hosting costs.