The Evolution of Gym Class: Part I
From uniforms to curriculum, Dallastown Phys. Ed has changed with the times.
To some, it was the most exhilarating part of their school day. To others, it was the slowest, most awkward 48 minutes of their life. Whether a student hated it or loved it, gym class was, and still is, a crucial part of being a DHS Wildcat.
From the uniforms and class length to the games and polka, gym class has evolved over the years.
Dallastown students have always taken gym, but since trimesters, students are only required to take one and a half credits of physical education. In fact, passing physical education has been a graduation requirement for as long as people can remember.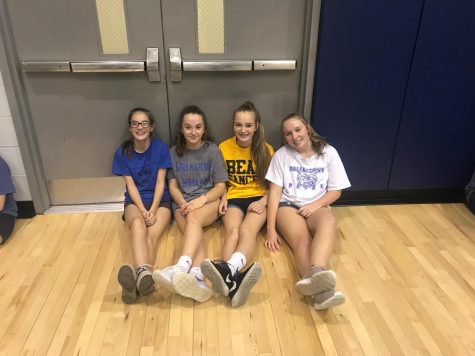 The structure and grading system for gym is unlike any other course. Students mainly earn points by participating and wearing the proper uniform.
"I remember we would get points off for not wearing white socks or not having our hair pulled back with hair ties," PE teacher and DT graduate Mrs. Werner said.
The gym teachers point out the sweaty boys as being the main reason for wearing uniforms.
The uniform is decided on by the department head, with input from the gym teachers.
"It's a compromise," Werner said.
Many Dallastown female alumni from the 80s will remember the one-piece romper gym suit. While the romper is now a popular fashion statement for teenage girls, the uniform featured thin blue and white stripes and a zipper going up the front.
Around the nineties, the uniform changed into the gender-neutral "Blue mesh shorts with a paw print, grey t-shirt with a logo," 2008 graduate and social studies teacher Mr. Zelger describes.
This uniform was worn until trimesters began in 2016. Students now change into gray, blue, and white shorts, t-shirts, and sweatpants in addition to sneakers. Most students wear Dallastown apparel.
"Because of trimesters, people have gym every day. We tried to find new and different ways to wear the uniform. It also put that DT spirit out there as well," Werner explained.
"
Because of trimesters, people have gym every day. We tried to find new and different ways to wear the uniform. It also put that DT spirit out there as well,"
— Mrs. Werner
Some students wonder why they cannot wear whatever athletic clothes they want.
"Too many people wear those clothes to school, and the teachers don't want to spend time checking to make sure everyone has changed," Werner said.           
Trimesters not only changed the uniform but also the structure and curriculum of the class.
Students used to have the class for 45 minutes two times a cycle for the entire school year. Now, 68-minute classes are held every day in a trimester.
Freshmen are required to take Freshman P.E: a class similar to the pre-trimester gym, where students sample a variety of sports.
Students in grades 10-12 are required to take two other gym electives. These classes can be anything from Water Sports to Fitness Activities to International Games.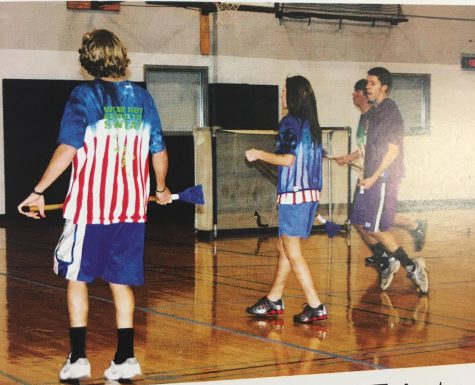 Unfortunately for gym class enthusiasts, the gym class major was cut from the curriculum.
"I loved it! It was nice to get to know gym teachers in a classroom setting," DT alum Brittany Temple said.
Gym Major was offered to seniors who loved gym and also to those considering careers in Phys. Ed or coaching. The course met every day and consisted of classroom lessons, extra time in the gym, and even field trips.
"Gym major was great.  It was my favorite class.  I enjoyed not only the gym portions but also the classroom portions learning about different sports and basic first aid.  The trip to Lake Redman was also a highlight," Zelger said.
Since classes already meet every day, the gym major did not make sense anymore.
What is the best part about gym class?
Sorry, there was an error loading this poll.
Although Phys. Ed. appears to have drastically changed, it is, in many ways, essentially still the same.
Classic games like matball and everyman are still played, and freshmen keep the polka alive. Some students even still sport the old blue mesh paw print shorts to class.
No matter what generation one went to Dallastown, all Wildcats can bond over the experiences of Dallastown gym.
This is part one in a series. Part II will examine Dallastown's polka tradition in Phys. Ed.