Former Dallastown Wrestler Making a Career as a Writer
Cael Turnbull didn't know what to do for a career until he took a chance on a journalism class. Now he is pursuing a career in sports writing.
Dallastown graduate Cael Turnbull is a writer for Heavyweight Nation, a national wrestling news site, and is a reporter for The  Philadelphia Rebels, a junior hockey team in Philadelphia.
But how did Turnbull get to this point? How did he go from being a wrestler at Dallastown with no idea what he wanted to do for a career to finding the thing that he wanted to do for a living?
Turnbull was born into Dallastown wrestling as his dad was a coach on the high school team for many years, and that was reflected in Turnbull who started wrestling at just aged 5.
Dallastown wrestling was like an extended family for Turnbull who says, "they're still some of my best friends," regarding his teammates who he wrestled with from when he was 7 or 8 up through high school.
When Turnbull got to high school he was very successful as a wrestler, going to 3 district tournaments and winning 75 matches in his 3 years starting for the varsity wrestling team.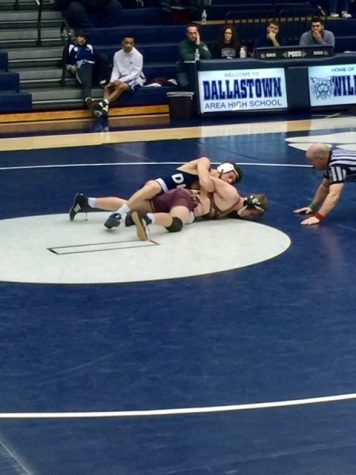 The team succeeded as well while Turnbull was there, winning a county championship for the first time in a decade and competing at the state tournament. That team "brought back the culture of Dallastown Wrestling," said Turnbull.
The head coach of the wrestling team at the time, Coach Dave Gable, also had Turnbull in his biology class, describing him as, "such a humble and hard-working person."
Turnbull was quiet but led by example. "Cael set a great example for everyone on the team," said Gable.
When Turnbull was wrestling in a match to go to states he lost, but he was the first person to congratulate Brooks Gable, his teammate and Coach Gable's son, for winning and advancing to states. "That brought tears to my eyes," Gable said.
Late in high school Turnbull took a few journalism classes and wrote about the thing he was most passionate about: sports.
Turnbull enjoyed sports writing, but he wasn't certain it would be his career path until he went to Temple University and began working at the sports media TV station there. He enjoyed the sports journalism program at Temple so much that he decided to make journalism his major.
At Temple, Turnbull learned that a huge thing in the world of journalism is trying to find internships. He went out and landed himself an internship with the local junior hockey team, The Philadelphia Rebels.
Hockey isn't a sport Turnbull knew much about prior to the internship, but Turnbull thinks it's a "really good first experience" to be working in a sport he didn't know much about.
Recently Turnbull has found more work in sports writing by returning to his main sport, wrestling. He found the wrestling website, Heavyweight Nation through Instagram.
Turnbull now writes for Heavyweight Nation and plans to continue to work with them once his internship with the Rebels ends in April.
While continuing to advance his career through internships, Turnbull works for his friend's lawn care business to make money on the side.
Cael Turnbull took a chance on something he enjoyed, put in the hard work, and now has a career that he is passionate about.
"He's a very hard worker and very passionate about what he's doing; he deserves the world," said Mrs. Turnbull, an English teacher at Dallastown and Turnbull's mom.
Turnbull is a great example for all students at Dallastown that, if you pursue your goals and are willing to put in the work, it will pay off for you down the line.
Leave a Comment
Your donation will support the student journalists of Dallastown Area High School. Your contribution will allow us to purchase equipment and cover our annual website hosting costs.