Jack of all Trades
Senior Dallastown manager Jonah Stefko got to show his skills when he took the court for the first time against York Tech.
Dallastown has themselves a jack of all trades that is not a player. Jonah Stefko is the Dallastown basketball manager and he does a lot for the team that goes unnoticed.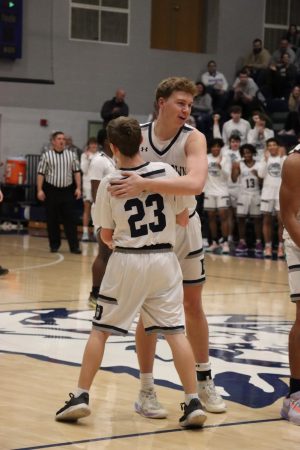 Stefko has been the Dallastown manager since his sophomore year.
"I became the manager to get more involved in the school and to make more friends," Stefko said. 
He has put in as much time as the players have, if not more, because the manager does more than you would expect. 
"Just does everything we need him to do," Dallastown head coach Michael Grassel.
Grassel has a lot of appreciation for his manager.
"He is important as a shooter or any other player. He is great in his role."
Stefko does everything from getting the ball to getting water and running the clock.
"Practice can not run without him," said Grassel. 
A manager is a job that not many people want you to put in a lot of work for a team to never play. But Stefko loves every part of it and would do it every day of the week.   
Stefko has done so much for the team over the last 3 years that Grassel wanted to show his appreciation by letting him play against York Tech on January 23, 2023.
"I'm nervous and excited at the same time,"  Stefko said.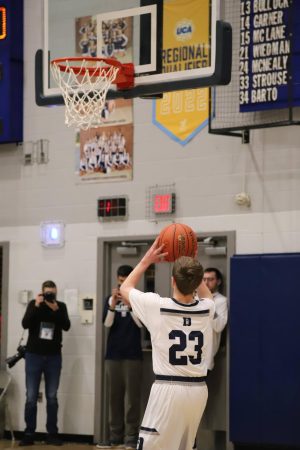 This was his first time playing basketball for a team and he get the start in a varsity game.
Owen Strouse thinks this is a great moment for him "He deserves this." 
On January 23, 2023, Stefko took that court for the first time, and it was a moment that he will never forget.
The game started with a standing ovation for Stefko when he was announced. 
The game kicked off with a tipped ball won by Conner Barto to Kenny Johnson to Stefko for the opening basket of the game. The gym exploded when Stefko scored his first career points. 
After his opening layup, he checked out until 3 minutes left in the 4th quarter. After he checked in, the moment happened. 
Chase Mclane got the rebound off the miss and passed it out to Stefko for the 3, then the gym exploded for a second time.
All the players from Dallastown stormed the court to celebrate with Stefko, and the fans gave one more standing ovation for Stefko.
"This is a night that I will never forget," Stefko said.
Leave a Comment
Your donation will support the student journalists of Dallastown Area High School. Your contribution will allow us to purchase equipment and cover our annual website hosting costs.