The Wonders of Walking
Why every Dallastown student should get out for a walk this spring.
From CrossFit to Zumba to Peloton to the 12-3-30, every year there seems to be a new exercise trend to try. 
However, there is one exercise trend that I believe everyone should implement into their daily workout: walking!
While walking has traditionally been a form of exercise for older adults, recently people of all ages have added walking to their workout regime. 
Walking grew in popularity for young adult girls during quarantine when social media influencer Mia Lind coined the term "Hot Girl Walk," which, according to Urban Dictionary, is a slang term meaning to get out and go for a daily walk.  
But don't let the name fool you- walking is a great and fun exercise for anyone of any age. It takes an hour, and you think about how grateful you are, your goals, your hopes, and dreams. 
"I enjoy walking because it's something almost anyone can do with very minimal equipment." Says Dallastown health teacher Nicole Boyce.
According to Medical News Today, "Walking is a form of low impact, moderate intensity exercise that has a range of health benefits and few risks."
Let's be honest – we're all guilty of claiming to start a new daily running workout before giving up after a week. Or, maybe you've bought a gym membership only to be intimidated by the machines. 
Since walking is of a moderate intensity, it is easy to start and stick to a routine. 
Beginner walkers can create shorter routes on flat, level ground. Those looking for intenser routines can walk longer, faster, and on more elevated routes.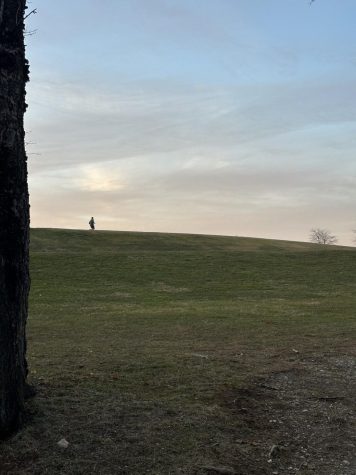 Also, walking is a great workout because you can do it anywhere with no equipment required! Whether you live in the city or suburbs, stuck at home or on vacation, you can go walking anywhere.
There is another fun aspect of walking: you can spend time enjoying the beauty and peace of nature. 
Additionally, walking has many physical and mental health benefits. "Walking everyday can improve cardiovascular health, strengthen your bones and muscles, increase your energy levels, improve your blood pressure and so much more." Says Mayo Clinic.  
According to Harvard Public school of Health, people of older age have a  reduced risk of dementia, stroke, heart disease, as well as strengthening  their bones. 
People who walk 9,862 steps per day who are between the ages of 40 and 79 are less likely to develop dementia within seven years, according to CNN 10.
According to Step One Charity, along with the physical benefits to walking there are many mental benefits to going for a daily walk. It can improve your mood, reduce stress and tension, improve your sleep, improve your memory and more. 
Walking can be a full-body workout. It exercises many of your muscles such as your hamstrings, calf, and quadriceps. 
However, some might argue that walking isn't an intense workout. But, brisk walking for 15 minutes for one mile burns the same amount of calories as jogging for the same distance in 8.5 minutes. 
Walkers can also add ankle or hand weights to create an even more intense routine. 
"I 100% recommend walking! It doesn't matter if you do it inside or outside, by yourself or with someone, fast or slow. Walking can be so beneficial to not just your physical health, but also your mental health." Says Dallastown health teacher Nicole Boyce.
Some of my favorite places to walk in York County include York Township Park, Windsor Township Park, Springettsbury Park, and Nixon Park. However, you don't have to walk just at a park. I love walking around my neighborhood and going on long walks around Dallastown. 
View Comments(1)
Your donation will support the student journalists of Dallastown Area High School. Your contribution will allow us to purchase equipment and cover our annual website hosting costs.