Dallastown Bowling Team Strikes to Victory
The bowling team might not be the most popular sport at DAHS, but it continues to grow in size and talent.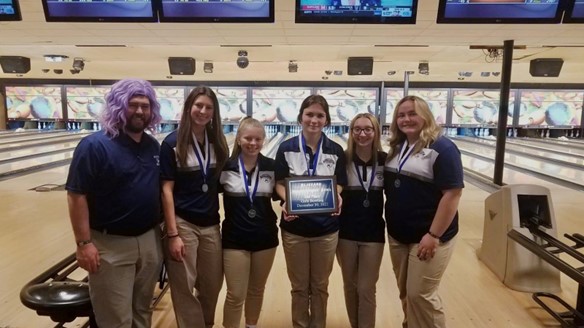 Bowling started at Dallastown in 2019 when it was only a club.
"I thought it would give students an opportunity to do something fun, to be engaged, and to learn the valuable life lessons bowling can teach," said Justin Zelger, coach of the bowling team. 
On December 30, both the girls' and boys' varsity teams headed to Berks Lane for the Blizzard Bowl Tournament.
This ended up being a big day for Dallastown Bowling as the girls' varsity team made it to the finals. They had a qualifying score of 1879 and got second-place medals. 
Reese Forella, captain and senior said, "That was a lot of fun. We've had matches before but nothing compared to that level and the environment, so I think it pushed us as a team to be better. "
"I was just sort of enjoying it to be honest. I know that the girls were somewhat nervous but I thought that just getting there was something to celebrate and was an accomplishment so I already felt good about the result no matter how it went," Zelger added 
This team currently has 28 athletes. Eight of those athletes are seniors.
"I'll miss Mr. Zelger. The environment on the bowling team is probably the best school sport you could be a part of so I'll miss the environment, the fun, and seeing my friends every day, " Forella explained. 
Zelger not only is focused on bowling abilities, but also on the mental side of things.
"First, it is important to the sport itself in many ways. Bowling is a sport where you are competing against yourself first and your opponent second. Secondly, I think that is the part of the sport that transcends to other parts of life," said Zelger.
Sophomore Conner Ebbert explains, "Just teaching us about bowling but then skills that come in use outside of bowling. Just all-around life skills."
Bowling continues to be successful and grow. This team has a lot of fun and everyone enjoys being there with each other. 
When asked what he wants people to take away from bowling, Zelger said, "Not to say 'I can't'."
Leave a Comment
Your donation will support the student journalists of Dallastown Area High School. Your contribution will allow us to purchase equipment and cover our annual website hosting costs.