Miracle Mission
A Dallastown senior's health journey and a Dallastown graduate's mission to help
Everyone's parents say their kids aren't like most, but the Dewees' family wasn't lying. Senior Maddison Dewees is a miracle child: a child who had a slight chance of living. 
Dewees was born with a heart condition that still impacts her life today. Atrial Septal Defect (ASD) and Patent Ductus Arterioles (PDA) are common cardiac heart defects. However, when they are combined they become rare. 
At just one month old, Dewees' doctor heard a heart murmur and sent the family to Penn State Health Children's Group. Then she started having checkups every three months. 
Around 10 months old she suddenly began losing weight and was sent to Penn State Health Children's Hospital. Her checkups soon became monthly. It was then discovered that she had a third defect called Cor Triatriatum. This discovery led to her undergoing open heart surgery. Her condition started improving significantly. 
Dewees' story shortly became known. 
"Back in 2014, I brought our tour called Torch Relay to York for the first time. I actually chose Maddie to be the Miracle Child Ambassador that year and introduced her with the Penn state Health Children's Hospital Miracle Child program," Dallastown Alumni Garret Lauer said. 
Lauer has always helped fundraise for Children's Miracle Hospitals.  Near the end of 2021, he decided to take a bigger step toward helping the cause. 
He created Given's Coffee, a brand that helps share Miracle Children's stories along with donating proceeds to hospitals. 
The brand is named after his son Given, who was born a Miracle Child. During their four-month hospital stay, he started reaching out to families that had been in the same situation.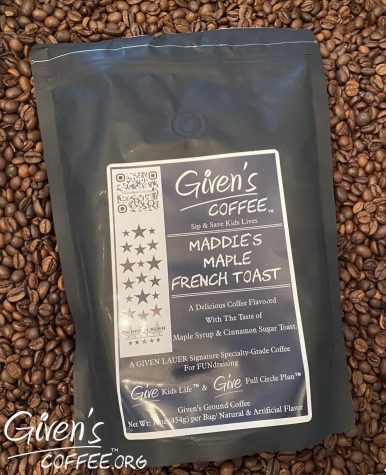 "All I had to look forward to while in the hospital was coffee and communicating with other miracle families," he said.
Lauer located a local company that supported the cause and they agreed to help create the coffee roasts along with the bagging process.
During their hospital visit, Lauer reached out to families. He listened to their stories, made sure they were all on board, and crafted twenty-one brilliant flavors. 
"The most important thing about this coffee is what it supports all within one bag," Lauer exclaimed.
 Once the parents of a Miracle Child agree to let the company share their story, the kids are allowed to pick from the flavors that are left. They then use the flavor and keywords to design a unique name. Attached to the bag is their hospital journey which allows customers to learn the miracle child's story. 
Each child then receives their own link to share their coffee creation. 
"There is no cap so earning potential for the Give Miracle Kiddos is endless," said Lauer. 
Maddie's Maple French Toast is available on GivensCoffee.org along with many other miracle children. 
"It's really hard sometimes, but I know it doesn't define me and it's just something unique about me that not everyone knows!" Dewees exclaimed.
Leave a Comment
Your donation will support the student journalists of Dallastown Area High School. Your contribution will allow us to purchase equipment and cover our annual website hosting costs.