From Coast to Coast
VPC travels across the country to the nation STN convention for the first time in four years.
Ladies and gentlemen, Southwest Airlines welcomes you to Los Angeles, California. The local time is 6:17 p.m. and the temperature is approximately 60° Fahrenheit. 
Twenty-seven students from the Dallastown Video Production Club traveled west to attend the STN (Student Television Network) Convention in Long Beach, California March 16-19.
STN is a United States based program that works with students and teachers from coast to coast with an active interest in furthering scholastic broadcasting and video production. Offering seasonal contests, fall and winter challenges, and a yearly conference with a variety of contests and workshops with professionals in the film industry.
This was STN's 20th Annual Convention and had close to 3,000 attendees, and was the Dallastown Video Club's 14th year. 
Students competing in the competitions are given a prompt and a set of rules and then must write, shoot and edit their stories in a given amount of time. This real world challenge pushed the students to their limits on time management, and learned that every minute counts.
By the end of competitions nine teams submitted entries on time for judging. 
"Overall I had an amazing experience. The convention was fun and super inclusive," sophomore Brady Bowman said.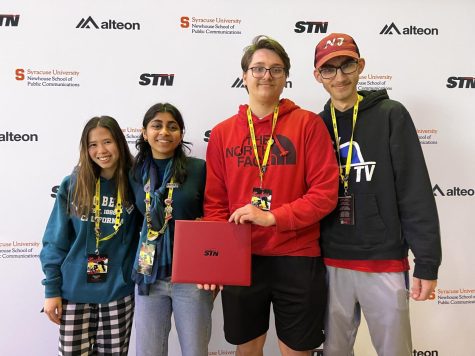 The Movie Trailer team had six hours to produce a movie trailer based on a given prompt, Using the title, Never Goes Away, and using the line of dialogue, "Go ahead, I'll catch up."
They had to create a 60-second trailer that portrays scenes, basic plot, and mood of a fictional film in order to gain audience interest. 
The team of Matthew Borger, Timothy Johnson, Dominique Baker, and Riya Agarwal developed and produced a great story about an athlete overcoming adversity. Earning the team an Honorable Mention.
"I knew our movie trailer was good but movie trailer contest has a history of having one of the hardest competition in the convention," Senior Timothy Johnston had to say
The Movie Trailer typically has steep competition and is difficult to place.
"I couldn't honestly tell you how ecstatic I was. I just couldn't believe we manage to place in a contest that I felt impossible to win," Johnston said. 
The Crazy 8 Vertical Film team was a larger team competition challenging the students to write, shoot and edit a short film in 8 hours, with the twist of filming in the vertical format to be mobile device friendly. 
Their prompt was to use the title, Within Reach, including the unique angle, Worm's eye view, and use a remote control as the key prop.
This team was composed of nine students who worked well together and produced a short thriller that earned them 2nd place. 
"Both of my teams were fun and nice people who all worked together and we had some great ideas together. Both of my films I thought were going to be great, the regular short film fell off, but the crazy 8 vertical short film I had high hopes for," Bowman said.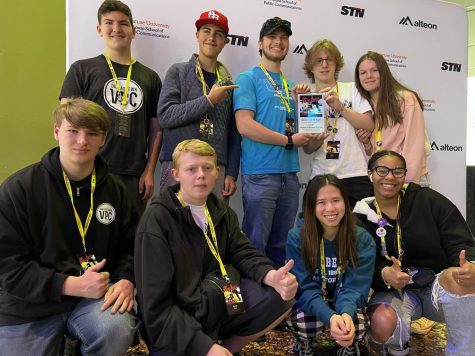 With the vertical short film earning 2nd place Bowman had this to say, "I cannot describe the joy I felt when the film that I had shot, the one that I was behind the camera the whole time for had won 2nd place. After winning I was still extremely ecstatic from being able to hold the plaque."
Link To Playlist Containing All Videos (https://youtube.com/playlist?list=PLEcf-97Nu4LZK6UUMiRMsMGob5rAucr5o)
Leave a Comment
Your donation will support the student journalists of Dallastown Area High School. Your contribution will allow us to purchase equipment and cover our annual website hosting costs.