Lydia's Literary Loves – Melanie Dickerson
This author takes classic fairy tales, expands the backgrounds of each character and gives them an unshakable faith in God.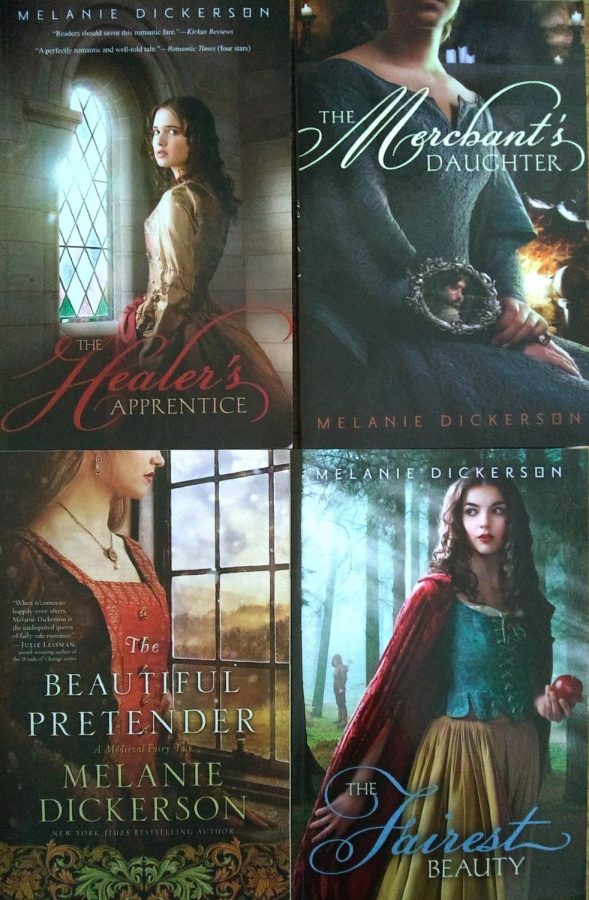 My love of Melanie Dickerson's books started with my own short stories.
I shared a few of my historical fiction novellas, chock full of adventure and romance, with my best friend, and she asked if I'd ever heard of an author named Melanie Dickerson.
Of course, I hadn't, and so she lent me one of her novels by that author.
From the very beginning of the first Dickerson book I read, The Silent Songbird, based on the classic fairy tale The Little Mermaid, I was hooked.
Dickerson and I have remarkably similar writing styles, and it was very strange to read a book written exactly in my fashion.
Before she became a published author, Dickerson attended the University of Alabama and attained a bachelor's degree in special education. She has taught both children and adults in the United States, Germany, and Ukraine.
Now, she spends most of her time in Huntsville, Alabama, writing her signature books.
She takes classic fairy tales, such as Beauty and the Beast, The Little Mermaid, Sleeping Beauty, Cinderella, and others, and creates an entire, full-length novel based on their life and experiences finding their true love.
"
[I write] sweet, romantic stories filled with adventure in a historical setting.
— Melanie Dickerson
Not only does she give each classic story an extended history and backstory, but she instills in each main character a strong faith in God that helps them as they flee from enemies, journey across the country, and find a forever home and family.
Dickerson herself describes her writing as "sweet, romantic stories filled with adventure in a historical setting."
An interesting aspect of Dickerson's novels is finding the so-called "Easter Eggs" between the original story and her version of the story.
For example, the heroine in The Captive Maiden (based on Cinderella) is named Gisela (both names end in some version of Ella) and the heroine in The Merchant's Daughter (based on Beauty and the Beast) is named Annabel (think Belle)
The majority of the series takes place in Hagenheim, Germany, in the Middle Ages, in the late 1300s and early 1400s.
Not only do the books of the series have the same setting, but many of the characters are actually related to each other.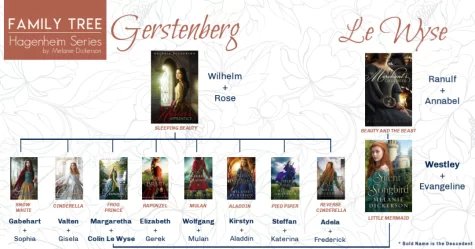 For example, Gabehart (the hero of The Fairest Beauty, based on Snow White and the Seven Dwarves) and Elsebeth (the heroine of The Golden Braid, based on Rapunzel) are actually brother and sister.
Gabe and Elsebeth have six additional siblings, and all eight are children of Wilhem and Rose, the main characters of another book, The Healer's Apprentice, based on Sleeping Beauty.
Another interesting fact about Dickerson's book is their lack of magic.
In all of the classic fairy tales, there is an element of magic, but Dickerson chose to eliminate that from her books.
As a result, the plot points controlled by magic elements must be explained in another way.
For example, instead of Evangeline (based on Ariel from The Little Mermaid) having her voice taken away by an evil witch, she chooses to feign being mute in order to disguise her true identity.
That way, the basic storyline of the original fairy tale is not lost, but magic, which is completely unrealistic, does not have to be a factor.
In addition to her most famous Hagenheim series, Dickerson has also written a few series centered in Regency-era London (Regency Spies of London and Imperiled Young Widows).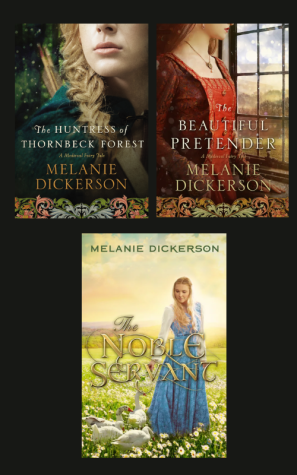 In addition, she wrote a series set in the Deep South in the late 1800s (Southern Seasons), one set in medieval England (The Dericott Tales), and another medieval fairy tale series, centered in Thornbeck Forest, Germany.
The second medieval fairy tale series is made up of three novels, all mashups of popular fairy tales.
These novels also take place in Medieval Europe, and since they are mashups, it becomes harder to pick out elements of the original fairy tale, which almost makes the stories seem brand new, instead of a retelling.
The Huntress of Thornbeck Forest is a mashup of Robin Hood and Swan Lake, The Beautiful Pretender is a mashup of Beauty and the Beast and the Princess and the Pea, and The Noble Servant is a mashup of The Goose Girl and The Prince and the Pauper.
Since her first book was published in 2010, Dickerson has won multiple awards including the Christy Award, two Maggie Awards, The National Reader's Choice Award, the Christian Retailing's Best Award, the Book Buyer's Best Award, the Golden Quill, and the Carol Award.
I've always loved a good peasant-finds-her-prince story, but when a classic fairy tale is expanded upon, given character and an element of faith, it is the perfect combination.
If you like fairy tales, I highly suggest you try out one of her books! You might just be surprised at how amazing they really are.
Leave a Comment
Your donation will support the student journalists of Dallastown Area High School. Your contribution will allow us to purchase equipment and cover our annual website hosting costs.