Girl Scout Gets Gold
Senior Kylie Tauzin achieved her Gold Award by partnering with local nonprofit KPETS to bring the power of human-animal interactions to the halls of Dallastown.
Most of us know the Girl Scouts because of their annual cookie sale fundraiser, but the organization, founded in 1912 by Juliette Gordon "Daisy" Low, does much more than sell cookies door-to-door. 
When Girl Scouts grow up in the program, they advance through the ranks of Daisies (K – 1st), Brownies (2nd – 3rd), Juniors (4th – 5th), Cadettes (6th – 8th), Seniors (9th – 10th), and Ambassadors (11th – 12th).
Once a Scout reaches the level of Ambassador, they must decide whether or not to organize a project or event that will earn them a Gold Award, the highest award in the Girl Scouts Program.
Dallastown's Kylie Tauzin, senior, has been a Girl Scout since 2nd/3rd grade and has recently earned her Gold Award.
Tauzin partnered with Keystone Pet Enhanced Therapy Services (KPETS), a local non-profit organization that encourages well-being and offers encouragement by teaching others about the power and advantages of human-animal interactions.
KPETS mainly trains dogs, but they also incorporate cats and ponies into their program. 
Tauzin says that she decided to pursue earning a Gold Award because she "wanted to help fix a problem in [her] community. The Gold Award is a service project that helps resolve a real-world problem in the community."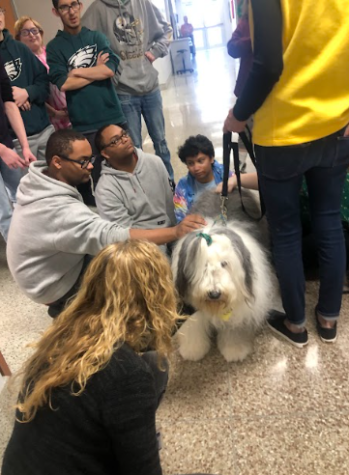 Since Tauzin is already involved helping with the special education program at Dallastown, she decided to use that connection to her benefit. 
For her Gold Award, Tauzin brought a KPETS dog, an Old English Sheep Dog named Ellie, into classrooms to hang out with the students.
"The dog made the kids' faces light up and that made me happy to see that they were having fun," Tauzin says. 
Lindsey Wolfe, a Life Skills Support Teacher at Dallastown, was Tauzin's main point of contact for her project. 
When Tauzin approached Wolfe about this project, Wolfe decided to go ahead with it. 
"I knew it would be beneficial for my students. The interaction, social skills, and fine and gross motor skills of bringing the service dogs into our classroom were all positive!" Wolfe says.
Wolfe had never welcomed service dogs into her classroom before, but it was extremely evident that it was a good experience for all involved.
"The students loved interacting with the dog, and I enjoyed watching all of the smiles on their faces," Wolfe says.
"
The students loved interacting with the dog, and I enjoyed watching all of the smiles on their faces.
— Lindsey Wolfe
Fortunately for the students, KPETS didn't just bring Ellie in for one day. Over the span of three months, Ellie visited the classroom about five times, and each time, the kids were so excited to see her and to experience the comfort she brought. 
"[The students] would look forward to her visit on Fridays and felt loved. The dog emotionally helped some of my students and if someone was having a challenging day, the students would perk up and become more vocal once they saw [Ellie]," Wolfe said.
Hopefully, this won't be the end of a service dog's involvement at Dallastown. Since this project had such an overwhelmingly positive impact on the students, Wolfe hopes to continue in the future.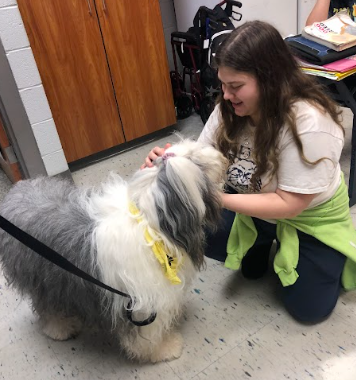 "I hope that someday I will be able to have a service dog come into my classroom once a week. It brought such positive conversation and smiles on everyone's faces," Wolfe states.
Now that Tauzin has achieved her Gold Award, she can use it to help her obtain scholarships to get into college. 
She plans to attend Wilson College to become either a Veterinary Technician or an Equine Therapist. 
"I can also use my experience in earning this award to educate younger scouts to continue to be in Scouts so they too get their Gold award one day," Tauzin says. 
She has reached the highest level possible in Girl Scouts, but that does not mean that her adventures with them have to be over. 
Tauzin will still be able to volunteer at summer camps as a leader for the younger scouts. 
"I could also volunteer in my troop as a leader,"  Tauzin comments. "I plan to use what I have learned throughout my time as a scout to educate others about what the girl scouts are and what we do as an organization."
Leave a Comment
Your donation will support the student journalists of Dallastown Area High School. Your contribution will allow us to purchase equipment and cover our annual website hosting costs.