Lowry Brings Home the Gold
Dallastown junior becomes state champion in Lincoln-Douglas Debate.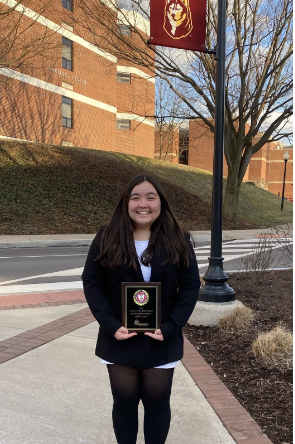 Dedication isn't a question for Olivia Lowry, a current student at Dallastown Area High School.
Although she's filled her schedule, and is a very busy teenager in and outside of school, she still maintains her high-spirited personality.
"Olivia is very hard-working and dedicated. She's also a lively personality that makes her a lot of fun to be around!" Mrs. Dacheux, history teacher and Speech and Debate team advisor says.
Lowry showed her dedication to success by becoming the state champion at the Lincoln-Douglas Debate at the Pennsylvania High School Speech League State Championship Tournament on March 17-18 at Bloomsburg University. 
She is known in school not just for being the Co-Captain of the Speech and Debate team, but also for the vast clubs and groups she has a major role in. 
"I also am Secretary General of our Model United Nations club, President of our school's chapter of Girls Learn International, Vice President of Math Club, and Communications Director of Leo Club. I'm also in FBLA," the junior shares.
Outside of school, Lowry is serving her second year as the girl delegates to the United Nations Economic and Social Council's Commission on the Status of Women for GLI. She also participates in the Student Advisory Board and volunteers at Nixon Park.
Although she participates in all these activities, Speech and Debate is still her favorite.
Lowry's accomplishments stretch to winning the Lincoln-Douglas Debate and participating in the competition for the past two years. 
The Lincoln-Douglas Debate is a values-based debate in which questions of morality and judgement are examined.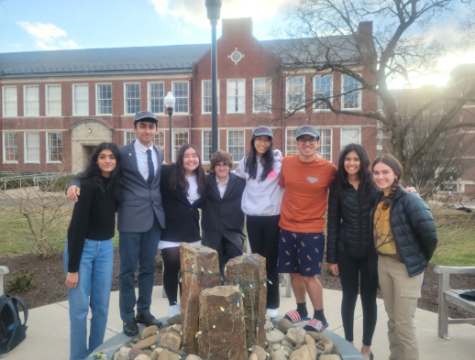 In preparation for this debate, participants do philosophical readings and studying as ongoing preparation. The topic for the March and April debate was titled "Resolved: The justices of the Supreme Court of the United States ought to be term-limited."
Although Lowry makes being so successful look easy, she admits to the hard work and long preparation before the final day.
"I tend to spend about eight hours on each case in my personal time throughout the months… but that's not the "average" time. I would say most people spend about four."
When the day came to debate, Lowry and other Speech and Debate students began their preliminary rounds, which seeded them for the elimination rounds, the quarterfinals, semifinals, and final.
Although starting the day with a painful migraine, Lowry managed to enjoy the time between debates relaxing with friends and fellow debaters.
"It's hard to go from just messing around and talking to actively competing and debating them in a competitive round."
After finishing her final debate, the junior, along with everyone else present sat down and waited for the winner to be announced.
"I don't really remember finding out I won because I tend to not remember random things that happen, but I remember different friends of mine congratulating me as I passed them on the way back to my seat in the auditorium."
After an exciting two days, Lowry took time to think about what the debate meant to her, and to think about the people who helped her succeed. 
She's proud of herself but is also grateful to her parents for putting in so many resources, and to Mrs. Dacheux for helping the team so much.
Although the school year is almost over, Lowry looks forward to a busy summer schedule, traveling to Louisville, Kentucky, and Arizona, all for debates.
She plans on competing next year, her final year of high school, and hopes to inspire and teach the younger students on the team.
"For me, winning the debate was super rewarding because of how much time and effort I dedicated to debate. For the past couple of years, I've spent time every month during the school year researching and practicing, so to win such an esteemed award was super amazing."
Leave a Comment
Your donation will support the student journalists of Dallastown Area High School. Your contribution will allow us to purchase equipment and cover our annual website hosting costs.