Trendy Teens Takeover NYC
Dallastown Fashion Club toured the Garment District of New York City on their first field trip to The Big Apple.
Dallastown Fashion Club embarked on a new adventure on April 20.
The Big Apple.
Almost 50 DHS  students with an interest in fashion visited New York City for the day. They were joined by a separate bus of business students. The business department has taken students on this trip multiple times in the past.
The buses left before sunrise to make the most out of the time available.
"There just isn't enough time to see everything in New York City in one day," emphasizes Mrs. Guttridge, Fashion Club advisor and business teacher.
When they finally arrived, everyone began their day in Battery Park. Students visited the 9/11 Memorial & Museum, as well as other nearby sights, such as Trinity Church.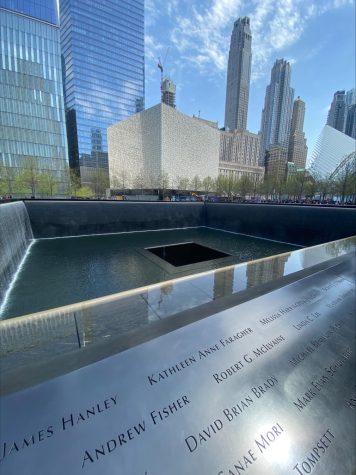 After some time in Battery Park, students boarded the bus again to head slowly but surely, due to traffic, to Manhattan.
"It was so fun to just go off on our own and sightsee!" junior Meghan Kelly, Fashion Club vice president said.
Students were accompanied by chaperones but were given plenty of free time to explore the city in groups.
"My favorite part of the trip was definitely walking around Time Square and seeing all the different sights that New York City had to offer," member Bella Wilkinson says.
The students split into two different groups to tour the Garment District with Mike Kaback of Mike's New York Tours, who also gave tours to business students in 2008 and 2013.
At the end of the tour, students visited MoodFabrics,  a multi-floor building filled with fabrics and other clothing design essentials, made famous as a favorite shopping place for the reality show "Project Runway."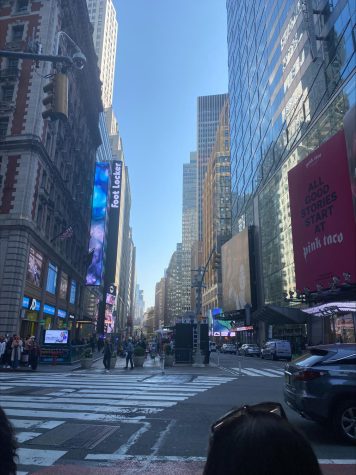 "Some people became a bit annoyed with our group because we took up a lot of space as they were trying to shop," Guttridge recalls. "One individual could not get past us to get to some 'natural light' to evaluate her fabric choice."
Business students also in this city spent the morning in Battery Park, but instead of going to the Fashion District, they went to Wall Street, then Time Square.
Students got to spend the rest of the day exploring everything the city has to offer.
"When I was eating dinner with friends, we saw this guy just start dancing to the music around us and he kept going every time we saw him. It was hilarious!" Wilkson remembers.
Around 6:00 pm, things began to wind down and students gathered on the bus to head home.
The trip offered many great experiences and costs were reduced by the semi-annual thrift sales the club holds.
Leave a Comment
Your donation will support the student journalists of Dallastown Area High School. Your contribution will allow us to purchase equipment and cover our annual website hosting costs.