If you hear heels tapping in the gym, or country music blasting from the wrestling room, don't be alarmed.
The new Line Dancing club has officially been started by some students and physical education teacher  Mr. Patrick Good at DHS.
Good was approached by Dallastown students with an idea.
"Maddi Brown and a bunch of her friends came up and asked if I would chaperone because she wanted to teach her friends how to line dance before they went to dance at Windridge," he said.
Good who isn't a stranger to line dancing, after dancing with his wife in the past, said yes.
Line dancing is a type of country/ western dancing.
It follows a pre-choreographed sequence and participants all line up in rows to complete the dances. Each session is usually an hour or more of dancing.
DHS isn't the only place to bring line dancing back, it is making a comeback across the country.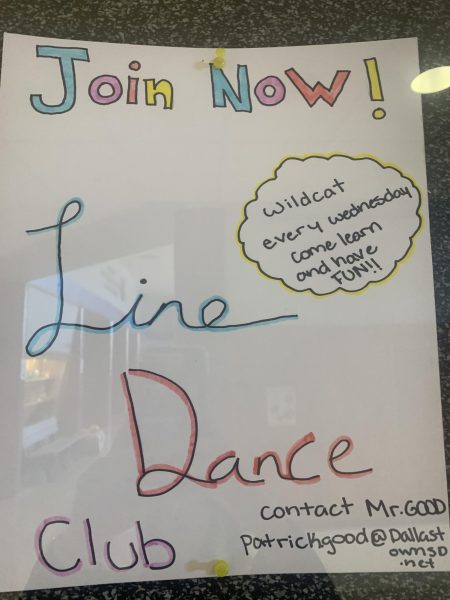 Some people say the reason for this is the popular TV series "Yellowstone," which includes scenes of line dancing.
Others say the pandemic caused people to find new hobbies and line dancing happened to be one of them.
This past summer, Wyndridge Farm in Dallastown started hosting line dancing lessons almost every Thursday.
Instructor Brittanie Silk of "Dancin' with Brittanie" led the all age crowd through new and old dances.
"I originally started line dancing as a hobby, something I did for enjoyment to unplug from the world," Silk said.
Eventually Silk took that hobby and turned it into a business, teaching line dancing at various locations.
Maddi Brown, a sophomore at DHS, enjoys the Wyndridge lessons; she's been dancing since November 2022.
" I guess you could say it was just a click and I've been doing it since," she said.
Brown's passion for line dancing extended to her fellow students and friends.
This includes sophomore Kaylee Henning.
"Line dancing is fun and a great way to exercise," Henning said.
Line dancing is not only a great time to socialize and have a good time, it also improves memory and helps with heart health. For these reasons, it's good for both young and old alike.
"I would definitely recommend it to other students if they like to dance and want to try something new," Brown said.
1992 is the year that is most credited with the creation of line dancing.
"
I guess you could say it was just a click and I've been doing it since.
— Maddi Brown
Billy Ray Cyrus, Miley Cyrus's dad, is believed to have created the first line dancing song, "Achy Breaky Heart" in March of '92. Although there are many debates about whether this is true or not.
Just like around the USA, line dancing is catching on at DHS with 25 people attending the latest Line Dancing Club meeting.
Silk can't explain the reasoning for this surge in popularity of line dancing, but she's glad its back.
"It's a blessing to have it back as an outlet for a lot of people," Silk said.
For more information about local line dancing, you can contact Dancin' with Brittanie on social media.