Fast fashion is something that everyone is tempted to buy from, but has anyone thought about how it's made? Or maybe who is making it and how much they get paid? 
Well, over social media platforms, there has been an uprise in crochet clothing. As a crocheter, I love this uprising. It means it is becoming cool and not considered a "grandma hobby."
Crochet is in a category called "slow fashion" essentially stating that the pieces that are made are timeless and can be worn with basic clothes. These crocheted pieces can either be bold or basic, but they will always be in style.
Fast fashion is catching on and now, for a cheap price, there are crocheted pieces everywhere. Who doesn't like cheap, affordable clothes? But through research, crochet can not be machine replicated, like knitwear can.
Knitwear is made with two needles and is made row by row by creating loops with the yarn. Crochet is made with one hook and loops itself through a stitch made previously, needing to make a specific loop.
In stores, knitwear machines are for sale, letting you make a knitted piece in a short amount of time, without having to learn the hobby. These machines take some of the time and labor out of making the piece.
This is concerning because, as of today, crochet is in such high demand. For fast fashion companies, there needs to be a quick turnaround for them to get these products in their stores.
Now this could be a possibility of two things, either people are getting severely underpaid, or clothes are being knitted to look like crochet, marketing it as something it isn't.
For me, it took about 15 hours to make a white mesh bolero, worn as an accessory, it would come out to roughly $108.75 if I were to charge the minimum hourly rate in the state of Pennsylvania. 
On Shein, an affordable fashion company, a white bolero that looks almost identical costs $12.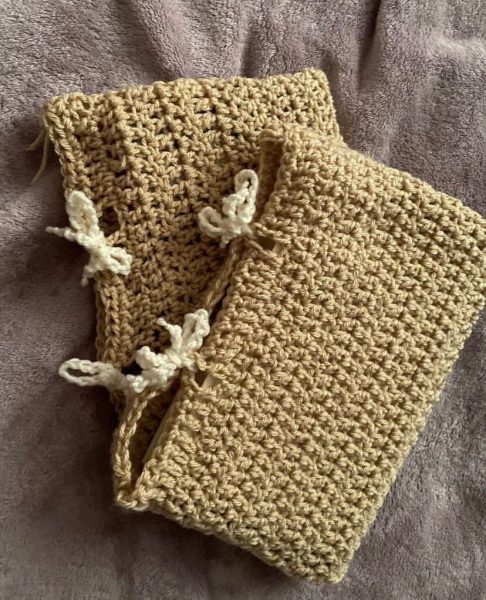 Dallastown junior, Kyleigh Hampshire, has been crocheting for about 3 years. She started this journey when she was a freshman. She began because of Tik Tok and how many cool things she found she could make.
As crochet clothing blew up everywhere, she knew how much work goes into making these kinds of clothes, and she was upset about the whole fast fashion and crochet ordeal.
"People dedicate hours of work into these pieces of clothing just for them to be a trend for a few weeks and then be put in the trash or thrift stores," Hampshire explains.
Being around since the 19th century, Crochet has mostly been used for making lace and intricate pieces. You can find these pieces in museums and art galleries around the world.
People would take hours and maybe their entire lives making things like this to have as heirlooms to their families.
Crochet has so much more meaning than it just taking time out of peoples days, some do it because their grandma taught them, or they do it to show someone how much they love them.
There is so much humanity that comes from crochet and with fast fashion reproducing it so quickly, it takes away from that meaning.
In 2021, crochet blew up, but for a different reason. People were making and selling little plushies, like dinosaurs, mushrooms, dino nuggets, frogs, penguins, and whales. This previous trend pushed people, like Hampshire, to learn how to create their own.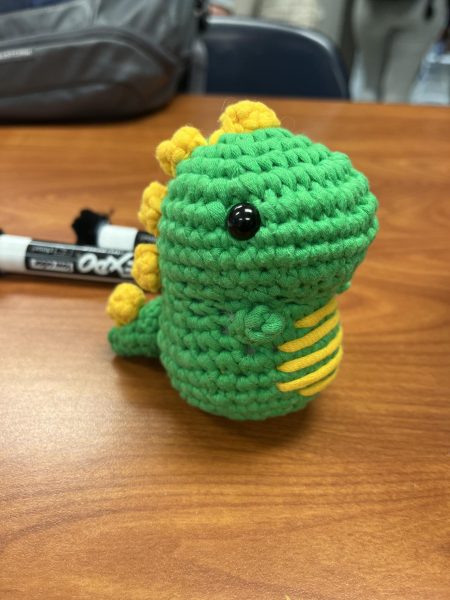 Dallastown Junior, Berkley White is a beginning crocheter, and she had an opinion about how this new trend will provoke others like the previous trend.
"I think everyone will have a hard time buying it fast because it can't be machine made and that might push people to do it themselves," explained White. 
As autumn approaches, the crochet trend of the summer is dying off, leaving the extras to go to thrift and discount stores. What happens when winter rolls around and one of the few fashion pieces, designed to keep you warm, isn't in style anymore?
The look of crochet is timeless, so if you ever see a fast fashion company selling a piece, try to find a similar one on Etsy or Instagram. If you can't find anything there, try to commission someone to make it. You could send them a photo of it and see if they can make it happen.