Despite being 80 years old, Martin Scorsese has not slowed down on creating films.
The director, best known for "Taxi Driver" and "The Wolf of Wall Street", has recently added "Killers of the Flower Moon" to his filmography; when it came out in theaters on Oct.20. 
The film is based on real-life experiences regarding the Osage reign of terror. This event was heavily documented in the book "Killers of the Flower Moon" by David Grann; which took him a decade to write due to its complex and ever-unraveling crime threads.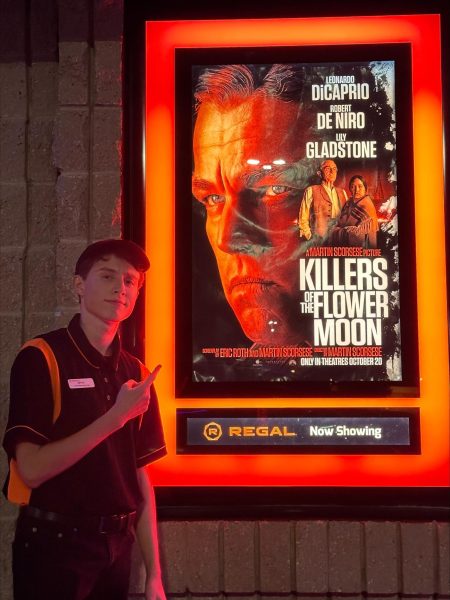 The plot follows Ernest Burkhart (Leonardo DiCaprio), infiltrating an Osage family by way of marriage to bilk them of their oil/insurance money. Numerous members of the town assist in this conspiracy, including the likes of William Hale (Robert De Niro).
Greed, inhumanity, and prejudice towards the Osage people are prominently highlighted throughout the 3-and-a-half-hour runtime. 
This marks the first time ever that the elusive star power of De Niro, DiCaprio, and Scorcese have collaborated on a film of this grandeur.
However, the standout in the cast is none other than Lily Gladstone who plays Mollie Burkhart.
Gladstone grew up in the Blackfeet Nation located in Montana which made shooting more personal for her. 
Scorcese went as far as to have Gladstone, De Niro, and DiCaprio all learn Osage to be able to have them speak the Osage dialect in the film.
The team recognized the importance of treating Osage's customs and traditions with the utmost respect by making them as authentic as possible.
Scorcese and company worked with many Osage people, both on and off the camera, to ensure that this was being dealt with respect and not "Hollywooding" it.
"If you're not comfortable with Marty Scorsese, you're not gonna be comfortable with anybody," stated Jeffery M Standing Bear; who is the principal chief of the Osage Nation, to CBS in an interview.
He is no stranger to making historical dramas, which greatly improves this film with how much dedication he put towards making it as authentic as possible.
This film is a challenging time to sit through given the nature of the story and the real-life events. It will evoke many emotions in audience members and I have been privy to seeing some of them leaving the theater due to how gutwrenching it is. 
Many people when hearing that Scorsese directed it, would think that it's going to be a guns-blazing and violent gangster thriller; but it's quite the opposite. 
"
Not a movie. Unlike any experience I've ever had. It's a visceral EXPERIENCE. Impossible to put into words. Film history was made.
— Matthew Rojahn
Scorcese provides such a compelling almost 4-hour epic western while also making it thought-provoking and emotional for the audience. 
The cast is the backbone of this film with them all bouncing off each other and trying to act this story correctly.
From DiCaprio's easily manipulated persona, De Niro's suaveness, and Gladstone's visible grief over her family and marriage. It all escalates the tone and emotion while making it exhilarating as you see greatness unfold on the silver screen.
While the film is one of Scorsese's best, there are some minor flaws throughout it. 
The runtime could've been trimmed down and didn't need to be almost four hours. Due to the length, it also affects the pacing for a bit as it's somewhat slow in the beginning.
Another issue is that it portrays Burkhart's actions in the film as the purest form of love, while it's very apparent to the audience that this is unacceptable and is far from healthy unconditional love.
I would say that this film warrants itself a 9/10, regardless of it having slight issues with pacing and runtime. 
The film will leave people in a state of shock from the experience they have just witnessed, but it is crucial to remember that this happened to a real-life group of people and that they're still reeling from the effects many years later.