Halloween isn't just one day in October, over the years it has slowly leaked into taking over the whole month.
Between costume themed football games, Halloween parades, Halloweekend and more, DHS was clearly in the spooky spirit.
Science teacher at DHS, Lori Riddle goes all out when it comes to Halloween.
"We bring out some spooky displays that make noise – like a mirror that keeps saying "it's so dark in here" and they are activated when the kids walk up," Riddle said. 
Usually decorations start coming out during the first week or so of October, setting off the month.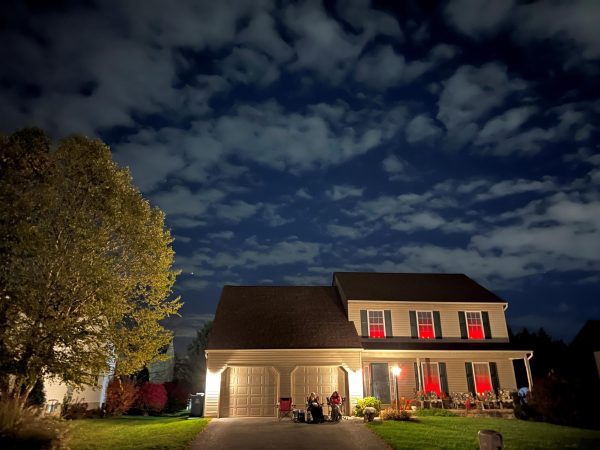 The weekend before or during Halloween is now being referred to as "Halloweekend" and is filled with parties and other activities that teens, kids, and some adults participate in.
An example is Trick- Or- Treating, Trick-Or-Treating is one of the top traditions in the U.S but many kids stop shortly after turning 13. 
Sophomore Marley Klinedinst ignores the typical stereotype that teens are too old to get candy, and enjoys going out on Halloween.
"My favorite thing is getting all the candy and seeing everyone's costumes," Klinedinst said.
Not only is Trick-Or Treating an excuse to eat all the candy you want, it's also a time to pull out the fun wigs and costumes.
This year the streets saw a lot of Taylor Swifts, Wednesday Adams, from the popular TV show "Wednesday", and witches.
Paired with snacks and friends, a scary movie-thon is always another fun way to celebrate Halloween.
"
My favorite is definitely Scream and for the snack I would say popcorn"
— Bella Fauser
Classic horror movies are a lot of people's Halloween go-to's, Bella Fauser, a sophomore, is one of those people.
"My favorite is definitely Scream and for the snack I would say popcorn," Fauser said.
If you're looking to experience the spooky spirit first hand, visiting a haunted attraction is a good way to do it. 
Many attractions are set up in the state of PA, for example Jason's Woods, Field of Screams, and Kim's Krypt.
Whether it's the thrill of being scared or the idea of hanging out with friends, these houses are a popular tradition.
This is the case for DHS student Ella Kowalski.
"My favorite part is going with my friends and just getting scared," Kowalski said.
Trick- or- Treating is not the only Halloween activity that involves costumes, students also attend costume parties.
Halloweekend consists of a lot of costume parties and student Emily Stock was one of the partiers. 
"I think they're really fun and a good way to see your friends," she said. 
Halloween has evolved from only Trick- or- Treating on one day to many more activities that everyone can participate in over the whole month.