The Dallastown swim team has been one of Dallastown's most successful sporting teams for years-piling up YAIAA championships year after year. Now, in 2023, the Dallastown Wildcats look to add yet another championship plaque to their resume with the help of their experienced head coach. 
Gina McHenry, the head coach for the Dallastown Wildcats, has had over five years of coaching here at Dallastown and has been instrumental in their success. 
Before the Wildcats, she was the head coach for the York College Spartans and found success there. Now, she is helping the boys and girls of Dallastown achieve the success they've achieved.
"Back when I was 19 with my first coaching gig, I coached a summer age group when I was home from college," McHenry says. "I have now been coaching for 33 years.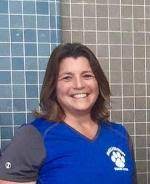 McHenry has had an illustrious career as a coach at Dallastown, winning over 7 YAIAA championships in the Boys and Girls competitions. Even after that, she feels her achievements don't come from just trophies.
Sure, she has experienced many championship moments in her life as the head coach of Dallastown after taking over for former YAIAA legend Rich Howley, but she has learned that the connections she has with her swimmers are what matters most.
"My biggest achievement is the bonds with athletes that I have created," McHenry says. 
As McHenry enters yet another year of competition after securing a YAIAA title for her Boys' team,  she has established some goals for her and her swimmers to help with the future of the team. 
"I'd like to keep traditions going and to build a stronger future for my swimmers," Mchenry explains. These traditions can span from invitational meets to fun parties the day before meets, which can help with the team's chemistry with each other. 
For the upcoming season, McHenry has her vision on how she and the team eye each competition. 
"I don't look at win-loss records as an element of success," McHenry says. "I look at what we need to build and every competition brings a different challenge, and we see if we can overcome that challenge." 
With high school sports comes limited time to be with your fellow teammates, and every school athlete has only four years to embrace their sport.
For Dallastown's emerging upperclassmen this season will seemingly set a strong example.
"I think hard work is something many people can appreciate and admire," Senior Julia Havice says. "With hard work, I hope others can look up to me and realize that it's important for success, therefore they will start to implement it into their swimming as well."
As for McHenry, she is all for the seniors being a group of leaders to look up to, but also has sights on others setting an example.
"I think leadership comes from more than just the seniors. We certainly have a diverse group of seniors who set a great example," McHenry says.
The regular season kicks off with their first practice on November 17th, and many swimmers are coming prepared for the beginning of the 2023-2024 year.
Most of the swimmers have been partaking in practices for Dallastown's preseason, and the York YMCA's practices. And for McHenry, she has had her eye on some swimmers. 
"I've liked everybody so far! I see lots of maturity in the upperclassmen. With maturity comes a stronger drive to be successful," McHenry explains. 
With the year ahead, it is sure that Coach McHenry and her swimmers are excited for their time to shine.
"I am very excited for this year because I have some fresh ideas and I can spruce things up!" McHenry says.