When my cousins first told me about this store that was selling weirdly flavored cookies, I didn't know I would get hooked on them.
Crumbl Cookies are the best cookies I have ever tasted.
They don't just sell the same cookies everyday, the cookies exchange out in rotations of six switching between more than 250 different flavors of cookies which is a huge part of why I like them so much. 
Every Sunday at eight p.m. the flavors of the week get released, and at that time my cousins, aunt and I all get on our phones to text about the week's specialities and our thoughts. 
The taste is astonishing. It is amazing that cookies can taste like completely different foods like hot chocolate but still be a cookie.
Crumbl always nails the flavor, all of the cookies taste just like the food that is being reciprocated. 
Every bite is full of flavor and there's a perfect ratio of cookie- frosting. My only complaint would be there isn't enough toppings, but that is easily overlooked when biting into the goodness of the desert.
The cookies aren't just cookies, they bring families together. One of my favorite things is sitting with my family rating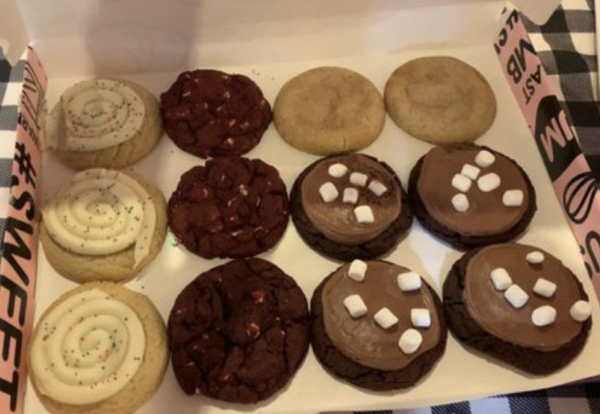 the taste of the baked goods, in fact Crumbl was all started with family. 
Two cousins, Jason McGowan and Sawyer Hemsley, had a dream.
Using feedback from their peers, and testing a lot of recipes,  the cousins decided that they had created the best chocolate chip cookie in the world.
After creating this cookie McGowan, Hemsley, and their families opened up the first Cumbl cookie store in Utah during 2017. Six years later and there is now a Crumbl in all 50 states.
There are two Crumbl stores just in York County which makes sense because they are just that good and are obviously making good business here.
On the outside the cookies are very appealing to look at, they are all decorated carefully and they all look like they would taste very good, which they do.
They are also good for a couple days if kept in the refrigerator. They are very dense and big so I often find myself having a lot left over.
When you walk into a Crumbl Cookies store you get hit with the immense scent of freshly baked goodness and watching the process of the cookies being made, the tiny bit you see, is an experience in itself. 
The baby pink with the white and black decals makes the inside of the stores aesthetically pleasing and the aroma is impossible to miss, fresh baked cookies are the best smell.
To me, everything about Crumbl is worth the hype!