The Transformation of Prom
Over the years, Dallastown prom has changed its location many times but is always a night filled with memories for seniors.
Prom – it's what seniors looks forward to at the end of their high school careers.
It's a night to dress up, a night to celebrate, and one last night to make memories with classmates before graduation.
But where did the concept of prom come from?
The word prom comes from promenade, the formal way of parading guests at a party. Prom started at colleges and came to high schools in the 1930s.
Proms have evolved over the years, and a lot has changed about prom at Dallastown as well.
Until 1985, Dallastown proms were held in the high school gym.
In 1986, Dallastown prom relocated to a boat, The Lady Baltimore, in Inner Harbor.  History teacher Mrs. Dallmeyer, science teacher Mr. Ilyes, and Spanish teacher Mrs. Garrett were DHS seniors that year. 
"Our class wanted to do something totally different than what had been done in the past. We had an active student council, and they researched the new venue.  Even though it cost a little more, we  thought that it would be worth it." Garrett said.
Students loaded coach buses for the trip to Baltimore. Parents lined the streets to take photos of seniors as they paraded towards the boat in evening wear.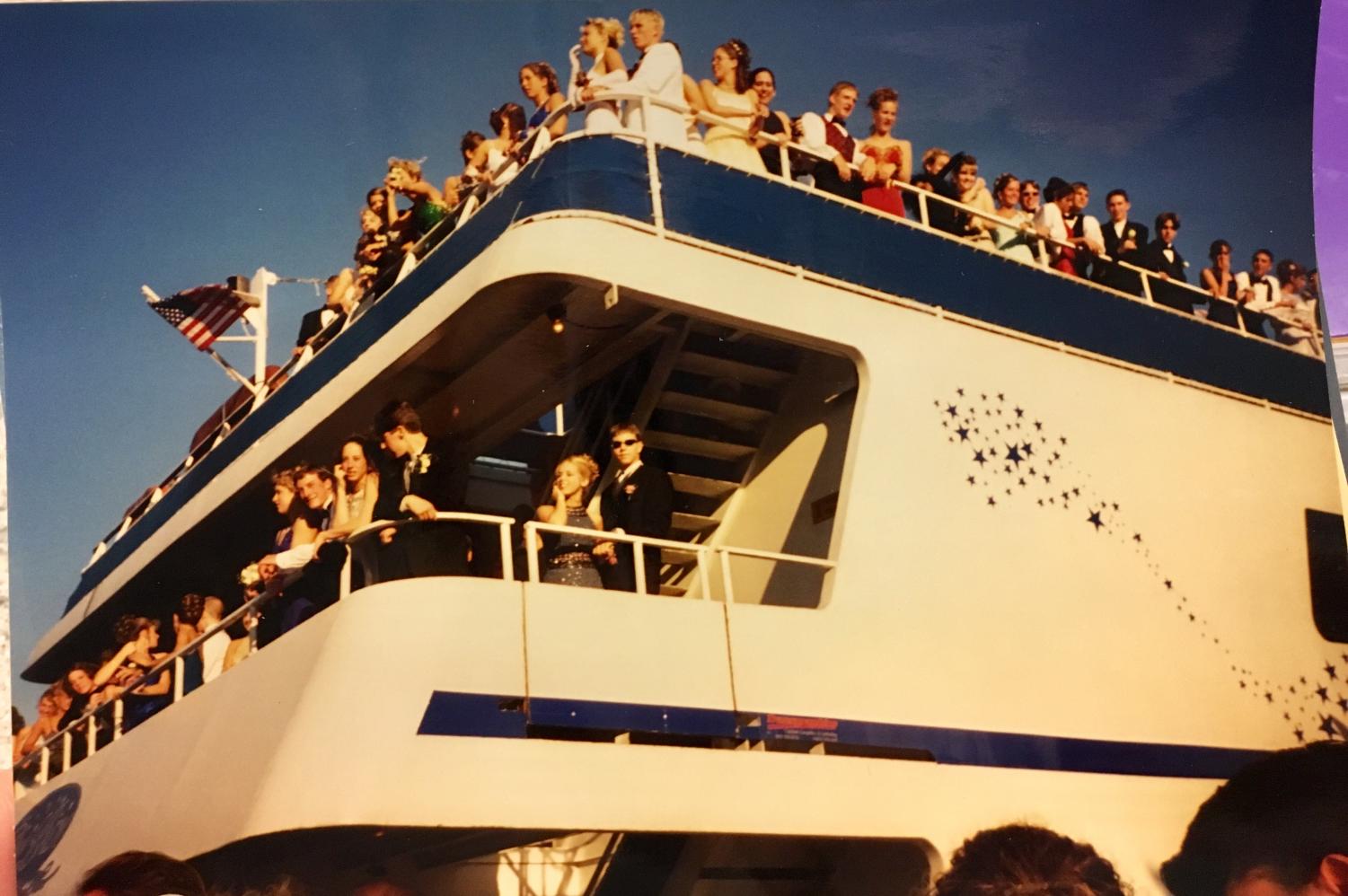 While the boat cruised Inner Harbor, students ate a buffet dinner in dining rooms on both decks.
"I remember that the weather wasn't great, but we had a good time. There was a DJ inside the cabin with a large dance floor. We also received glass goblets with the Lady Baltimore etched on the side," Garrett said.
Prom on the boat was a distinctly Dallastown tradition from 1986-2005.
For the Class of 2006, the location changed again.
According to Mrs. Gable the senior class advisor from 2001-2008, "We simply got too big for the boat."
The boat could hold approximately 350 people. As class sizes grew, they needed to either split the class onto 2 boats for the event, or they needed to find a new location.
That new location was the Renaissance Hotel in Baltimore. Coach buses were still used to transport students to the out of state event.
In 2011 Dallastown prom made yet another move, this time back to Pennsylvania.
"Maryland would not exempt us the tax on entertainment, but Pennsylvania would," former senior class adviser Mrs. Anderson said.
Although coach buses were still utilized, that tax exemption saved money on the ticket price. The new home for prom became the Lancaster Convention center, a hotel in downtown Lancaster.
It was held there until 2017.
Last year, prom was held at Wyndham Garden York. This new change also made ticket prices more affordable by eliminating the need for bus transportation.
Students paid approximately $30 on top of the regular ticket price to offset the cost of the bus.
"Because we moved prom to a local venue, we didn't see a need to charge students for such a short drive," current senior class adviser Mrs. French said.
French and Mrs. Turnbull along with the class officers plan and coordinate the event each year.
This year Dallastown prom will once again be located close to home, this time at Wisehaven Banquet Hall.
"The advisors make every effort to keep the cost of prom tickets reasonable. As the venues raised prices, we tried to find a place to accommodate the class at a reasonable price," Turnbull said.
Prom is also earlier this year than past years.
Prom was originally scheduled for April 20 but since that is Easter Weekend, it had to be changed. The only available date was April 27.
"Due to the date change, the only available venue that is able to accommodate the class size is Wisehaven," Turnbull stated.
Senior Julian Bailey wishes prom wasn't so early. "I don't like it, I wish it was near the end of the year so senior prom was like the end of senior year."
Also, senior Sarah Grace Mills said, "It isn't a huge deal but I feel like it will be colder and it was always something to look forward to towards the very end of the year."
Traditionally, Dallastown holds a post graduation party. This year senior parents decided to change it to after prom.
"Prom is earlier than usual this year, and the point of having the class party after graduation is because it is the seniors last time together. I am not sure how I feel about it being after prom, but I hope it will still be a good time," senior Brielle Berry stated.
According to senior class party co-chair Mrs. Kristen McDermott, a big reason it was moved to after prom is because prom has a set date. While graduation could be any weeknight, prom is always held on a Saturday, so more parents will be able to volunteer. She stressed that all seniors are welcome at the party whether or not they attend prom.
"Seniors can expect all of the same elements at the post prom party that were offered at the post graduation party," McDermott said.
Although prom has changed a lot, students will cherish the memories forever.