Kickboxing for a Better Year
New iLoveKickboxing location is ready to help York County keep their New Year's Resolutions.
From losing weight to being more organized, New Year's resolutions are common for Americans. People use the new year to start fresh or to create a new image for themselves.
Residents of York may be pleased to hear of a new Kickboxing joint, iLoveKickboxing–also known as iLKB– that is now open at 2058 South Queen St York, near Jimmy John's and Frank Theaters.
"Kickboxing is a full body workout where you're getting your cardio, your endurance, and your strength training all in a one hour class and all while having a good time," Elizabeth McConnell Lehr, studio manager at iLKB, said.
Lehr is a firm believer that kickboxing is always a better option than going to the gym. In fact, that's how she got involved with managing at iLKB.
"I fell in love with kickboxing 11 years ago. I took a class after having my third child, I went to the gym to run on a treadmill (which was awfu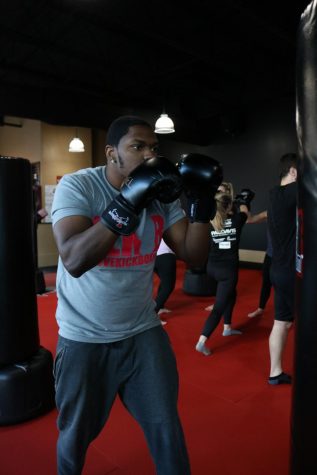 l), and I walked past a kickboxing class. They invited me in and I fell in love with it."
That's how Dallastown sophomore Jenna Aldridge got involved as well.
"Going into kickboxing I didn't really know how I felt about it, but afterwards, I felt refreshed and exercised and I had only done it for an hour," Aldridge said.
Lehr says that a major reason people are easily discouraged when trying to be fit is because there's nothing interesting about running on a treadmill, and it takes a long time to see the desired results, if ever.
"At iLKB, during everyone's first class, we do a fitness assessment. We determine where they are physically, and help them to determine their goals. You fall off if you go in and just get on a treadmill!"
Because every person works at their own individual pace, having a trained consultant perform a fitness assessment can help a person can better achieve their fitness goals.
"A New Year's resolution is practical if you know where to start. I think that it sometimes isn't because people go all in way too quick. You need to start at your level. My suggestion for people making New year's resolution is to find a facility; Meet with a physical trainer or consultant," Lehr said.
For people at a lower level, iLKB utilizes modifications to exercises. For others, there are even more advanced moves. Also, there is always a trainer on the mat. Workouts are designed to tend to all levels.
According to Lehr, it yields visible results because a kickboxing bag is engineered to build up intense levels of resistance against a person's muscles.
However, "It all depends on how much effort the person getting in shape gives. If I were to see you 3 times a week then you might start to see results in two weeks, but I'm not there to regulate what you're eating after class. That's up to you," Lehr said.
Kickboxing can help to produce a toned, healthy body, but more
importantly than that, a healthy mind as well.
"I am a big fan of group fitness. At iLoveKickBoxing there's no contact. Instead, it's a group setting. The musics blasting, your getting your butt kicked, and another plus is you get to legally hit stuff. It's a major stress reliever.  Again: you get to hit stuff. Many members come for the benefit of stress relief after work."
But is it affordable?
iLKB offers several membership options including the most popular 12-month unrestricted membership, which allows clients to attend classes as often as they please. Most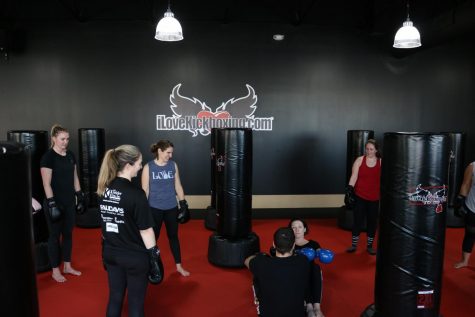 people choose to go 2-3 nights a week. 
Equipment at iLKB is provided at sign up.
"When you sign up for our classes, you first sign up for a trial membership of 3-5 classes. When you sign up, we give you free boxing gloves. I would suggest you wear something to keep you cool because you are going to sweat. Our classes are done in bare feet or in socks. Any training needs are sold at the store. Oh, and always bring water!"