Recreational vs. Travel Teams: Has the Stress of Competition Overpowered the Purpose of Playing?
A rise in softball players joining travel teams leaves rec in the dust making it difficult to play just for fun.
The famous quote, "Win or lose it doesn't matter as long as you have fun" can be a debatable topic for some sports coaches. In softball, having fun is often overpowered by a desire to win and being the best player on the field.
Most girls interested in playing softball begin on recreational teams which cover a variety of girls from beginners to having over eight years of experience.
However, once a player reaches the 12U level, they join travel teams to enhance the competition. This separates girls who wish to play for fun and those who make softball a second nature.
Dallastown sophomore Breanna Malle said, "I left rec because I felt I wasn't being pushed hard enough and I really wanted to get competitive with the sport."
A craving for strong competition causes a rise in girls joining travel and a decline in rec players making it difficult to create rec teams.
Junior Kayla Peters states, "I think girls who play rec are 'looked down on' for not playing travel."
Unfortunately, when players transfer to travel, so do the coaches. Without a coach, it is impossible to form a team.
Peters said, "Coaching is a big commitment, so there aren't a lot of volunteers. If a coach steps down, it's very difficult to find a replacement."
However, the main reason girls choose rec over travel is because they cannot afford the cost.
Rec leagues range from $50-$100 to join and all games are within driving distance. This is a bargain compared to travel which costs $1,000 to join and does not include travel fees.
Also, travel players must commit a majority of their lives to softball.
Malle states, "Travel takes up a lot of my time not just through normal practices, but also through practicing on my own time to keep up with the competition."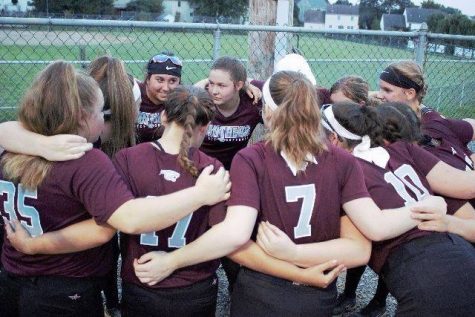 Rec allows players to have fun on the field and maintain a balanced life off the field. In contrast, many travel players struggle to balance their personal lives with softball, especially when they take advanced classes in school or have a job.
Despite having an equal amount of experience, rec players can be affected when trying out for the school team since they are competing against travel players.
Malle said, "Rec is way less competitive than school or travel, and most school coaches know who plays travel and who doesn't just by personal connections which can affect whether you make the team or not."
When players cannot afford travel, the school team is a great option. Nonetheless, travel players are pinned a better fit due to having a "stronger" background.
Malle concludes, "I do think rec is becoming less popular and many rec organizations are closing or struggling to find players. At this age level, if you are still playing, it most likely means you are at a really competitive level that only travel offers."
To provide more options for players who desire fun over victory, rec must remain. However, with travel teams becoming larger, rec teams slowly diminish making every team a travel team.