Thank You, Ariana, for This Album; Can't Wait For the Next
Grande returns to the music scene with an album that captures her classic sound with a fresh new twist.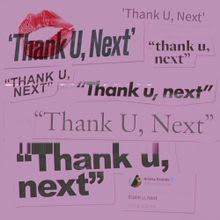 Hang on for a minute...we're trying to find some more stories you might like.
On February 8, just 5 months and 22 days after the release of her fourth studio album, Sweetener, Ariana Grande has managed to top herself once again. The debut of Thank U, Next was arguably one of the most anticipated albums to kick off 2019– and it didn't disappoint.
With 12 brand new tracks, Grande chose to focus on her emotional status before, during, and after some of her most publicized relationships. From upbeat and catchy singles to slow and deep ballads, this album offers a wide range of songs.
There weren't any collaborations on the entire track list, which ended up being a smart move on Grande's part. It allowed her millions of fans, including myself, to enjoy Ariana in her purest and  most vulnerable form.
Before Thank u, Next's premiere, Ariana chose to release 3 of the 12 songs as singles. The first of the three was "Thank U, Next" followed by "Imagine" and "7 Rings."
The night of the album's debut, Grande also dropped the music video for "Break Up With Your Girlfriend I'm Bored" making it her fourth single.
With so many unique choices from this album I found it difficult to select my top three. However, after much consideration I was able to narrow it down to a few. The tracks that made it include: "In my Head," "NASA," and "Break Up With Your Girlfriend, I'm Bored."
All of these songs were individualistic in their own right and I felt extremely connected when I listened to each of them. It's for this reason that I chose to feature these as my favorites.
Kicking off my top three is the last track on the album: "Break up with your girlfriend I'm bored." Rumored to have been about her ex-boyfriend, Big Sean, Grande mentioned that this song served as a lighthearted replacement to the more intimate one about Mac Miller.
The sassy single resonated with her fans and gained a lot of public support even from people who are currently in relationships.
Occurring at the beginning of the album is my second favorite, "NASA." This up tempo and catchy track is both light hearted and relatable.
As a public advocate for women's' rights, it came as no surprise that Grande chose to feature an empowering message of feminism in this song. She talks about independence between a couple while playing off the concept of needing "space" in a relationship.
To top off my list is "In my Head". This track combines the best aspects of her previous albums with a fresh and modern twist.
According to the artist via Twitter the song focuses on, "Being in love with a version of somebody you've created in your head." Falling for someone they are not" This concept was undeniably clear through all 3 minutes and 44 seconds of the track.
The frequent change in tempos combined with slightly humorous lyrics resulted in a perfect combination for the album.
There were so many other tracks on the album that I felt deserved recognition in this review. Therefore, I would like to acknowledge a few songs that didn't quite make the cut. In fourth place was "Needy", followed closely by "7 Rings", and "Imagine."
Personally, this has been my favorite album of Grande's thus far, it's both emotional and deep, while also staying true to her artistic identity. Overall I rate the album a 9 out of 10. An abundance of the songs served as nostalgic momentos of classic Ariana and was a refreshing flashback to her music prior to the Sweetener era.
Grande's music continues to reflect her environment and experiences after the tragic Manchester attack. Her musical journey has also proven to be her main coping mechanism for her recovery of that horrific event that occurred in England.
In fact, in an interview with Billboard she claimed that Thank U, Next is "not partially uplifting. A lot of it sounds really upbeat while, but it's actually a really sad chapter."
Although Ariana has received a lot of backlash in regards to her recent music,  this album is proof that she will undoubtedly continue to be her one of a kind self that her fans and people around the world have grown to know and love.