Swim Season Success for Wildcats
After a rewarding YAIAA Championships, DHS swimmers prepared for PIAA Districts. One junior swimmer will compete in states next week.
Though the team sometimes may go unnoticed, Dallastown swimming has had a season full of accomplishments.
At the YAIAA Championships, Dallastown swimmers medaled in 21 out of 22 events, including three first place finishes by Joel Dunnigan, Samantha Trumble, and the Girls 200 Relay.
After a successful YAIAA meet, 21 swimmers qualified for districts on March 1-2 at Cumberland Valley High School. A portion of the 21 qualifiers included alternates.
"We had to use one of our alternates, Will Cornish, because of a last minute scratch." coach Babcock said, "That's why you always take alternates!"
Dallastown swimming is a program full of tradition. Every year, swimmers dye their hair and shave their legs for districts.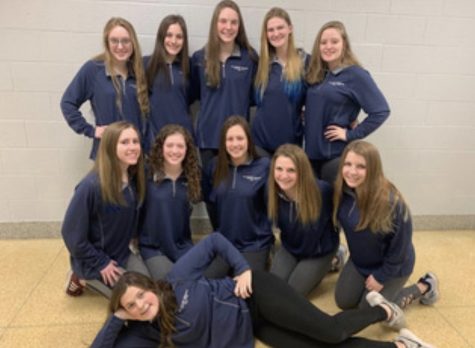 "The 11 ladies that went to districts dyed their hair blue,  and about half of the boys dyed their hair blonde. However, all of the district swimmers shaved their legs," Coach Babcock said.  
Shaving legs may seem odd to the everyday person, but it can be the difference between a state qualifier and a non-state qualifier in swimming.
"Shaving is a tradition and necessary for swimmers, as it can take 100ths of a second off times," Coach Babcock said.
Junior Joel Dunnigan placed third in the 100 Fly, making him the only Dallastown swimmer to qualify for the PIAA State Championships. This will be Dunnigan's second time attending states, as he qualified his freshman year.
"I'm really excited for states. It's been my goal all season and I couldn't have done it without support from my teammates," Dunnigan said.
Araby Marston, Langley Brockway, and Sophia McHenry also dropped their times by at least a second and had impressive finishes at districts, although did not qualify for states.
Other members of the team, including the 200 and 400 Boys Free Relays dropped times, as well as the Girls 400 Relay.
 Though Dunnigan may be the only Dallastown swimmer competing at states, he still will have a support system with him.
"Since I was the only one to qualify for states, I get to bring 1 buddy with me so I'll feel more comfortable," Dunnigan said.
Dunnigan will leave Thursday, March 14 to compete at the PIAA State Swimming Championships at Bucknell University.
"I've already been to states once, so I kind of know what to expect. I'm just hoping to do my best next week," Dunnigan said.