A Life to Be Remembered
Holocaust survivor Rubin Sztajer who spoke annually to DHS Holocaust Studies classes passed away on Mar. 26.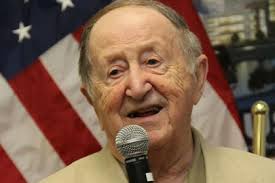 Holocaust survivor and motivational speaker Rubin Sztajer passed away on March 26 at the age of 94.
Sztajer was born on February 28, 1926 in Klobuck, Poland, but generations later and thousands of miles away from his place of birth, he made an impact on the Dallastown community. 
Sztajer touched many lives at Dallastown, especially holocaust studies teacher Mrs. Molly Dallmeyer. Dallmeyer and Sztajer formed a friendship through his yearly visits to the high school for speaking engagements for her classes.
His story is one of strength and perseverance.
When Poland was invaded by the Nazi's, Sztajer was 13 years old. He and his family were sent to the ghetto where they struggled to survive.
At the age of 16, they removed Sztajer from both the ghetto and his family and transported him to Markstadt. Markstadt was one of the many sub camps of the Gross Rosen Concentration Camp where he then worked.
In June of 1943 Sztajer was then transported to Funteichen Camp which is located near Mecklenburg, Germany.
Sztajer was a frequent participant in many death marches from camp to camp to escape capture by the Soviet Army.
Once the news of the Allied advance on Germany became apparent to the Nazi regime, Sztajer was shipped by cattle car to Bergen-Belsen Concentration Camp located in Northwestern Germany.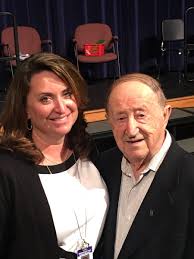 On Apr. 15, 1945, the camp was liberated. Sztajer was found by his older sister, unconscious, naked, and near death. His parents, two other sisters, and one of his two brothers did not survive.
In May of 1949, Sztajer came to America to start a new life, sponsored by the Jewish Agency in Baltimore.
He worked his way up from a cleaning job to a sales position, eventually marrying and starting a family.
After retiring at age 70, Sztajer began speaking annually to schools and students, one of them being Dallastown Area High School
For several years, Sztajer came and talked to Dallmeyer's classes. He shared his story and experiences with the students.
"I cannot express how many lives he touched by sharing his story and my own students often commented to me that his ability to connect with them and his willingness to share his life with them so freely and honestly changed their lives," Dallmeyer said.
Several Dallastown students have gotten the chance to meet Sztajer, and all of them can say that listening to his story had a great impact on them.
For 2015 DT graduate Dom Amalfitano, listening to Sztajer "matured my way of thinking in considering other people's perspectives and struggles beyond my own experiences. Rubin's life story teaches the importance of courage and love, and knowing my place of privilege, I should do all that I can to spread the same values to better impact my own community."
"
He was a hero; a fierce supporter of liberty, and someone who loved and cherished his family and friends above all else"
— Mrs. Dallmeyer
Speaking to the students is not Sztajer's only connection to Dallastown. In June 2014, Dallastown awarded Sztajer a High School diploma, since his education ended in grade eight.
This day was not only very touching for Sztajer but for all who witnessed his big moment.
Sztajer was a man who loved his adopted country of America. He enjoyed sharing his experience with others and having a large impact on their lives.
"He was a hero; a fierce supporter of liberty, and someone who loved and cherished his family and friends above all else," Dallmeyer said.
Amalfitano said, "The biggest point that resonated for me was the sense of inspiration to share love and empathy towards all people as well as a responsibility to always support those in need."