Ready! Set! Go!
The newest and most popular game Mario Kart Tour has been released and excites students.
Freddrick Williams, Reporter
October 10, 2019
Dallastown High School teachers are always trying to get students off their phones, but it  got worse  the week of September 25.
That's when the addictive game Mario Kart Tour was released on iPhone and Android. There were more than 90 million downloads that day.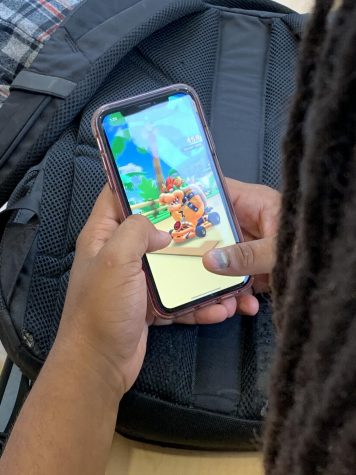 "The first couple days everyone was playing the game nonstop. They would play it while walking into the room, during class, and free time. But now it's gotten a little better since it's been out for a week," Dallastown teacher Mrs. Smeltzer said.
Students are saying that the game takes them back to their childhood days. The original Mario Kart came out in 2006 and was only available on DS and Wii.
"My brother pre-ordered Mario Kart, and I've been playing since it came out. It brings so many memories from when I was little and played it on the DS and Wii," junior Valerie Miranda said.
Know matter how they used to play it, DHS students  are really enjoying the flashback to elementary school days.
"This game has brought back a piece of my childhood. It brings out the child that's still in me. It's also  a great game to play," junior Myckenzie Kramer said.
During the day and week that it was released, some students even lost sleep because of the game.
"There was a delay on the game until 4 a.m. and I stayed up on a school night just to get ahead of my friends and get ranked," freshman Robrace Anderson said.
According to an online article from Digital Trends, Mario Kart Tour is Nintendo's biggest mobile launch in history, and although some of the initial excitement has dropped off  at DHS, it has still been the "thing" in school this month.