The Great Earbud Debate
From wire to wireless earbuds how are people supposed to know which best suits them?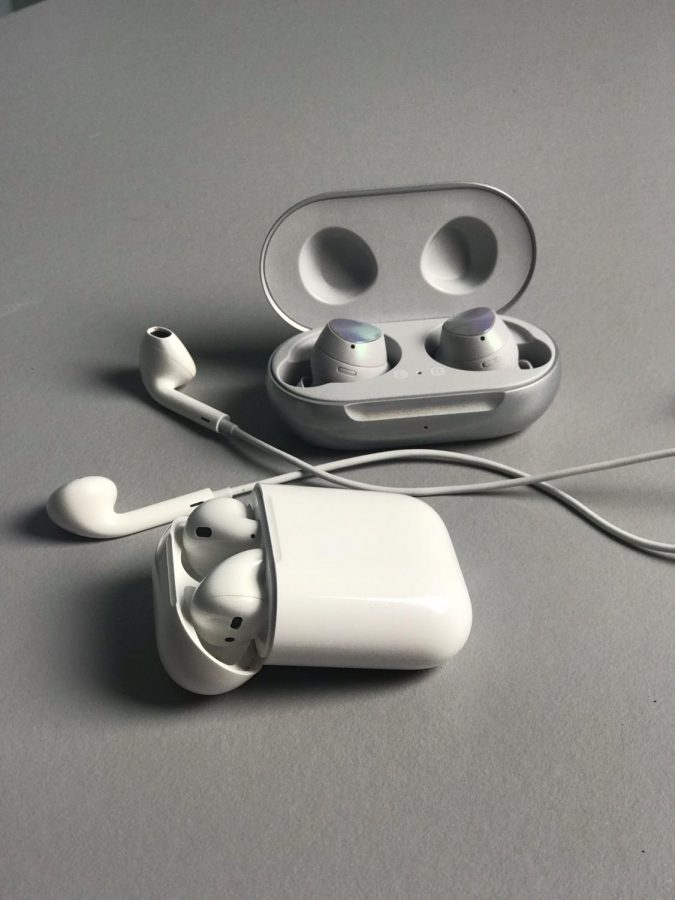 Earbuds are everywhere. Students at DHS and people worldwide are using them not just to listen to music, but also for classwork, games, Facetime conversations, and streaming their favorite Netflix shows.
Although headphones have been around for a very long time, more recently, wireless brands such as Apple AirPods and Galaxy Buds have taken the industry by storm. However, they are just two options; there are about a million different kinds of wire and wireless earbuds available, So, how do you know which are right for you? 
"Well, I don't care what earbuds I use. I always mix them. I only really need them for school. Earbuds basically just became another school supply for me; find the cheapest one just to get the job done," senior Jackson Brunner said. 
It is all about style, price, and what fits comfortably. We live in a time where earbuds are almost a necessity, so it's helpful to know which are the best. 
Samsung Galaxy Buds can be paired with your phone or tablet and can be wirelessly recharged for 15 minutes to get up to 1.7 more hours of playtime. With sound by AKG, Galaxy Buds deliver calls and play the music everyone loves while keeping aware of their surroundings when walking, working out, and more. 
These earbuds cost around $130 and come with an app. The app's features include sound control, the find my earbuds feature, and touchpad controls. 
Then, there are the Apple AirPods. The AirPods include voice-activated Siri access and a new wireless charging case. They deliver an unparalleled wireless headphone experience; simply take them out and they're ready to use with all devices. The earbuds immerse you in rich, high-quality sound. 
While AirPods don't come with all the bells and whistles like the Samsung, they are a bit more pricey coming in at $200. Sometimes the brand name costs more. 
For those who don't want the added expense or aren't necessarily into the latest tech, the wired earbuds that aren't as fancy and expensive may be a better option. 
"I personally like the regular wire earbuds. I don't need all the bells and whistles. The wire ones work just fine," senior Juan Morales said.
The wire buds can be very inexpensive depending on where they are bought; ranging from anywhere between $2 and $100, which could be a frugal option for school. 
"
I haven't gotten a chance to switch over to wireless yet, but all I know is that Apple wire earbuds tangle like nobody's business and it's irritating."
— Maddison bentz
Brunner said, "For school, I use Skullcandy; they are cheaper and actually have better sound than Apple. They are louder and the noise cancellation is so much better, so who cares about brands?"
Wireless Bluetooth earbuds are still relatively new. The wireless idea really started becoming popular starting in 2016.
Senior, Maddison Bentz said, "I haven't gotten a chance to switch over to wireless yet, but all I know is that Apple wire earbuds tangle like nobody's business and it's irritating."
The opinions on brands don't matter as much as what works best for the user because, in the end, everyone will need them for school at one point or another.

Loading ...