Community Aid Opens in York
A new thrift store recently opened up near Dallastown after its long awaited arrival.
Some people may have been sad to see the old Bon-Ton store go, but what is filling the large, 36,000 square-foot store, located in the Queensgate Shopping Center, might be even more exciting.
On Thursday, Oct. 24, the brand new Community Aid thrift store opened its doors to the public. This is Community Aid's sixth retail location and the first one in York. The new thrifting spot joins a few others here, including the Salvation Army and Goodwill. 
The store also brought 80 new jobs to York County, including some for Dallastown students and residents. 
Lesa Romig, a Dallastown resident says, "I love working there, the people are very nice. The community has been very excited about the store opening. We have been able to keep up with keeping the store full and clean." 
With the store offering a large variety of clothes and accessories at much cheaper prices than regular stores at the mall, it will be very beneficial to many students at Dallastown. Thrifting has always been a good option for people who appreciate affordable clothing, but more recently it has become a popular activity among many teens and young adults. 
Myckenzie Kramer, a junior says, "I have been there and it is a great store with lots of clothes and more. I love thrift shopping and think it is amazing that you can always find clothes you love that you wouldn't find anywhere else."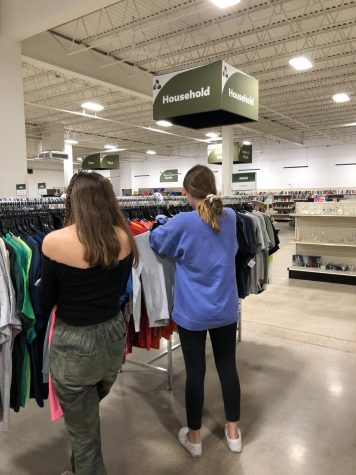 From basic tank tops in every color to unique and flamboyant t-shirts and pants, thrift stores offer it all, which is why it became a favored activity of many teenagers.
"I think thrift shopping is so cool. You can find some really unique pieces that no one else will have," says freshman Janel Stump, "thrift shopping perfectly fits the motto, "One man's trash is another man's treasure."
Another advantage of thrifting is the help the environment is receiving. When people donate and then buy used clothes, it reduces pollution and waste. Essentially, thrifting is recycling and benefits a variety of people, as well as the planet. 
Ian Kowalski, freshman, says "It's good that people are donating and helping people that might not have the money to afford high end clothes." 
The new Community Aid in York is sure to be a hit among many people, and especially students at Dallastown. Whether its a couple of comfortable sweatshirts or a unique pair of jeans, this new thrift store offers it all at incredibly low prices.