Mamma Mia! Comes to Dallastown
Cast and crew are ecstatic for the light-hearted show this spring.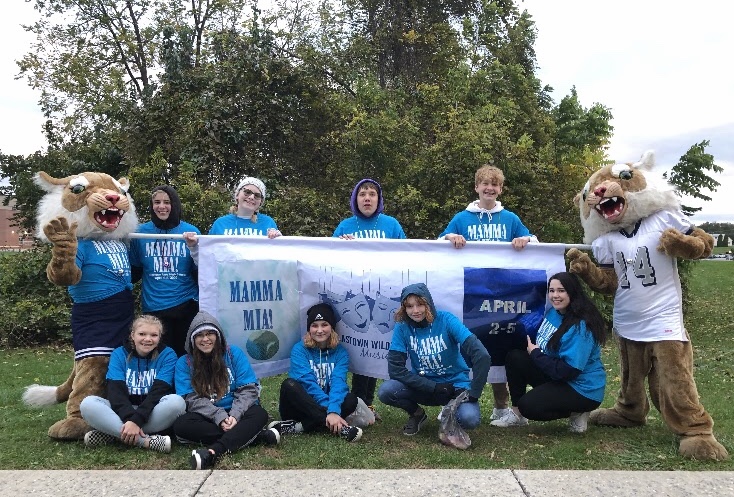 Dallastown is known for its elaborate musical productions, and according to those involved, this year's musical, Mamma Mia! will be no different. 
Although the musical won't be staged until April, auditions happened slightly over 2 weeks ago. The cast list is up, and now all they need is students to help with the behind the scenes aspects. 
Mrs. Anderson, a Dallastown High School English teacher, has been the musical director since 2005. Mamma Mia! will be her 32nd show she's directed, and the 16th she's done here at Dallastown. There are about 50 students in the production.
Anderson (Director/Producer), along with Mrs. McCleary (Vocal Director/Producer) chose to stage Mamma Mia! this year because last year's show, Les Miserables, was a very heavy show. The goal was to do something that was lighter.
According to Anderson, "There's a lot of great roles in Mamma Mia! that match up with our student body."  
Mamma Mia! is about Donna Sheridan, who lives in Greece with her daughter, Sophie. In preparation for Sophie's wedding day, Sophie decides to secretly invite 3 men from her mother's past in hopes to find out who her father is.
Donna, will be played by Riley Sharp, a junior. Sharp started doing theater in 7th grade, when she was Fairy Godmother in Dallastown production of Hammerstein's Cinderella.
As one of the leads in last year's musical, she's looking forward to getting to work with some new and old faces. 
Paige Langmead, a freshman, will play Sophie. She performed in last year's middle school show, Seussical, as Mayzie. This is her first high school production and she's excited to be part of the cast. 
"
There's a lot of great roles in Mamma Mia! that match up with our student body."
— Amy Anderson
Senior, Joel Staub will be playing Sam. He started acting in 7th grade when Mr. Buer pulled him into a meeting for Beauty and The Beast.
He always enjoys working with the cast, especially this year. According to Staub, "there are a lot of new faces in bigger roles on stage that have not had the spotlight before."
His favorite character to play was Enjolras, from Les Mis. He usually gets a smaller, comic relief character, so this was his first big role and was the complete opposite of the character model he usually portrays. 
Sharp, Langmead, and Staub are only three roles in the large ensemble cast who will bring Mamma Mia! to life, but they have a lot of experience on stage. Their advice for newer cast members?
According to Sharp, "It's never too late to get into acting, no matter what role you get you will have fun and make wonderful friends."
Staub says to "Put yourself back into a similar situation that you've lived through and respond how you did at that point."
All three agree on Langmead's message.
"Don't be afraid to step out of your comfort zone, and just go for it."
Mamma Mia! comes to the Dallastown stage April 2-5, 2020.