Dyer Bids Farewell to Dallastown
As he retires, the Superintendent of schools talks to The Beacon about the new chapter in his life beginning in 2020.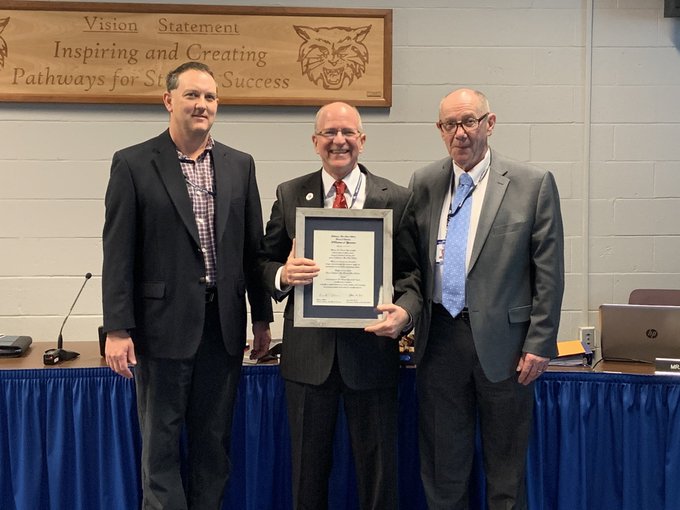 It is rare to find people who care more about others than themselves. However, Dallastown has been lucky enough to have had an oddity to that as our Superintendent.
Dr. Ron Dyer, member of Dallastown Area School District for 15 years, began his retirement at the beginning of 2020.
Dyer has been Superintendent since 2012, and is responsible for the implementation of Dallastown's 2014 to 2020 Comprehensive Plan, which illustrates how the district will grow and what specific departments will do in order to reach that goal.
More than that though, Dr. Dyer was responsible for the ever-important 2-hour delay and school cancelation calls.
"I have always had an interest in science, and I get kidded a lot here because I am not going to say I am a meteorologist, but I have learned some stuff about it. I've read meteorologists and what they see in patterns," Dyer said.
The Pennsylvania native was not always a Superintendent, but every career has a starting place. For him, it was actually ninth grade Biology.
"I got to take advanced biology in ninth grade and I got really intrigued with neuroscience. The military was coming back from the Vietnam war with major brain injuries and there was a lot of work being done with that, so I got some exposed to that at the VA hospital where we were working trying to help people get back to some sort of life when they have had serious and severe brain injuries, and that was part of teaching."
"
While I look ahead to retirement to afford me valued time with my two children, my two grandsons and my wife of 42 years, I know that I will genuinely miss my daily contact with so many of you — my colleagues, my friends, and my community."
— Dr. Dyer
Dyer went from the classroom in his high school to Slippery Rock University where he took on not one, but two majors. He was an education major, which was expected, but just to show off a little bit, he took on the piano performance major.
From there, he attended Virginia Tech University where he received both his Master's and Doctorate degrees. He got a job as a teacher in Virginia as well, which shaped not only the person he is, but also the way that he influences students.
"I taught in a formerly black school at a time when we were just coming out of desegregation. So I got to experience that and it actually informed me about equity and opportunity and that is profound – and a very foundational piece of my work in education has been opening up opportunities for everyone," Dyer said.
However, with retirement imminent, the time has come to think about his own future.
"At first, I would like to be able to reconnect with my wife. We have been married for 42 years and she has been very supportive of my career, but I would like to be able to put her first, and my children first, and I have two little grandsons… that is number one. We are going to be doing some traveling, which is something we have never been able to do in the middle of the school year. We are still very involved in our church, but as far as profession, I do have some ideas but I really just want to take a break and just breathe. It has been a very intense and very fast paced journey but I have loved every minute of it. I really have, even the tough times. It has been a lot of fun."
Traveling has been a big part of Dyer's life away from school, as him and his wife have visited 48 of the 50 United States, including driving Route 66 and visiting Alaska for their 40 year anniversary. He said that he has never gone overseas, although he "would like to make it to the Holy Land."
Driving around the country, following the weather, and taking care of our entire District are not the only things that make Dr. Ron Dyer such an interesting person. He is also an Olympic Weightlifter.
"I enjoyed Olympic Weightlifting, and the last time I competed I was acting Superintendent and I took fourth in the nation out of 57 lifters in Savannah, and I was so upset. I put it on hold for a couple of years because I was really busy here, and I went to go back into it and I was really pushing myself and I herniated my second disk, and I said at that time that maybe my Olympic Lifting days were over," Dyer remarked.
After 15 years as a member of the Dallastown family, Dyer made it a point to remind me that he was not leaving, and he shared with me a portion of his speech that he shared with the school board at a recent meeting.
"Although I am stepping down, I am not stepping away. Education has been my life and I fully intend to keep abreast of all that is happening. I plan to continue to attend district fine arts presentations; theater, music, and choral performances; athletic competitions; academic exhibitions; and of course, other special community events… While I look ahead to retirement to afford me valued time with my two children, my two grandsons and my wife of 42 years, I know that I will genuinely miss my daily contact with so many of you — my colleagues, my friends, and my community."
So Dr. Dyer, from everybody here at Dallastown High School, thank you for all you have done. You truly have changed not just the students or the teachers, but the district as a whole for the better.