Harvey Takes Over PSU York Program
After retiring from Dallastown, the Wildcats' former Athletic Director returns to his roots, coaching Women's Basketball.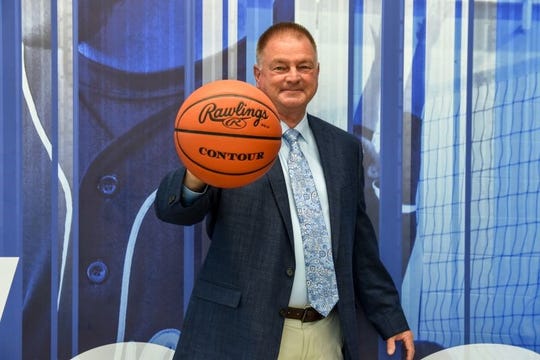 Some people struggle to stay away from the sport they love for a long period of time.
Mr. Harvey is no exception to this stereotype
Former Dallastown Athletic Director Tory Harvey became head coach of the Penn State York Women's Basketball Team this past may.
Just six months after retiring from Dallastown, Harvey took on the program with his assistant coaches Brent Harvey, Wade Smith, and Deacon Jones.
Harvey wanted to fill a void in his retirement life other than the Behind The Wheel Driving Program and Athletic Event Assistance he does part time at York Suburban, but he also simply missed the game.
"
I definitely missed coaching basketball and thought I still had something to give back to the game."
— Mr. Tory Harvey
He previously coached at Penn State York for two years 1996 and 1997 before coming to Dallastown. He also has coaching experience at York Suburban, Solanco, Red Lion, and Dallastown.
Penn State York has improved their facility since Harvey was last on the staff. They also now have a full time Athletic Director, Jeff Barkdoll.
"We are extremely pleased to have Coach Harvey back at Penn State York. He has had a positive influence on so many students and colleagues… it will be great to see that kind of influence being shared with the Penn State York community as well!" said PSU York Athletic Director Jeff Barkdoll
The game has changed tremendously as well since his last tenure, saying, "The rule changes relative to moving from 20 minute halves to four 10 minute quarters and the three point line being moved back farther. The game has also improved in regard to player skill sets".
Harvey is excited to be back at the helm, but it's a little different this go around with being retired.
"I'm retired this go around with coaching so I can devote significantly more time to practice, scouting, game planning, recruiting, and assisting the student athletes." Harvey state
He has an impressive coaching resume with earning coach of the year at both the high school and college level while leading his teams to division, league and district championships. Harvey has been missed on the sideline.
"It is great to see my brother back coaching. Its always been a passion for him and now that is retired , it is a great outlet for him to be doing something he loves and helping shape young women's lives." said Harveys brother and assistant Brent Harvey.
Harvey is giving all he has for his team, leading them to a 5 game win streak, including a big win against Penn State Brandywine, who is number one in their division.
Penn State York is where Harvey wants to be for the long run.
"I plan on coaching for as long as my health allows and for as long as im having fun and feel I can make positive contributions to the student athletes"
The former AD loves and misses Dallastown, where he spent 22 of his 35 years in education, saying he misses interacting with various people and staff at the school
Coach Harvey will look to lead the lady lions into finishing the season strong and in the future, add some more hardware to his already illustrious coaching career.