Coronavirus Closes College Campuses
Dallastown grads find their semesters disrupted in many ways by the pandemic.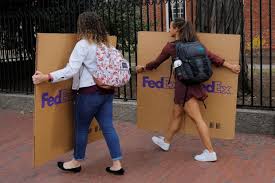 A lot can change in a week. 
Last week at this time, Dallastown graduates were taking time to study on their college campuses or starting to enjoy their Spring Break.
One week later, and most are finding themselves back in Dallastown for the foreseeable future as a result of the coronavirus. 
Although Dallastown Area School District currently remains in session, the recent global pandemic of coronavirus has dramatically affected alumni, as college officials scramble to find the best way to deal with the situation. 
The most drastic changes to public schools have come from schools in the Philadelphia area, where Gov. Tom Wolf has ordered schools in Montgomery County to close due to the spread of the virus. 
As for colleges and universities, many schools are taking drastic measures to get students away from campus as soon as possible. 
West Chester University announced on March 10 that "all academic instruction will be expedited remotely for the remainder of the semester." 
Temple University announced a similar policy on March 11. For both schools, students must move out of campus housing, and will complete classes without direct instruction.  
Dallastown alum Cael Turnbull ('19) is one of many Temple students who needs to be out of his dorm by next Saturday.
"It's honestly kind of sad because all of the sudden, our freshman year is basically over. Having to say goodbyes to people I won't see for months was sad,"  Turnbull said.
Other schools took a slightly different approach, telling students not to return after Spring Break until they were told to. Some cited specific dates,while others plan to reexamine the situation on a weekly basis
While the policies are designed with safety in mind, students say that they present many challenges. 
Marissa Hunt, a 2019 DHS grad, is a freshman at Penn State Main Campus, and her spring break was extended with online learning until  April 6. Her problem is not having the materials that she needs. 
"
It's just dawning on me that I will be in York for the next five months"
— Sam Betz ('19)
"They aren't reopening residence halls, and I left all of my notes and textbooks in my dorm room because I didn't have work over break. I'm currently in the process of contacting housing to let me in to retrieve my belongings," Hunt said. 
Even students in off campus housing are having issues. 
"I currently live in my sorority house," said graduate Irelend Viscount ('17) who is a junior at West Virginia University. "If the university is closed, then the house is closed. It's an extremely stressful situation, because I am not sure what to pack or if I'll even be allowed back in the house." 
Other concerns are switching to online classes. 
"Millersville now has two weeks of spring break. There are around 700 classes that currently don't have any class work online. Professors need time to transform face-to-face classes into online classes," Mady Sharp ('17) said. 
"As an education major who is currently in a field placement at a school, we were advised not to go for the next two weeks. We can resume after those two weeks if the school is open and if we are comfortable." 
Viscount has similar concerns. 
"Most of my journalism classes involve going out into the community and using the video camera. I'm still waiting to see how these classes will proceed," Viscount said. 
For 2018 grad Andi Mazzarella, finishing all of her courses for the semester online is a bit overwhelming. 
"I've only ever taken an online health class that was through Dallastown, but that was only one of my classes, not all of them. Even with that class, I was able to talk to my teacher face-to-face if I had questions. I also know that my professors are extremely stressed right now because this is new territory for them as well," Mazzarella said.
Corona not only shut down classrooms, but sports and activities as well on campuses. 
"The virus has done a lot more damage than I would have thought. I personally haven't been affected physically by the disease, but the rapid growth of it has scared people enough to suspend our collegiate season until further notice," Nick Parker ('18) said. 
Parker is a member of the baseball team at Coastal Carolina University. 
"We also have not been given much information about the follow up actions like eligibility, post season, or scholarships for the following years. It's been really fast and out of nowhere." 
Grads  like Sam Betz and Paige Barlow ('19) chose international spring break trips and now are working on getting back home.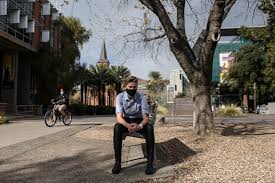 Barlow, a student at Penn State York, spent her spring break in Puerto Rico helping with disaster relief. 
"Going through the airport, we saw so many people with masks–some small surgical masks and others with heavy duty gas masks. I don't feel threatened or anything, but seeing those masks makes the pandemic so much more real," Barlow said. 
Betz is currently in Portugal, and his flight home was scheduled eight hours before the ban on European flights was enacted. He will fly home though JFK airport in New York, a state at the height of this epidemic. Many people are advising him to self-quarantine for two weeks once he gets home. 
Classes at his school, the University of Pennsylvania will be online for the rest of the semester. 
"It's just dawning on me that I will be in York for the next five months," Betz said.